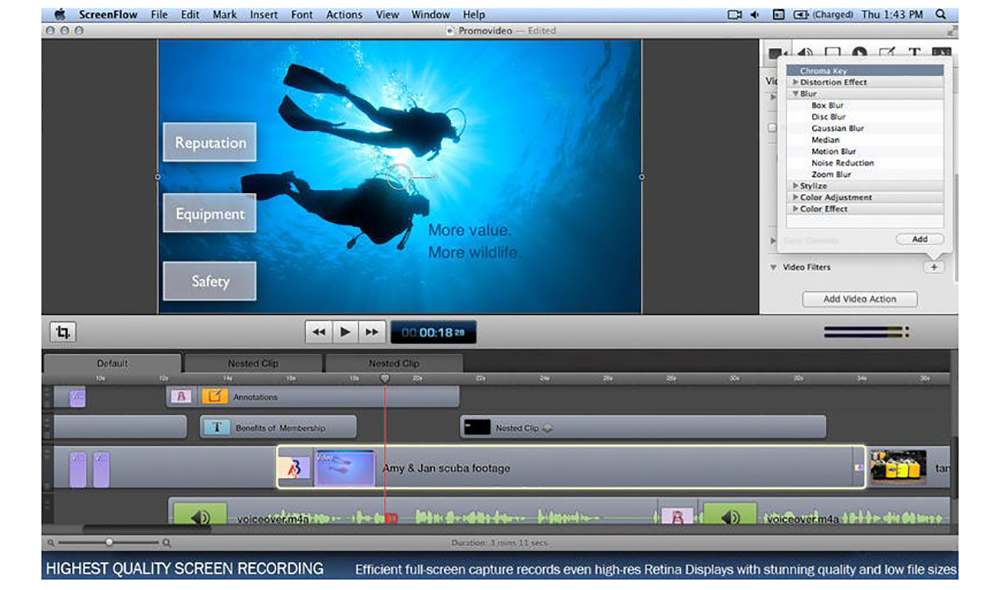 The main benefits of ScreenFlow are it's easy to use, reliable recording, and powerful editing capabilities. Here are more details:
Easy to use
One desirable attribute of ScreenFlow is its ease of use. The solution comes with a user-friendly interface that provides three navigation options. These options include "new recording" which can be used to capture screen, video camera, or microphone. Besides the solution provides an option to open a saved document for editing or create a new blank document. The best part is that using any of these options is a breeze, and the learning curve is flat.
Reliable recording
In addition, ScreenFlow screen recording is impressive. The solution is lightweight, but that doesn't comprise its recording capabilities. It excels at capturing your desktop and has a powerful connector that allows you to record IOS devices attached to your desktop.  Better still, you can use the built-in microphone and video camera, or even use an external/third-party recorder.
One standout feature is the ability to capture everything taking place on your desktop including mouse movements. Its reliable recording capability means you can use the solution to create easy-to-follow videos for education or marketing purposes.
Powerful editing capabilities
ScreenFlow is not only renowned for video recording tools but also editing capabilities. The solution comes with robust editing tools that are availed on an easy-to-access panel. The editing tools allow you to add professional effects to create good-looking videos. Things such as closed captions, text, annotations, transitions, and touch callouts can be added with ease.