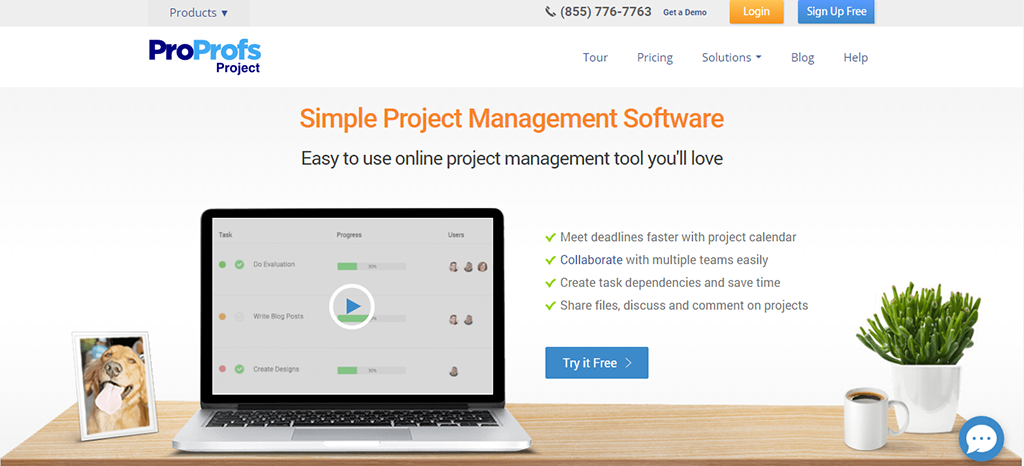 ProProfs Project is an efficient tool for meeting deadlines and driving the productivity of your team. Here are the benefits of this project management software:
Efficient team collaboration
In many ProProfs Project reviews, you'll see the tool offers robust collaboration features for your team. Inviting your team to a project easily lets you assign tasks, share files, and communicate effectively. By streamlining conversation, you can keep everyone in your team on the same page whether you're managing an in-house or remote team. Feedback, discussions, and notifications are in-context through tasks and comments.
Optimize task management
See your project's status, progress, and time spent in a single glance. It has an array of features to help you save time such as task dependencies, recurring tasks, and project templates. Traffic light indicators ensure you focus on what's important by dragging and dropping tasks according to priority and creating sub-tasks to break down tasks into smaller, more actionable items.
Robust tracking solutions
To ensure you meet your deadlines and provide project deliverables on time, the tool enables you to track time on projects and set a timer on how long the task is expected to take. Tracking time also works on mobile—both iOS and Android. Meanwhile, timesheets are easily maintained, tracked, and edited.
Easy generation of reports
According to ProProfs Project reviews, creating reports only takes a few clicks in the software. This generates a project status summary, task breakdown, task due dates, Gantt charts, and even financial summaries. You can easily share this with clients and department heads to update them of the project.