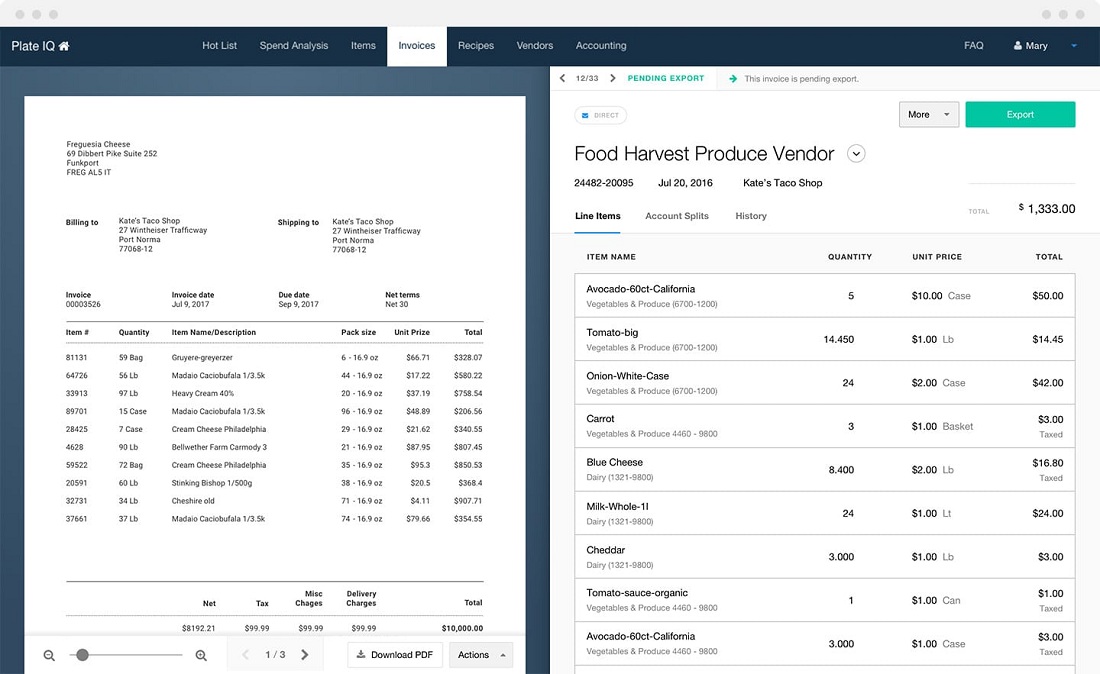 The main benefits of Plate IQ are its great accounting capabilities, cloud storage that makes referencing convenient and easy, powerful POS for easy price tracking, and features that make menu costing easier. Here are more details:
Great Accounting Capabilities
Plate IQ lifts the burden of time-consuming and laborious manual data entry from the restaurant personnel's shoulders by offering features that automate the said process. With its powerful features, assigning every line item to the right GL code and syncing the information to the accounting software becomes easier.
Easy Access to Database
All accounting related information acquired through the platform is stored in the cloud for convenient and easy referencing. Users can store all product and pricing information as well as digitized invoices in the database. The unified database helps streamline the user's workflow.
Price Tracking Made Easier
Plate IQ comes with a POS that makes price tracking easier. The POS allows users to track any price changes made in the platform's dashboard prior to making any major purchase. Also, users will be able to compare pricing for various locations as well as track their spending by category in a convenient and easy way.
Recipe/Menu Costing and Bill Pay Features
Plate IQ gives its users a deeper insight into the return of investments of their menu items through the recipe/menu costing. This capability enables them to determine the price of every dish available easily. In addition, the software comes with a bill pay feature which syncs all payments to the general ledger, making it easier for the staff to do reporting and reconciliation. Restaurant owners and finance teams can also use this digital platform to pay their vendors.