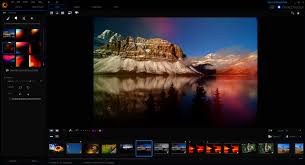 The main benefits of PhotoDirector 9 are its delivery of an all-in-one photo editing solution, user-friendly interface, creative editing tools. It is also simple to use and has a comprehensive feature set. It enables you to access techniques used in advanced photography. The software has the Deluxe and Ultra versions that are available for Windows. However, for Mac OS, the Deluxe plan is excluded.
The software has 6 modules, each with its own distinct capabilities based on the latest available tools. These are Adjustments, Edits, Library, Slideshows, Layers, and Print. Each component is capable of delivering powerful features. One example is the Layers module that supports blending modes to create a distinct image out of several takes. Express Layer Template also allows you to layer your compositions in an effective manner.
With the de-haze tool, PhotoDirector 9 allows you to eliminate visual inconsistencies to your photos, like haze, smoke, and fog. The de-fringe tool also lets you remove chromatic distortions and purple fringing from your photographs.