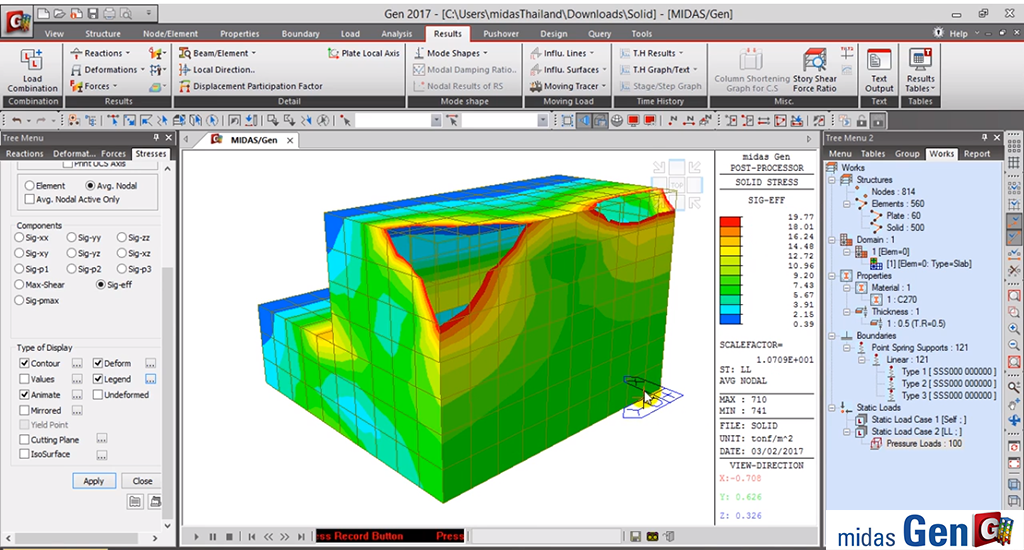 The main benefits of midas Gen are accurately performed structural analysis, user-friendly graphical interface, and walkthrough functionality. Read on to understand further.
The integrated solution offered by midas Gen allows engineers to accurately apply different types of linear and non-linear structural analysis. Its bidding structure and analysis solution utilize algorithms so that users can get accurate results.
The construction stage analysis offers material properties while floor vibration analysis lets users assess floor structures' reaction to walking loads. Also, the pushover analysis enables users to simulate displacement and force and the inelastic time history analysis allows engineers to evaluate seismic design attributes of the structure.
Its intuitive and user-friendly interface helps simplify the process of making structural design analysis and modeling. Besides, it is also equipped with a walkthrough functionality that allows you to explore your models and analyze them. The offered blending effect helps you adjust the transparency of any component in your structural designs and models. Transparency can be set up according to the element, material, and other attributes.
You can also merge data and files and generate models through data conversion so you can export information from third-party platforms and convert them into usable file formats using midas Gen.
Furthermore, you can apply various types of sections and materials to your structural models with midas Gen. It has 37 section shapes that you can freely pick and use for your structural elements. Its building generation wizard lets you access tools that can help you save time as you create models. It has various structure wizards that allow you to generate models of a specific structure in a way that you don't have to model every component. You simply need to specify parameters of the structure so you can get the desired result.
Additionally, midas Gen comes with powerful a post-processor to streamline visualization and generation of analysis result; structural analysis tables that can be accessed from different windows; and a dynamic report generation functionality so users can drag result tables and images from the platform and drop them into their MS Word documents or export to MS Excel.