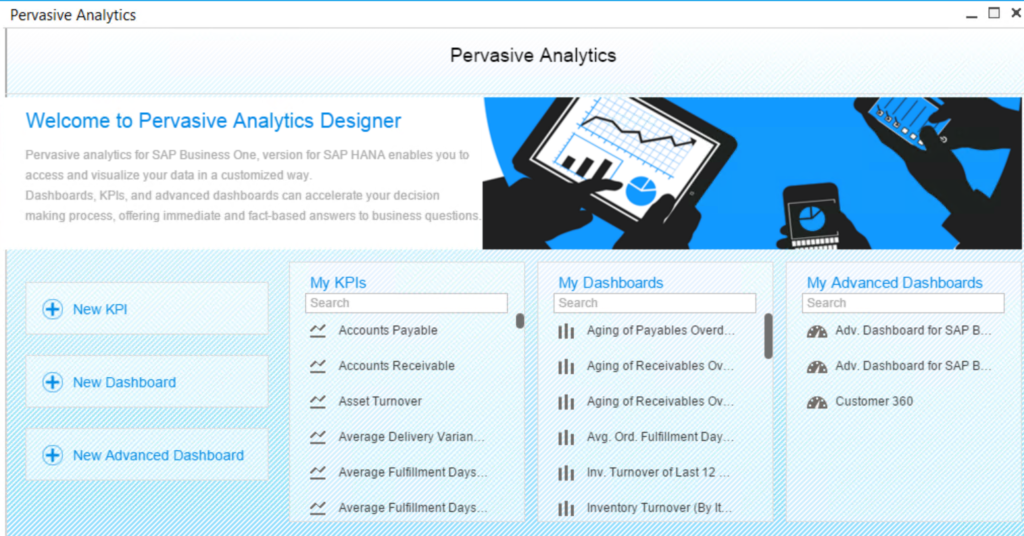 The main benefits of SAP Business One are its rich feature set, general usability and customization.  Here's the details:
Streamline your operations
SAP Business One centralizes all your key data and processes, allowing for smoother financial, administrative and operational management. The ERP acts as a single system for your bookkeeping, CRM, procurement, warehouse management and reporting and analytics. There is hardly a need for internal I.T. resources; anyone with permission can quickly access the data they need or share information with other teams inside the system.
Gain transparency in your operations
The ERP allows you to keep tab of all your processes in one location. Data is updated in real time and synced across devices. This setup nurtures transparency; your key people understand their reports can be quickly accessed and assessed for accuracy.
Avoid manual errors
Automation and integration assure data integrity are kept and manual errors avoided. The result is more accurate forecasting and insights, and in return, improved business performance.
Improve customer relationship
The integrated CRM module features tools to help you get leads, convert deals and, generally, increase your revenues month to month. The module also features marketing and sales automation, which are useful for getting your campaigns and sales activities off the ground fast.
Improve HR processes
SAP Business One also features an HRM module to help you centralize employee records. Tools for time tracking, benefits calculation and talent sourcing are built in. Likewise, it makes the payroll process more efficient and accurate, resulting in less risk of a  dispute.
Improve supply chain processes
The value chain process is also streamlined. The ERP covers purchasing workflows from quote to payment. You also get to centralize supplier data, which can be updated in real time and synchronized across devices.