Project management, while it sounds corporate and cool, can either be a breeze or chaos; most of the time, it's the latter. Project managers can relate to one another not only because of their job title, but because of the similar struggles they have to deal with when it comes to keeping a team organized, focused, and working toward the common goal of completing a project successfully. 
Modern solutions have helped alleviate some of the stress; but with all the project management tools these days trying to convince you that they are what you need, choosing the application becomes a new challenge.
All project management solutions are created for one purpose, but they differ in design and some features. Microsoft Project is a perfect example of a full-featured and fully integrated project management tool, but it is not the be-all and end-all of this business application. Microsoft Project may be ideal for a certain type of business operations, but it may not be applicable to a team that works in different dynamics. In this article, we will explore other Microsoft Project alternatives that you may find more suitable for your working environment.
What Is Microsoft Project?
A product of Microsoft, Microsoft Project delivers flexible tools for managing project portfolios, the project itself, and resources. This software is ideal not only for internal communication and collaboration but also for business-to-business project-related interactions.
Although Microsoft Project has what it takes to plan, execute, and accomplish projects from start to finish, there are others that you should consider in your project management software research. And in this article, we give you 10 Microsoft Project alternatives for you to compare and consider.
1. ActiveCollab
ActiveCollab is a dynamic workspace that seamlessly incorporates three important aspects of carrying out a project–the actual project management, time tracking, and invoicing billable hours.
With ActiveCollab, everyone works in one shared space that everyone can access either on desktop or mobile devices. This shared workspace is equipped with intuitive tools that make project planning, task management, task and time monitoring, and collaboration easier and more effective. ActiveCollab's interface is also straightforward and easy to use, which makes it more efficient, especially when introducing it to first-time users. You can also share your ActiveCollab workspace with clients for transparency and monitoring purposes.
To further optimize your ActiveCollab workspace, you can integrate this application with other project management, file sharing, time tracking, and collaboration software. ActiveCollab also integrates with automation, invoicing, and payment gateways.  
The base plan offered starts at $7/month for every member. There is also an option to upgrade by purchasing a bundle for an additional $4/month for every member.
2. Basecamp
Basecamp is one of the Microsoft Project alternatives that go beyond project management. While it has all the fundamental project management features (i.e., collaboration and communication tools, task management, and monitoring), it also allows its users to keep a healthy work-life balance. This works by letting its users configure their notification settings to avoid getting distracted by work-related updates.
Basecamp also has a unique tool called Hill Charts. This feature works alongside Basecamp To-Dos and maps the status of a project in the Hill Chart to give a visual representation of where the project really stands. The uphill part of the chart means you are still figuring out how to work on the project. The top of the hill means you have formed a plan on how to approach the project. The downhill portion is the execution of the plan, which continues until the project is completed.
Another great Basecamp feature is the automatic check-ins. At the end of a workday, this feature automatically checks what everyone has worked on. Everyone included in the Basecamp HQ can respond by detailing the tasks they have accomplished on that day, which updates everyone as well. When you compare productivity software, BaseCamp is always one of the top options due to its advanced features.
When it comes to the cost, Basecamp has a free version with features limited only for personal use. For business accounts, the price is $99/month flat.
3. Clarizen
Clarizen is a project management software that works best for agile teams. Clarizen is an ideal project management solution as it provides a centralized platform for multiple teams to effectively collaborate with one another using dynamic and user-friendly tools. 
By using Clarizen, project managers can have full access to the project portfolio and its management. Collaborating with team members regardless of where they work is also made easier. Clarizen also automates repetitive tasks to further enhance efficiency. When it comes to reports and analytics, Clarizen can generate real-time status and consolidate them into organized reports.
Clarizen integrates with Zendesk, AWS, SharePoint, Google Drive, Salesforce, NetSuite, Slack, and more. As for the pricing, Clarizen's enterprise and unlimited plans are quote-based.
4. LiquidPlanner
LiquidPlanner is the only project management application that has automated scheduling and forecasting solutions. It is designed to get the teams moving and focused on accomplishing a project without wasting time on repetitive tasks, such as giving updates. 
As an intuitive project management solution, LiquidPlanner easily adapts to the changes in the team and work dynamics as the project progresses. Its smart scheduling feature automatically adjusts to unforeseen changes that affect predefined timelines. Everyone is also kept on the loop regarding new updates, including shifts in priorities, last-minute changes, etc.
LiquidPlanner's robust features include smart schedules, detailed resource workload reports, cross-project visibility, contextual collaboration, and advanced analytics. When it comes to integrations, LiquidPlanner integrates with time and budget tracking applications. Pricing for LiquidPlanner plans is also quote-based.
5. Mavenlink
Mavenlink is a collaboration platform built for modern times. As a project management solution, it delivers a 360-degree view of a project portfolio and its status of not only the entire project but of the individual tasks as well. 
To optimize collaboration beyond project managers and contributors, Mavenlink brings forth its Operational System of Record or OSR. OSR functions as a hub that brings different teams and departments together to create a dynamic ecosystem that works seamlessly as one. 
Mavenlink also has a dedicated integration platform called M-Bridge, which enables different cloud-based software solutions to integrate with third-party applications, such as Slack, JIRA, G Suite, Hubspot, and more. Mavenlink's paid plans start at $19/month for a maximum of 5 users.
6. Project Insight
Project Insight or PI leverages automation and data aggregation to maximize your team's productivity. With Project Insight, all data–even from integrated applications–are automatically collected and organized in one place. For project managers, this automated consolidation of data saves them more time and gives them enough information to analyze the status of projects and how it affects the organization.
Other features include portfolio management, collaboration and @mentions, custom report and Gantt charts, project prioritization, SSO, and more. As for its integrations, Project Insight integrates with Zendesk Support, Zendesk Sell, JIRA, Azure DevOps, Salesforce, QuickBooks, and more. 
This application has a free version and paid plans start at $35/month for every user.
7. ProofHub
ProofHub is an all-in-one project management solution. It offers all the tools necessary for a team to plan, collaborate, organize, deliver results, and more, as well as third-party integrations to further enhance its functions.
Among its features is the Kanban board for the team members to manage their individual tasks. Another is the customized workflows on which you can add various stages depending on the plan for the project your team is trying to accomplish. Gantt charts, calendars, chat, and even proofing tools are also included. This proofing tool allows you to revise files using markup tools, as well as collaborate and/or communicate with the team members.
ProofHub integrates with Freshbooks, Google Calendar, Dropbox, Google Drive and OneDrive, iCal, and Box. The pricing starts at $45/month.
8. Scoro
Scoro is the Microsoft Project alternative that brings everything together, including all third-party tools necessary to accomplish a project successfully, in a single platform. 
By itself, Scoro has robust features for project management, work scheduling and time tracking tools, CRM and quoting, and financial management. Scoro also has an intuitive dashboard where project managers can monitor project and task status, key performance indicators, issues, productivity, detailed financial reports, and more.
When it comes to security, Scoro implements role-based access to information and projects. Preparing documentation is also easier as you can either create your own or choose from a selection of templates for reports, quotes, orders, and even invoices.
Scoro is available on mobile, which gives access to projects and tasks, contacts, and important project-related events. To further enhance Scoro's performance, you can extend the platform by integrating with third-party applications, such as Zapier, Xero, QuickBooks, MailChimp, Outlook, Google Calendar, and Google Docs. You can also utilize Scoro's API.
As for the pricing, paid plans start at $28/month for every user. 
9. Teamwork Projects
Teamwork is a work and project management solution with a straightforward and user-friendly interface. It provides all the necessary tools for effective planning and collaboration, detailed reporting, and seamless integrations (Hubspot, Microsoft Office, Google Drive, Gmail, Slack, Chatify, etc.)
Among Teamwork Projects' core features is the portfolio, which gives project managers a broad view of multiple projects. There is also the board view, which is used to create an automated workflow for the team members. Aside from the mobile and desktop applications, TeamWork also offers a timer app, a monitoring application that you can also install on your computer or mobile device.
Teamwork has a free version and its paid plans start at $45/month.
10. Trello
Trello is a simple but highly visual project management application. Unlike the other Microsoft Project alternatives in the list, Trello injects visual creativity into its interface. Instead of the standard to-do list, Trello uses cards for tasks, status, etc., to which you can add other details (i.e., attachments, comments, deadlines, etc.)
When it comes to workflow automation, Trello introduces Butler, the one responsible for keeping the task list up to date by using rule-based triggers, calendar and due date commands, and custom cards and board buttons.  Trello also made it on our collaboration software analysis article as one of the top team-oriented platforms. Your team members can work within the platform and seamlessly share cards with others. 
You can get Trello for free, but if you would like to have access to its premium features, pricing starts at $12.50/month for every user.
Also worth checking: Triskell Software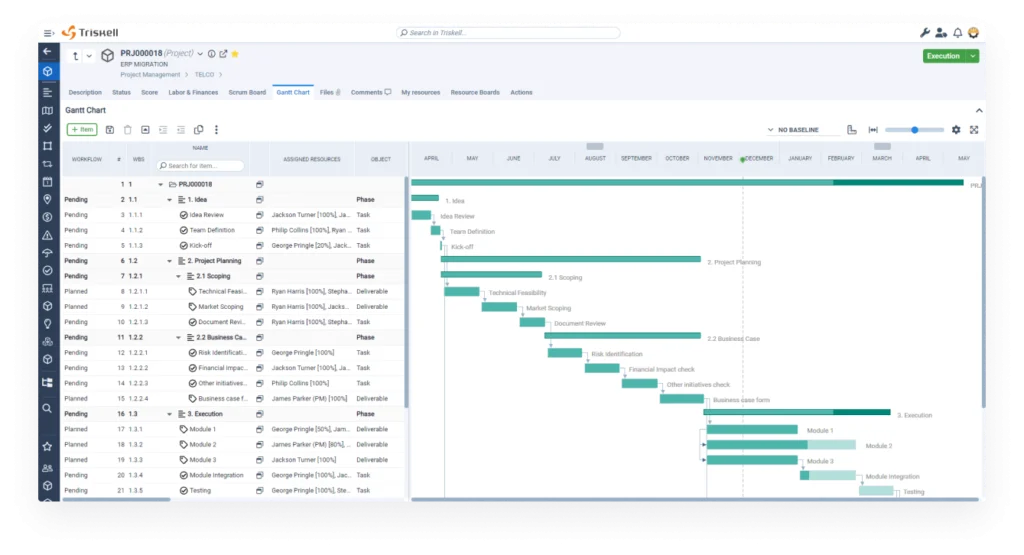 Triskell Software is a Project Portfolio Management solution that offers a wide range of features and capabilities that enable PMOs, Program and Project Managers to efficiently manage and execute their projects, whether in Agile, Waterfall or hybrid Project Management approaches.
It is an extremely flexible PPM platform with advanced Resource Management and Financial Management capabilities thanks to the functionalities it includes, such as Gantt charts, Masterplan & roadmap, workflows, timesheets, among others.
With Triskell you will have real-time visibility into all the organization's project portfolios. And, thanks to its strategic planning functionalities, is an alternative for those organizations who wants to go beyond Project Management and get a strategic vision of Project Portfolio Management.
Triskell can also integrate with other Project Managements tools as Jira or Microsoft Project and with different applications such as Jira, Salesforce, Microsoft Teams, SAP, or Microsoft Dynamics. As for pricing, plans are quote-based.