When it comes to online marketing, the options to promote your product or service are virtually endless. KissMetrics lists website, email, social media, organic search and paid search as still the top five traffic sources, but there's more.
Pay-per-click advertising is a fast way to get your message in front of your target audience, but it may be expensive. Search engine optimization can make you a lot of money if you manage to get on top of search rankings on Google and other websites, but it typically takes a lot of time to rank a website in rankings and the task may be very hard if your competition is doing a great job. There is also affiliate online marketing, referral online marketing and more.  We also recommend checking a guide by Idea Plus Business for more creative tips on growing your email list.
From this article you will learn about how you can advertise your product or service very inexpensively. Here is how the strategy looks in a nutshell:
Identify your target audience

Find places online where they congregate

Deliver value for free

Drive them to your website or page and convert them into customers
Identify Your Target Market
The first step is to analyze your target market. Who are your customers? What do they have in common? What websites do they visit? What subjects are they interested in? Here is a checklist of things you want to know that will help you do that:
Age

Gender

Marital Status

Number and ages of children

Location

Occupation

Job title

Annual income

Level of education

Personal goals

Professional goals

Values

Sources of information

Books

Magazines

Blogs and websites

Conferences

Influencers

Other

Biggest personal challenges

Biggest professional challenges

Wants and desires

Typical objections to the sale

Role in the purchase process
Once you answer these questions, it will be easy for you to find them.
How to find forums with your prospects and customers
Finding forums is very easy. You can simply use a search engine and type some description of your target audience with the word "forum." For example, if your audience is interested in weight loss, you can type "weight loss forum" into a search engine to get a long list of forums.
How to Find Groups with Your Audience on Facebook
For example, if your target audience likes Anthony Robbins, they are most likely going to like Anthony Robbins on Facebook. They are also very likely to be interested in subjects such as self-development and personal growth.
Knowing this information, you can use Facebook Graph Search to find other pages that fans of Anthony Robbins like and groups that they belong to.
Facebook Graph Search can provide you with incredible amounts of information about your target audience. Facebook Graph Search is a semantic search engine, which means that it tries to interpret the intent of the searches and the contextual meaning of search terms to deliver more accurate search results.
Facebook Graph Search combined the data Facebook has about over a billion of its users and the power of the external data. Originally, Facebook partnered with Bing to provide better results. It ended its partnership with Bing in December of 2014 and eliminated many of the search possibilities. However, many of them work to this day. For example, you can use terms such as "pages liked by people who like Anthony Robbins":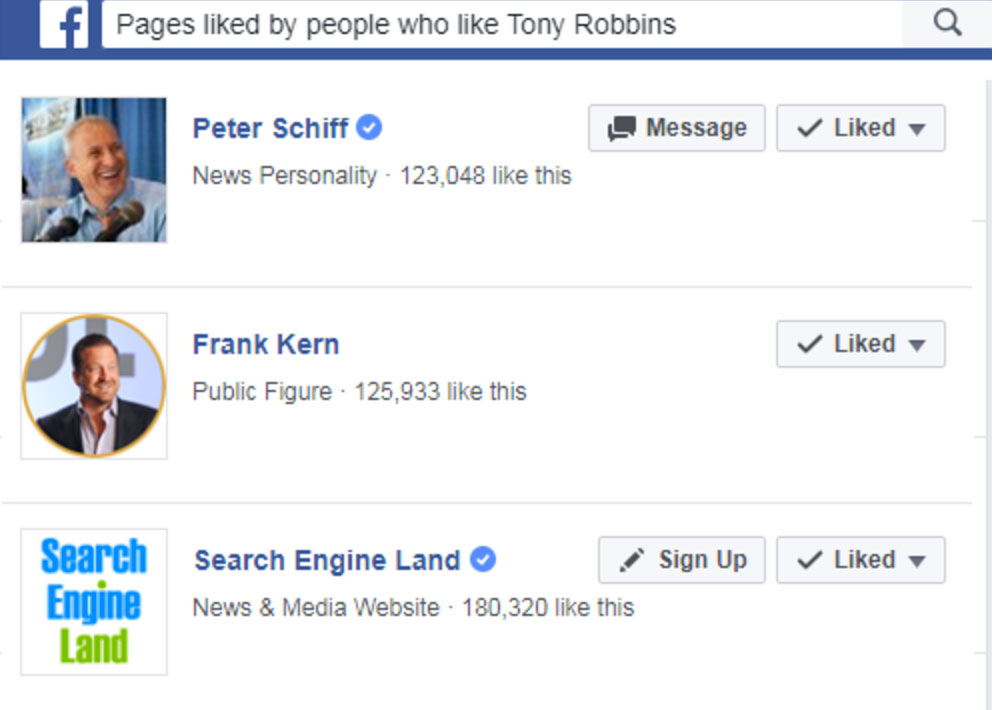 Now you can do some research into Peter Schiff and Frank Kern and see if these people are going to be of interest to your target audience.
You can also search for the term "Anthony Robbins," then click on the "Groups" tab and see a list of groups that Facebook believes are relevant to the search term: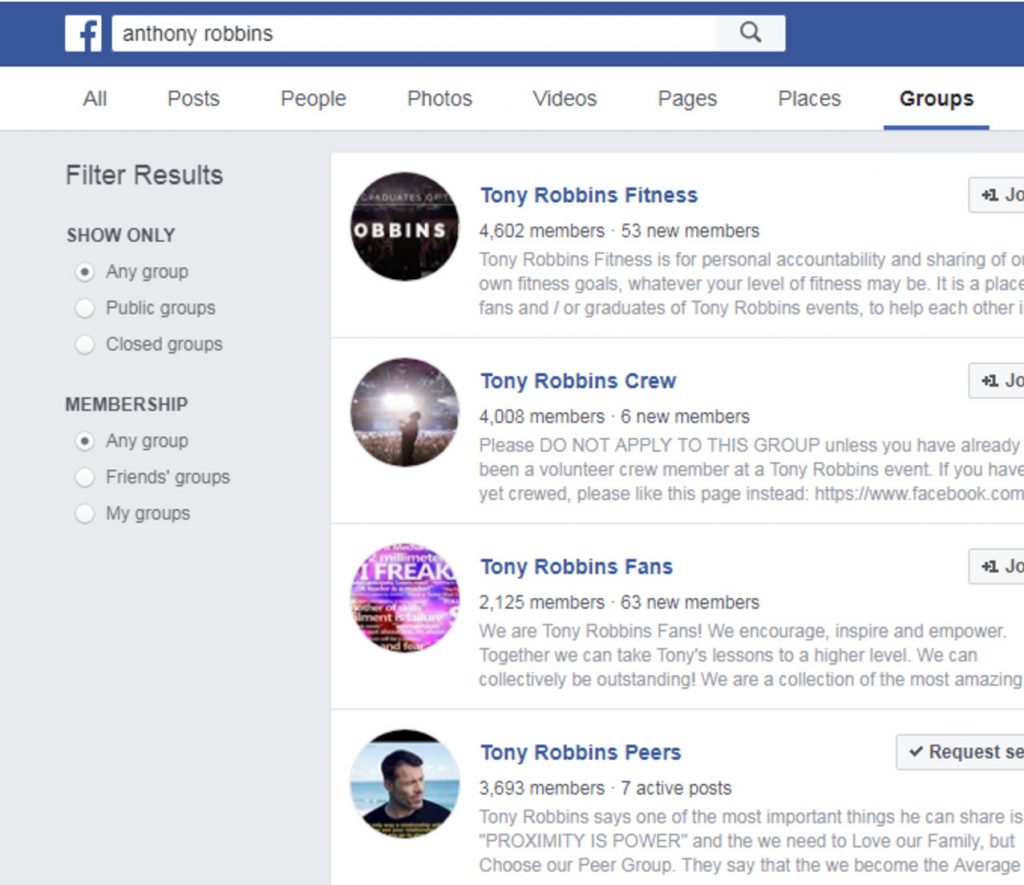 If you find out that Peter Schiff and Frank Kern would be of interest to your audience, you can use their names to perform a search, click on the "Groups" tab and discover a lot of groups to which your prospects or clients belong to. You can use this process in a similar way with LinkedIn and other platforms.
Deliver value for free
Once you find groups and forums with your prospects, you will need a strategy about how to convert them into clients.
You need a multi-step strategy for several reasons. First, you most likely can't directly advertise your business on dedicated forums or in groups. If you do, you will get banned. Second, most people see so many ads all the time that they develop "blindness" for them and simply do not notice them or scroll through them quickly.
One of the strategies that you can use is an expert positioning strategy. Instead of thinking what you need to say to have people buy from you, think about how you can bring more value into the lives of your customers. When you deliver a lot of value, people will form an emotional bond with you and will want to do business with you.
Look at everyone that you want to get as a customer and decide that you will start contributing to their lives even before the money exchange takes place. The well-being of your clients should become your main priority. See yourself as becoming someone who creates and delivers value.
How can you do that? Simple! Most people want solutions to their problems. Most people also think about their problems in very plain language. For example, how do I find a car dealer that will not rip me off? How do I lose 10 pounds of fat? Once you know their problems, wants and desires, you can deliver value by helping your target audience solve the problems and get what they want. For example, if you are helping people with weight loss, you could create a guide on 10 foods not to eat. You could also create a guide on the healthiest foods or a guide on how to count calories.
The specific topic of your guide depends on the needs and wants of your audience. If you study your audience well, you will most likely have a list of issues that you could help it well. Having a good source of customer feedback is also essential for gathering insights.
Your guide also doesn't have to be a guide. It could be a free video. It could be a checklist or a cheat sheet. The format also depends on what your target market prefers. If your prospects love watching video, record some video. If they prefer white papers, create a white paper. Then, give it away for free.
This will accomplish several things. First, it will position you as an expert. Second, it will make your audience want more content from you. At this point you can tell people that if they want more, they can opt-in on your website, stop by your office or perform some other action.
As you can see, you didn't have to spend any money during any steps of this process, which is why it is a great way to get started with online marketing. It doesn't cost anything. It allows you to understand your target audience better and to interact with it for free.