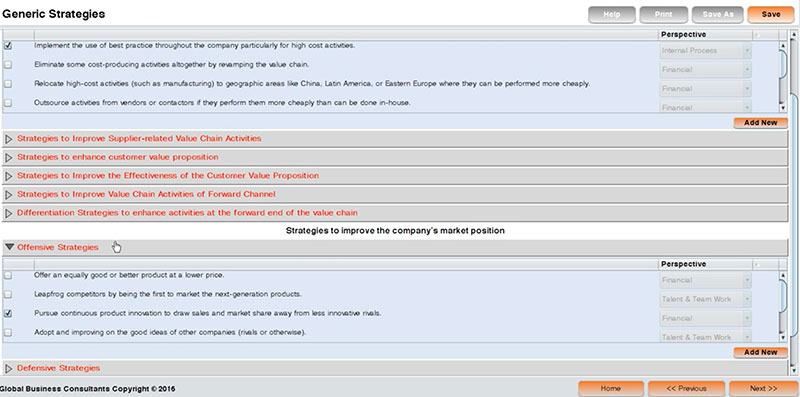 StratPlan offers you the tools your company needs to map out the direction it needs to take in the long run. The app helps you prepare a mission statement that showcases your company's goals and develop a set of values that will guide you to achieve your vision. It also helps you to determine your aims so you can evaluate your performance and track your progress as your company grows and expands.
It is important for you to be able to analyze the external factors and elements that influence your business plans. StratPlan helps you by offering a range of industry best practice analytical tools such as key competitor analysis, strategic group maps, industry driving forces for change, Porters five forces of competition analysis, PESTEL analysis, and others. You can use these tools to evaluate and understand your external environment and gain operable insights on how to grow your business.
StratPlan also comprehends the criticality of internal environment analysis. It offers analytical tools designed for internal evaluation such as industry key success factors and Strengths, Weaknesses, Opportunities, and Threats (SWOT) analysis. You can utilize them to gain a deep understanding of your internal environment and devise and execute realistic and meaningful strategies.
StratPlan reviews confirm that the software offers users an extensive database of strategies from which they can select suitable ones for their company's vision and objectives. Plus, you can utilize the app's tools to adjust to changing conditions, actual experience, and new opportunities and new ideas.
In short, StratPlan is an effective solution for small and medium-sized business in any industry. Currently, the app is compatible with Windows and a version for Mac computers in on the anvil.