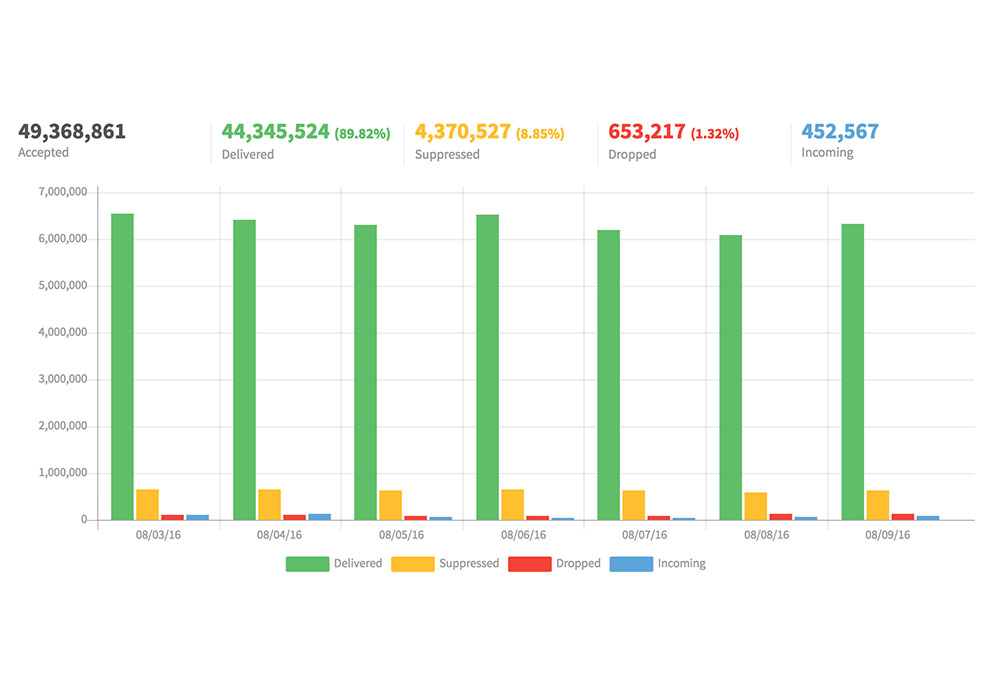 The main benefits of Mailgun are it incorporates email automation capabilities into websites or applications built based on any framework and languages, makes sure that emails reach their right destinations, automatically extracts data from incoming emails through email parsing, provides analytics and insights into email engagements and events, filters large volumes of emails according to rules set and enforced by users. Here is a detailed discussion wy developers like using this email automation SaaS
Incorporate Email Automation Into Websites Or Apps Built Based On Any Framework Or Language
Developers can utilize Mailgun to integrate email automation capabilities into the websites or applications they are creating and designing. They will be able to do this no matter what frameworks and languages their websites or applications are built from, whether Ruby, C#, Java, PHP, and Python.
Email Monitoring And Analytics
One of the powerful features offered by Mailgun is its email tracking or monitoring capability. The SaaS service makes sure that emails from websites and applications are able to successfully reach their right destinations. Users can verify if the emails they sent out landed in the recipients' email inboxes or spam folders. They can also check how recipients are interacting with the emails they are sending out like if they are opening and reading them, clicking on links attached to the emails, or just ignoring the emails they are getting.
Designed For Managing Transactional Emails
Mailgun is highly recommended for users who are dealing with transactional emails likes those ones used for processing orders from customers, managing subscribers' accounts, or sending out website or application updates. Because transactional emails rely heavily on the actions performed by specific site visitors or app users, or the requests they submitted, users must be able to collect all the pieces of information they need from incoming transactional emails so they can respond back properly.
Automatically Pull Important Data From Incoming Emails
What's great about Mailgun is that is equipped with a smart email parsing feature. Email parsing is an automated technique wherein specific sets of data contained in emails are identified and pulled out. With Mailgun's email parsing feature, users can automatically extract data from incoming emails and convert them into a format that is easy to read, understand, and interpret.
Handle Large Volumes Of Emails Effortlessly
Another capability included in Mailgun is that it permits users to easily handle large volumes of incoming emails. In fact, they can set and apply rules to the emails they are receiving so they can filter the emails effortlessly, permitting them to get rid of spam emails and get only those ones that are important.