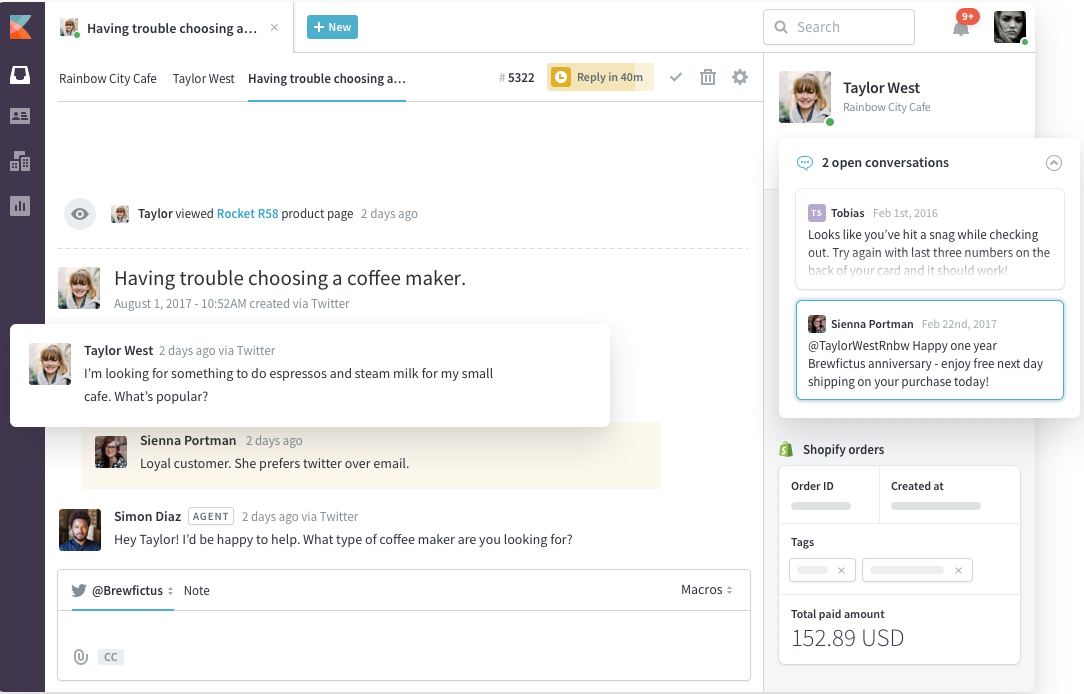 The main benefits of Kayako are its streamlined helpdesk processes, customizations, and accessibility. Here are the details:
You can create a 24/7 self-service portal to encourage customers to find answers on their own. As customers type their question, they get intuitive search suggestions that lead them to the right answer. You can also brand the self-service portal with your company logo and colors.
If there's one recurring benefit you'll notice in many Kayako reviews, it is that the software can streamline your helpdesk processes using tools such as automated ticketing, macro commands, alerts, and intuitive sorting so your customer reps can focus on providing personalized solutions to high-level queries. Link your helpdesk to relevant departments so your agents can get accurate answers.
Embed the live chat tool in your website and engage customers real-time. Answer concerns fast and follow opportunities from queries that indicate interest in your product. Kayako's automation can handle large volume of recurring queries, while your customer reps focus on new issues and urgent concerns. Automated ticket routing also ensures the right customer is connected to the agent in the best position to give the right answer to prevent escalation.
Use the platform's 100 out-of-the-box reports to document trends, bottlenecks, and metrics, or use the Kayako Query Language to customize fields. Brand the tool with your brand's logo and colors. Kayako supports multi-brand customization for companies with large product portfolio. Finally, the vendor offers mobile apps for iOS, Android, Windows Phone, and Blackberry.