In 2022, project management has experienced considerable changes. The revolution in project management developments has made it much easier for teams to communicate and collaborate more efficiently. This post is about some of the most significant developments in project management in 2022.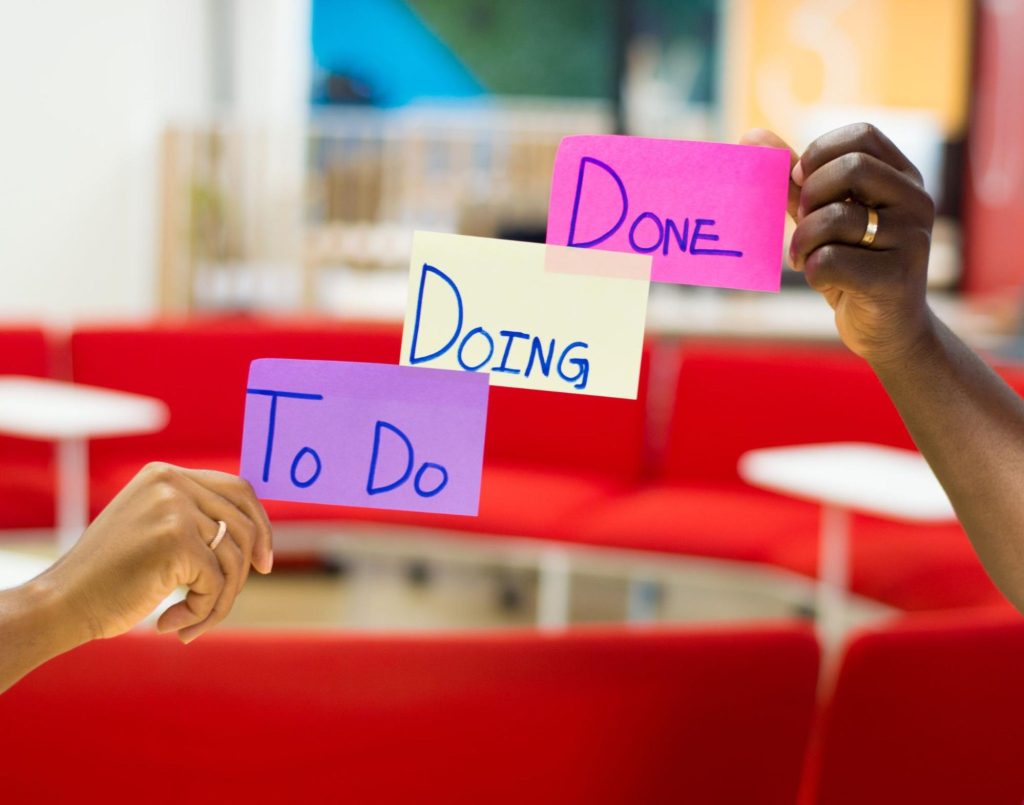 Why Project Management Has Changed?
Perhaps knowing the reason why project management has changed helps those project managers who have not yet modernized their project management methods. 
One important key to success in business is being open to changes. If you resist, it is highly likely that you cannot fulfill your business goals and drop behind your competitors and lose your market share. 
There are two main reasons for the shift from traditional project management to modern project management:
The undeniable growth and advancements in technology that has led to a digital transformation era;

The ramifications of the Coronavirus pandemic situation such as global lockdowns and unexpected shutdowns. 
Both situations have pushed project managers to manage their teams differently.
While everyone was uncertain about the results of modern project management, especially teams that had to work remotely, it turned out that teams can still be productive and efficient. Not only that, but it also became clear that some departments could even be more productive than before. 
Keeping that in mind, let's now see how the project management industry has changed particularly in 2022.
Current Project Management Trends in 2022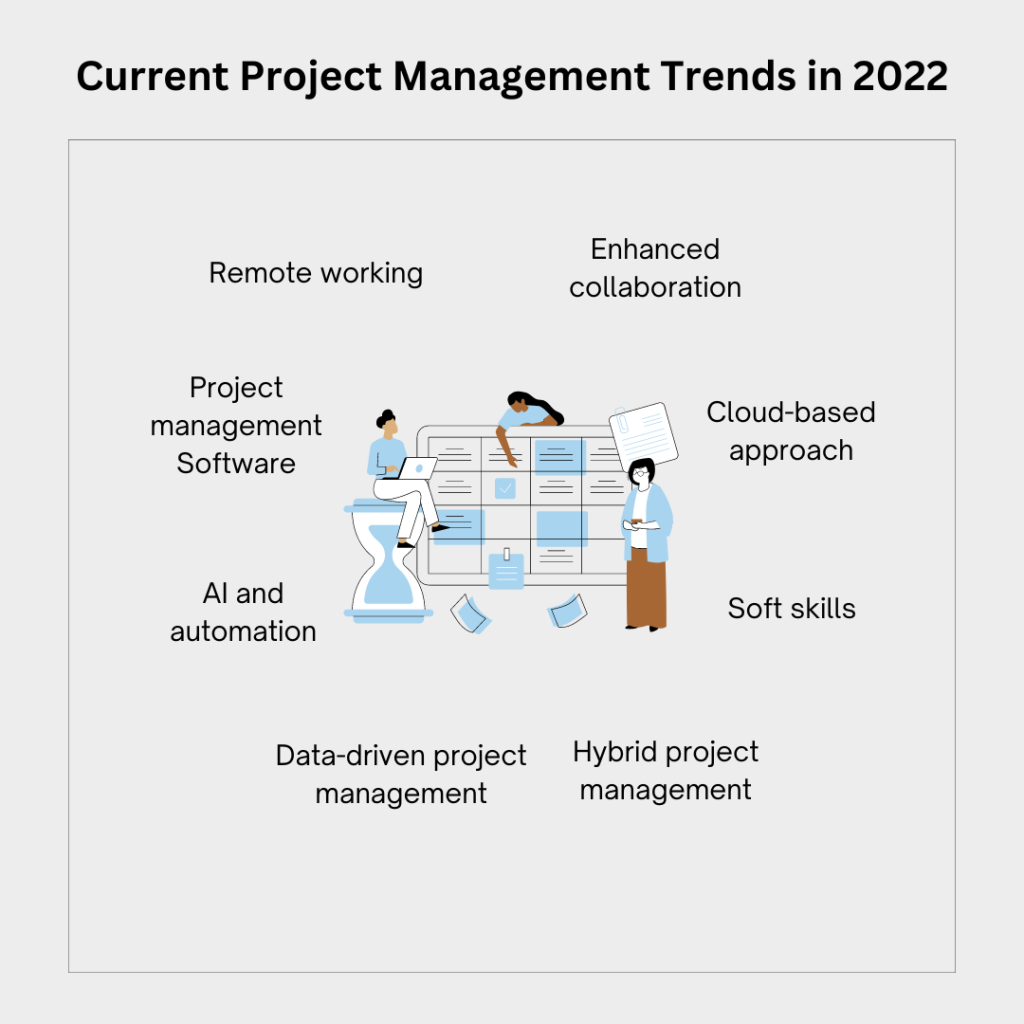 To notice the changes in project management, we need to observe the 2022 trends. Here, we would get to know these trends and analyze how they have affected project management. 
1. Remote Working
Before the pandemic, remote working was already recognized by some business owners but it was never a trend. With the widespread working trends after the pandemic also came the remote working trend. 
During the pandemic, businesses and organizations decided to ask their teams to work from home. Therefore, teams had to make a shift from commuting to work to telecommuting for their own safety and health.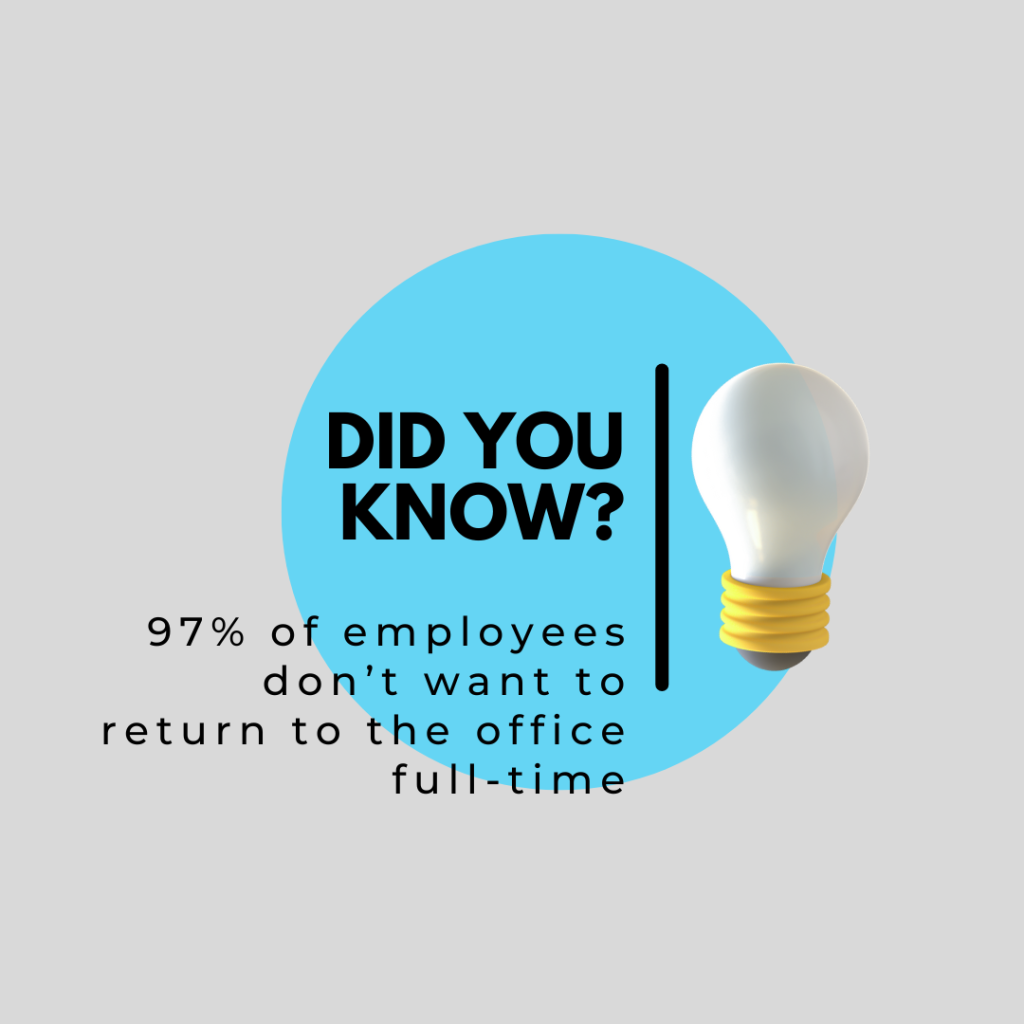 What is happening in 2022 is that business owners are keeping up with the same remote working method even though the pandemic is no longer a threat to people. This means that the preferences of people have changed during 2022 and up to 97% of employees prefer not to work from their offices full-time. 
To stay in alignment with the remote working trend, project managers have resorted to using project management software. Since they are cloud-based, remote and hybrid teams can communicate and collaborate with each other from any location and get the work done without missing deadlines. 
Regardless of shift timings and locations, project management software can capture all the data that must be tracked, checked, and used by project managers to make better decisions in real-time.
2. Project Management Software
When teams are working remotely or in a hybrid way, project managers should have access to real-time KPIs. Therefore, using project management software can help organize projects efficiently. 
Regardless of how complex a project is, project management software can positively impact how an organization manages its projects as they employ AI and automation features. Here are some other advantages of using project management software:
Collecting data for making better decisions;

Having a better insight regarding resources, skills, etc.;

Automation through Artificial Intelligence;

Better budget allocations;

Customizing dashboards and informing every member about the changes simultaneously.
3. AI and Automation
Project management software is helpful because they are equipped with modern technological features such as Artificial Intelligence and automation. Using automation, a noticeable amount of time and energy that is allocated to repetitive tasks would be saved. The saved time can be allocated to more important tasks that need to be done by a real person and cannot be automated.
4. Data-Driven Project Management
Thanks to Artificial Intelligence, gathering data is a trend that businesses use daily. Such data can be very useful when it comes to making informed decisions. Project managers may assess project progress rates, spot early indications of scope creep, etc. with data analytics and reporting.
Analytics that is driven by AI gives valuable insight into the whole company and its projects. They provide visibility into the activities and produce customized reports to assist in helping the project managers visualize the data exactly how they need it. Having analyzed the data, project managers can avoid making wrong decisions based on manually prepared data.
5. Hybrid Project Management
During the post-pandemic era, many businesses have found out that it is practically not possible to go on working remotely. They have been trying to come up with a solution regarding a working method. 
Hybrid project management is a practical approach that some businesses and teams are now experimenting with. In the hybrid system, as the name suggests, two or more methodologies are used simultaneously to achieve the business objectives more efficiently. 
The hybrid approach is meant to provide more flexibility and efficiency to work. Depending on the industry your business is active in, you can use the hybrid project management approach and bring more flexibility to the working environment. 
As a result of employing this project management trend, you will have happier teams who work with higher concentration and productivity.
6. Soft Skills
The attention to soft skills has grown especially in 2022. Companies are no longer run with traditional methods, leading to a more modern approach toward hiring project managers who have strong soft skills. 
It does not mean, however, that hard skills are no longer at the center of attention. The gist of this thinking is that having strong hard skills cannot ensure good communicational skills, decision-making skills etc.
In other words, recruiters now are also noticing the importance of soft skills in project management. This trend in project management is unsurprising given that AI-powered software can now manage the more difficult technical aspects of project management.
7. Cloud-Based Approach
Cloud computing is another new phenomenon, thanks to the digital transformation era, that is a project management trend in 2022. 
As more businesses move their operations to the cloud to keep up with changing business needs, the demand for cloud computing solutions is growing quickly. Businesses seek cost-effective solutions to expand their operations without sacrificing performance or usefulness. That is why cloud computing is the best option.
As we discussed earlier, hybrid and remote work settings are growing in 2022. Such growth has drawn more attention to cloud-based solutions since they allow team members to work from any location while maintaining access to important business applications.
8. Enhanced Collaboration
Today, using online tools instead of merely back-and-forth email exchanges for team cooperation and coordination has become very popular among businesses. Therefore, collaborative communications have been enhanced more than ever specially for SEO agencies.
Despite the benefits of remote or hybrid approaches, encouraging employee participation can be quite difficult. Numerous businesses have started using online project management tools in an effort to address this problem. 
For instance, some teams use multimedia conferencing to enable distant employees to interact and collaborate with their on-site colleagues. Or, they use mind mapping software to keep track of their ideas or thoughts that may turn out to be constructive when in a brainstorming session. 
Conclusion
Project management has been enormously changed in the past few years and especially in 2022. With the growth of cloud technology and Artificial Intelligence (AI), it is no longer a hard-to-deal-with challenge to manage projects. 
Following the project management trends in 2022 can open new horizons for your business management. If you want happier teams and checked goals, it is time you update your project management methods.