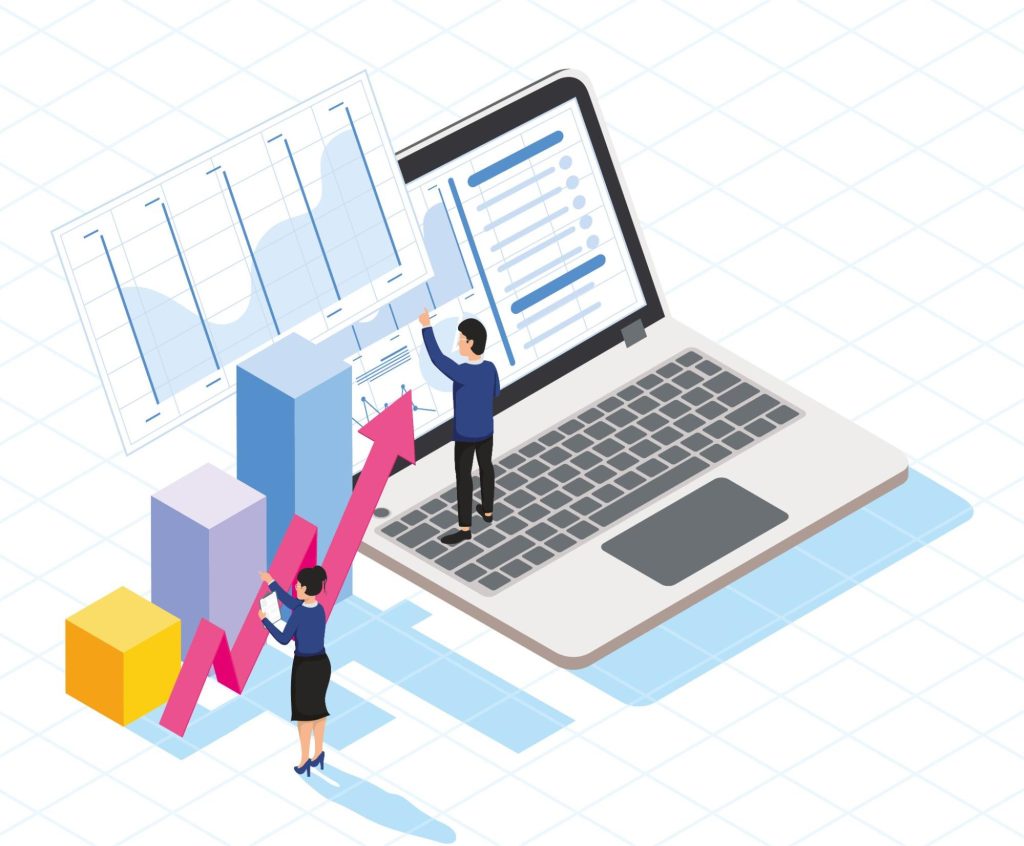 The rapid use of accounting automation software is leading to the reduction of manual bookkeeping records. With the continuous increase in financial tasks, these tools greatly help businesses manage them effectively. Coming to the basics, accounting automation software assists businesses in automating the accounting process, including data entry, billing, invoicing, etc. 
The accounting software industry is projected to touch USD 29.80 billion by 2030, showing the increasing demand and rapid adoption of cloud-based accounting automation software.
The software brings various benefits, such as freeing up time that was to be completed for manual tasking. Finance professionals can focus more on strategic work, including analyzing data, forecasting growth strategies, etc. The software displays real-time insights and provides financial reports, which helps experts to make informed decisions. This ensures that the company stays up-to-date in the financial industry.
This blog will discuss more features, advantages, and popular accounting automation software.
What is Accounting Automation Software?
Accounting Automation Software automates various financial tasks and processes in accounting. The automated accounting system is used for various purposes, such as invoice management, bookkeeping, auditing, financial analytics, etc. 
Another benefit of accounting automation software is the ability to confirm that the company complies with regulatory standards. The accounting system could easily do low-value tasks, enabling professionals to focus more on decision-making work.
What are the Challenges of Accounting Automation Software?
Accounting software has various benefits, but it also comes with its challenges. Some of them are complex software interfaces, technical issues, migration, compliance issues, and so on. Let's know some of it in detail.
1. Dearth of Trained Professionals
To operate the software system, one must be acquainted with it to utilize it effectively. The user has to learn and adopt new technologies; otherwise, it can hinder the effectiveness of the application.
2. Cluttered Software Interface
Few automated accounting software systems could be quite confusing to use, making it challenging for new users. It is important to make sure the software has a user-friendly interface.
3. Integration Issues
Integrating a new software application with an existing system. There could be compatibility issues, and customization may be required.
4. Regulatory Compliance
The accounting system should be compliant with regulations and standards. It could be challenging, especially in industries with complex regulatory frameworks.
5. Data Transfer
Moving data from one software to another is a lengthy process. Ensuring data is migrated is important for the success of the automation implementation.
What are the Benefits of Accounting Automation Software?
Companies are trying to streamline their accounting activities. The numerous benefits of the software make it the best bet to speed up the process. Let's discuss some of the benefits.
1. Saves Time
One crucial point is the efficient utilization of time. The tasks that took hours manually can be done in much less time. Daily tasks such as data entry and report generation can be done by the software. On the other hand, accounting professionals can focus more on analytical work. 
2. Improved Accuracy
Entering data manually can mostly lead to errors. The accounting software minimizes the risk involved through the automatic collection of data. The tool contains built-in algorithms that ensure data accuracy and reduce financial discrepancies.
3. Cost Optimization
Human errors can lead to huge losses for the company. However, by using the software, businesses can reduce the costs caused by the error and nullify the need for additional manpower, reducing expenses. 
4. Integration with AI
Today, most accounting software is integrated with artificial intelligence to improve the work experience. These AI tools can efficiently automate fraud detection, data visualization, and analytics tasks. Organizations can gain valuable insights which can help them in their decision-making.
5. Real-Time Reporting
In traditional accounting, the professional has to manually note down the account record, which takes time. If anyone wants to see the report urgently, he/she has to wait till the report is complete. The software can provide real-time reports at any moment. Organizations can make fast decisions based on the data to improve their strategic position.
How Does Accounting Automation Software Work?
Using recent tools and technologies, the software solution reduces human work by automating financial tasks. The automated accounting software is adaptable and may be changed to satisfy the unique needs of different businesses. The system enhances data architecture, facilitating information access.
The development of financial software services, such as accounting automation software, is a rapidly expanding field of fintech software development. The accounting program includes functions including a currency converter, transactions, billing, and invoicing.
What are the Features of Accounting Automation Software?
There are various essential features of the software that improve the overall experience. Some of the most common features include as following.
1. Integrating Data
The software can smoothly integrate with various financial systems and platforms. This allows easy consolidation of financial data, eliminates manual entry, and ensures accuracy is maintained.
2. Automated Bookkeeping
Manual data entry tasks can be automated with the tool. The application can distinguish transactions, accommodate accounts, and create reports based on pre-defined procedures. Professionals' work pressure is reduced, and they can focus on other important tasks.
3. Managing Invoices
This capability is a critical component of accounting software. Invoicing is the process of creating and sending invoices as well as tracking payment status. The technology can also be used to send payment reminders, which can help to increase the likelihood of getting paid on time. 
4. Financial Analysis
Accounting automation software provides extensive reporting and analytical insights, allowing employees to access specialized reports and gain useful insights into their company's performance. Dashboards allow employees to produce customized reports, track metrics, and visualize data.
5. Audit and Compliance
The program contains capabilities that help with audit and compliance requirements. The software indicates any inaccuracies that may result in legal concerns and provides safe data storage to ensure a clear audit trail. Organizations can maintain transparency and stick to accounting standards.
Some Popular Accounting Automation Software
The accounting software not only saves time but also eliminates errors. Here are the 11 best accounting automated software in 2023.
1. MyBillBook
MyBillBook is a popular easy-to-use accounting and billing automated accounting software system created to help small businesses manage their daily operations. You can create bills, maintain stock, track payments, and record data.
Features
Payment Collection

GST-Invoicing

Purchase Order Management

Analytical Reporting

Inventory Management
Pros
The software has a user-friendly interface that is quite simple and can be eased even by those using it for the first time.

Various customizations are available according to the specific branding requirements of the company.

Companies can save time by reducing the chance of errors that occur with manual calculations.

The software is highly secured through encryption and regular backups.
Cons
There is limited scalability available which may not be suitable for large-scale business.

Integration with third-party systems is limited, which can be a drawback.

The software has limited customization options.
Price
MyBillBook offers 3 plans
Diamond

Platinum

Enterprise
2. TallyPrime
TallyPrime is one of the top accounting, inventory tracking, and payroll software. This is a user-friendly platform suitable for both experienced users. Tally Prime is the updated version of the Tally software with many improvements over the previous version.
Features
Inventory Management

Customer Support

GST Tax Invoice

Multi-Currency Support

Multi-Remote Access
Pros
The software has various features, such as automatic tax calculations and bank reconciliation, which help businesses with financial reporting.

It is customizable and can be custom-made to particular requirements. 

It is a cloud-based software, which means you can access data from anywhere.

The software has a user-friendly interface.
Cons
The software can be expensive for smaller businesses if they don't have unique requirements.

TallyPrime is primarily designed for general accounting purposes.

Learning and development are required for new users, which could be a disadvantage for companies with limited resources.
Price
Tally has four plans
Silver Rental: INR 600/month

Silver: INR 18,000 (perpetual)

Gold Rental: INR 1800/month

Gold: INR 54,000 (perpetual)
3. Vyapar
Vyapar is the best choice for small businesses. It offers a variety of features to manage accounting needs for small and medium businesses. It is one of the simplest GST-ready inventories and is easy to learn and operate. You can manage your tracking, cheques,  payments, and reminders without the Internet.
Features
GST-compliant software

Invoice management

Reporting financial data

Payment Reminders

Real-Time Data Management
Pros
The software can be easily used who don't have prior accounting experience.

The software is affordable for small businesses.

Vyapar offers a variety of features for managing the business.

It has a mobile application. Hence you can access data anytime.
Cons
Limited customer support is available.

The app cannot be integrated with other apps, which is negative.

Limited customization options may be better suited for medium and big businesses.
Price
Vyapar has two plans:
Silver Plan- INR 2799/month.

Gold Plan- INR 3499/month.
4. Zoho Books
Zoho Books is a popular accounting automation software that assists businesses of all kinds in managing their money. Payment tracking, reporting, invoicing, and other features are available through the software. 
Features
Invoicing and Payment Management

Financial Report Management

Banking Integration.

Automated accounting.

Multi-currency support.
Pros
Zoho Books can integrate with other Zoho and third-party apps for seamless business workflow.

The automated accounting software provides multiple currency support, making it a better option for international business.

The software has various pricing features for all sorts of businesses.

Zoho Books has a strong customer support team.
Cons
Some features are only available at higher price plans, which can be pricey for businesses with more requirements.

The free plan has limited features.

The software interface can be overwhelming for new users.

Integrating with third-party software could be a tricky process.
Price
Zoho Books has 5 pricing options.
Free

Standard- INR 749/month (annually)

Professional- INR 1499/month(annually)

Premium- INR 2999/month(annually)

Elite- INR 4999/month(annually)
5. FreshBooks
FreshBooks is a modern automated accounting system that helps in managing bookkeeping and recording expenses. It is a SaaS-based platform that can be operated on desktop and mobile. FreshBooks is available in 12 languages and used by more than 2 million users.
Features
Expense Tracking

Report Generation

Time-tracking

Integration Support

Invoice Management
Pros
FreshBooks is easy to use, even for new users without experience. Additionally, it has a user-friendly interface making a seamless experience.

The invoicing features make it easy to send and keep track of invoices for further use.

The software could be integrated with other platforms like Google Drive, Paypal, etc.

FreshBooks offers excellent customer support. You can get a helping hand from the support team regarding any questions about the software.
Cons
The pay structure could be difficult for smaller businesses.

There are limited integration features as compared to other platforms. 

FreshBooks has a restricted limit of clients you can have each plan.
Price
FreshBooks has four plans.
Lite- $8.50/month.

Plus- $15/month.

Premium- $27.50/month.

Select- According to requirements.
Conclusion
In short, accounting automation software has enhanced businesses' financial tasks and improved their fintech app development services. Choosing the best software depends on your business requirements. Like many other areas, there are various software available that cater to various business owners.
The accounting software market will surely grow as more businesses adopt new technologies. With the hybrid work model growing, the need for cloud-based accounting software applications will continue to grow.
FAQs
How Does Accounting Automation Software Improve Accuracy?
Automation software can help businesses improve their financial tasks and maintain a healthy profile by reducing errors.
Can Accounting Automation Software handle complex financial processes?
Yes, accounting automation software can handle complex financial processes. The software can automate most manual tasks and fasten the process.
Is Accounting Automation Software suitable for small businesses?
Yes, the software is suitable for small businesses. There are various software systems specially designed for small businesses.
How does Accounting Automation Software help with compliance?
Accounting software can create ledger files, enter rows of data, and reduce time-consuming tasks. Providing accurate information can help easily manage businesses and create reports that manage regulatory requirements.