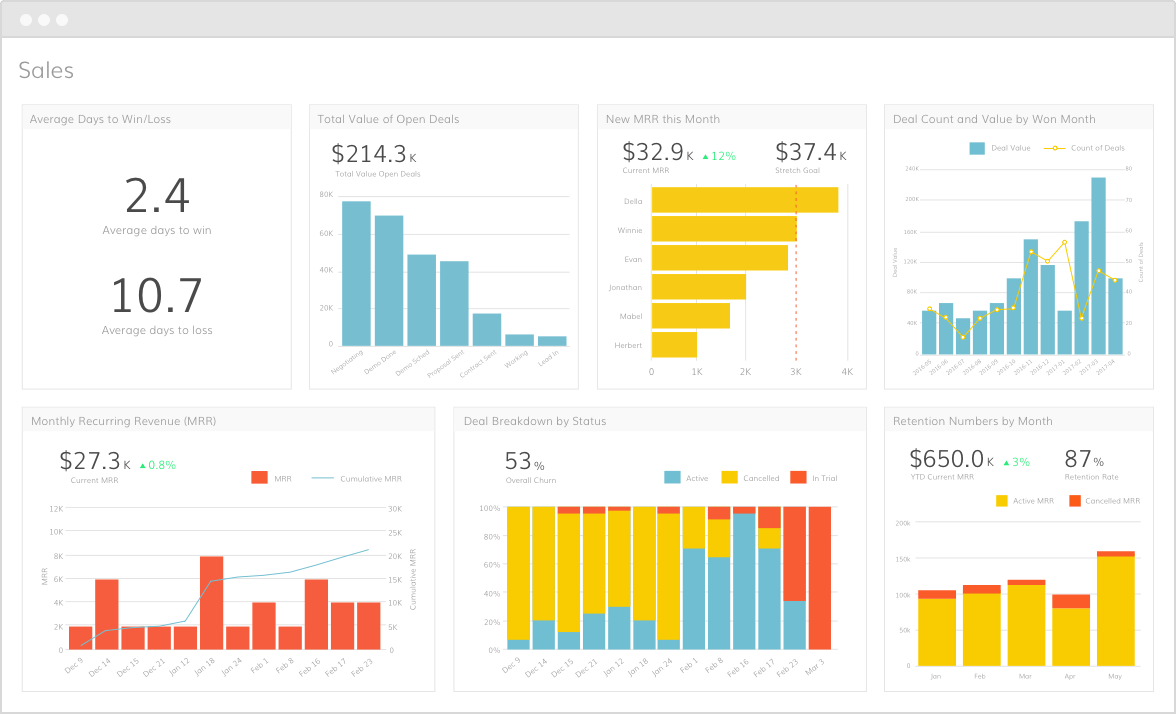 The main benefits of Grow.com are its rich feature set, flexibility, and friendly pricing. On top of standard BI features, Grow.com provides you with added benefits especially for small businesses with a limited budget. It scales to your needs, allowing you to utilize the features at once or one set at a time. Here are the details:
Friendly pricing
The vendor tailors the platform based on your needs and budget. Small businesses, in particular, will find this setup appealing; they are assured that no unnecessary features go into the plan. A free demo is available, too, to help you match the software's capability against your requirements.
A wide range of dashboards for specific KPIs
Grow.com displays a collection of neat dashboards where you can grasp the most important metrics of your business by role, department, process or any other category you deem fit. For instance, you can create unique dashboards for marketing, accounting, sales, operations, customer service, and HR or combine their KPIs in one executive display. You can even generate an investor dashboard showcasing the health of your portfolio. Dashboards allow you to make incisive decisions fast and on-demand.
Ability to consolidate data from myriad sources
As with most cutting-edge cloud BI systems, Grow.com enables you to process information from various data sources including from social networks. You can mix and match or mash data to unearth insights. The software is also compatible with most of the popular operating systems–Windows, Mac, Android, and iOS–which means shifting from one device to another is not only feasible but seamless.