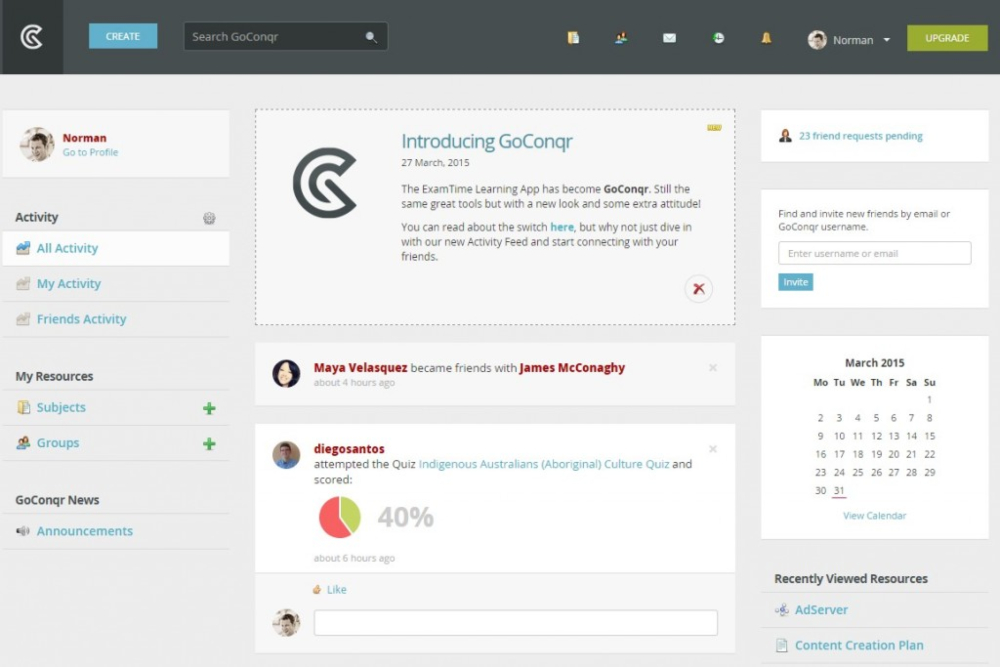 The main benefits of GoConqr are its social learning features, its mind maps, and its online study planner. Here are more details:
A self-direct and active learning style can benefit greatly from GoConqr's innovative mix of learning applications and social learning features. The platform's combination of best practices and cutting-edge technology empowers its users and democratizes learning. An active community is also around to back the platform's learning tools.
With the mind maps feature, complex concepts are quickly and easily simplified, making it perfect for a topic overview or introduction. It is also good for essay brainstorming, as it gives users connections between study scope, concepts, and context.  Curriculums can also be outlined and the relationships between concepts can also be monitored with a mind map.
GoConqr's online study planner is an effective and robust learning tool that can be used to engage students, keep them motivated, and on track towards fulfilling their study goals. Students can learn time management and monitoring from GoConqr, which is a big help in the achievement of their study goals. Direction and context can be added to the course builder. Minimum progression requirements can also be stipulated and course resources can be curated.
Memorizing important facts and information is made easy by the Flashcards tool. The tool can add images to cards, rate and shuffle them, hid them, as well as share them with colleagues, classmates, and friends.