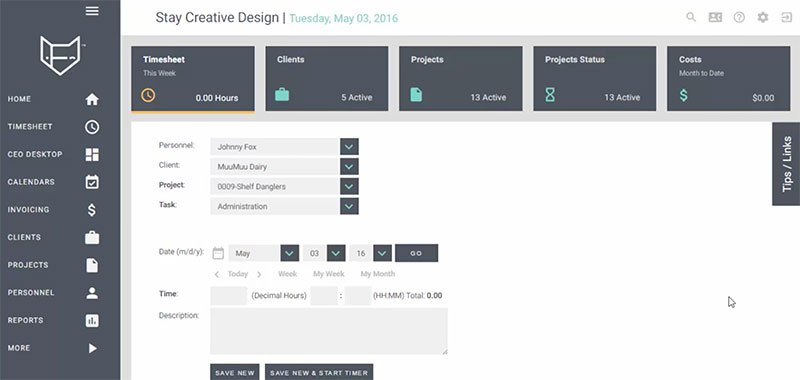 The main benefits of FunctionFox are its feature-rich, intuitive interface, and streamlined business processes. Here are more details:
FunctionFox is an intuitive and project management tool that offers time tracking capabilities. The platform is designed to streamline the business processes of creative companies so that they can provide top rate services with high levels of creativity.
With this system, you can graduate from basic paper-based timesheets and Excel files to a modern application that enables you to easily and effectively track milestones, monitor time, and manage your projects. The best part is the software provides access to all essential knowledge that you need without overwhelming you with too much data.
One of the highlights is FunctionFox allows you to look back at a project's history and even go back as far as two months ago. This feature can help managers and team members to review their steps and make the needed adjustments so that they can address the challenges and improve their work to ensure the project is completed within schedule.
On top of that, our FunctionFox reviews show that you can effectively utilize the software's task management and scheduling features to supervise your employees' schedules, assign tasks to the most qualified team members, and empower them to set their own schedules and milestones. Your team members can use the time tracking function to monitor their work and improve their performance and productivity.
Finally, we all know that it is important to execute projects within the given budget. FunctionFox helps you effortlessly achieve this by enabling you to plan your budget and ensure spending is kept under control. You can pull this off by making sure production schedules and activities are properly aligned with project needs and goals.