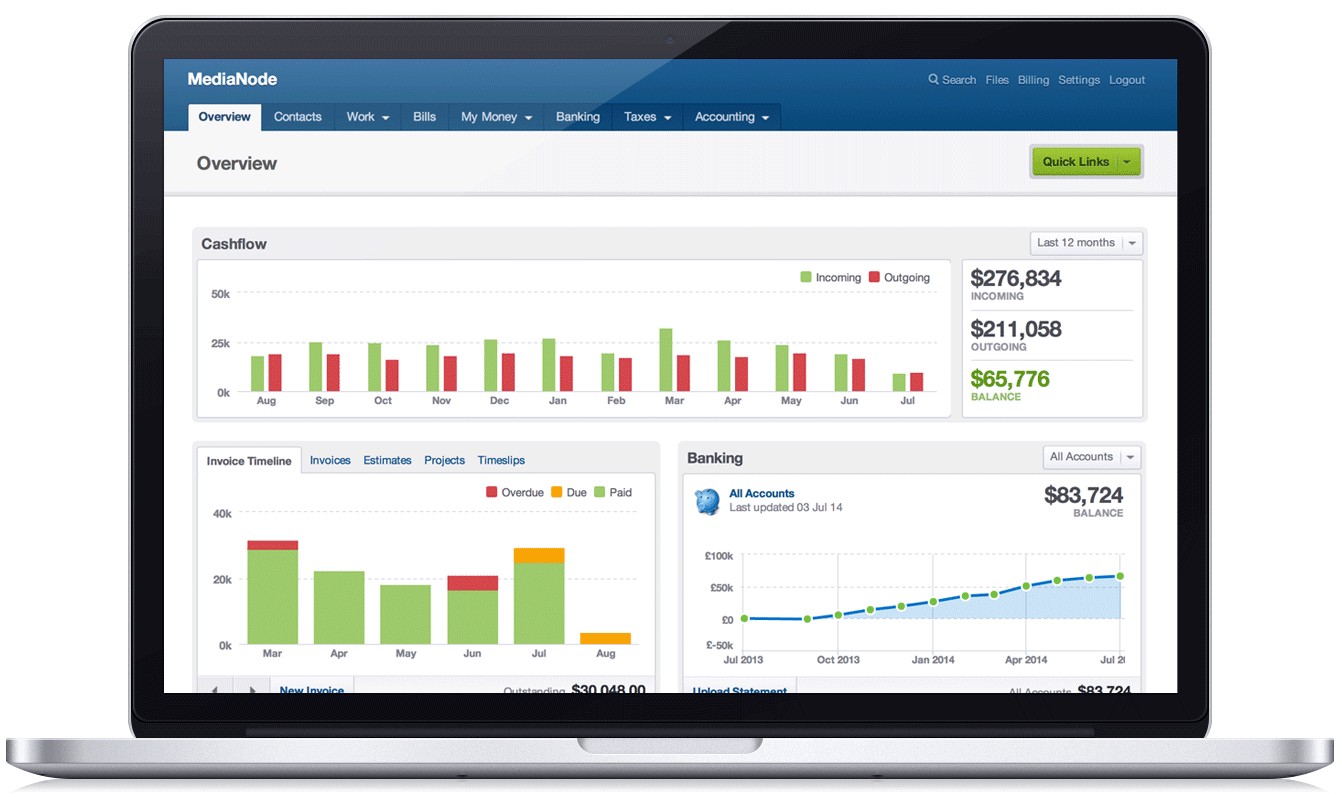 The main benefits of FreeAgent are its comprehensive feature set, ease of use, and customizable. Small businesses have multiple benefits waiting for them when they use FreeAgent. Check out a few of them below:
A Solution For Small Businesses
FreeAgent is specifically designed for small businesses, freelancers, and contractors. Businesses based in the UK also get VAT support.
User-Friendly System
There's no need to worry about getting to know the FreeAgent system, as it comes with support resources for novice users. Critical business activities are displayed on the dashboard using graphs and charts. Users can also view cash flow, profits,  invoices, losses, and time slips.
Invoicing/Contact Management
Invoice creation is a breeze with FreeAgent's customizable and aesthetically pleasing templates. Color schemes can be changed, and headers and logos can be customized by users. Reminders can be set for repeating invoices, and users can also customize invoice numbers based on the contacts and projects. Users can also organize estimates based on whether it was rejected or approved. Contacts and vendors can also be effectively managed with FreeAgent. Custom notes, basic contact info, billing emails, and contact emails can be saved. Users can also view how much a contact owes and what their history is.
Capability to Track Expenses
FreeAgent uses imported statements from banks and bank feeds to track businesses' expenses. Expenses can also be attached to solo projects automatically, which can then be billed to customers. Users can also opt to manually add expenses to FreeAgent.
Accounts Payable Management
Bills are generated and managed effectively by FreeAgent. Bills can also be added to projects If necessary. Corresponding descriptions, as well as attachments, can also be included to customize these bills. The system also saves time as bills that recur can also be set.
Intuitive Navigation
Overview, FreeAgent's dashboard, displays all important data in a style that is both modern and sleek, allowing users to keep track of how well their business is performing financially. The top of the screen is where they can view the chart that displays the main cash flow, which reveals the transactions entered in the last few months. Invoices, time slips, estimates, and projects, can also be easily accessed from the dashboard.
Facilitated payments
As long as the user has a card provided by a major credit card company, FreeAgent will accept it. FreeAgent's integration with PayPal, Strip, and GoCardless make it attractive for Etsy and eBay retailers since users only need to enter their credentials to be able to pay. The system also allows for direct payments. Invoice templates also include links to payment systems that are applied internationally. Bank transfers from more than 80 countries from around the globe can also be collated by FreeAgent.
Advanced Expense Management
Expense management is a breeze with FreeAgent. Users can categorize expenses by currency, link them to a particular activity or project, track, and document them as soon as the invoice is settled. Bank statements can be easily included in the reporting once the user has uploaded them to the website. Uploading bank statements are no longer necessary once the bank feed is enabled. One adjustment users do need to make when using FreeAgent is that they feed must include descriptions and captions if there are no previous categories that they fit in.
Tax Management
With FreeAgent,  beginners can take the lead when it comes to figuring out taxes. All the system's categories match those of the IRS, so users can simply reference schedule C to prepare taxes. From there, they can open the Journal entries. Tax returns can be accessed once the tax prep totals are copied. Then, pull off the reports on credit and debit.