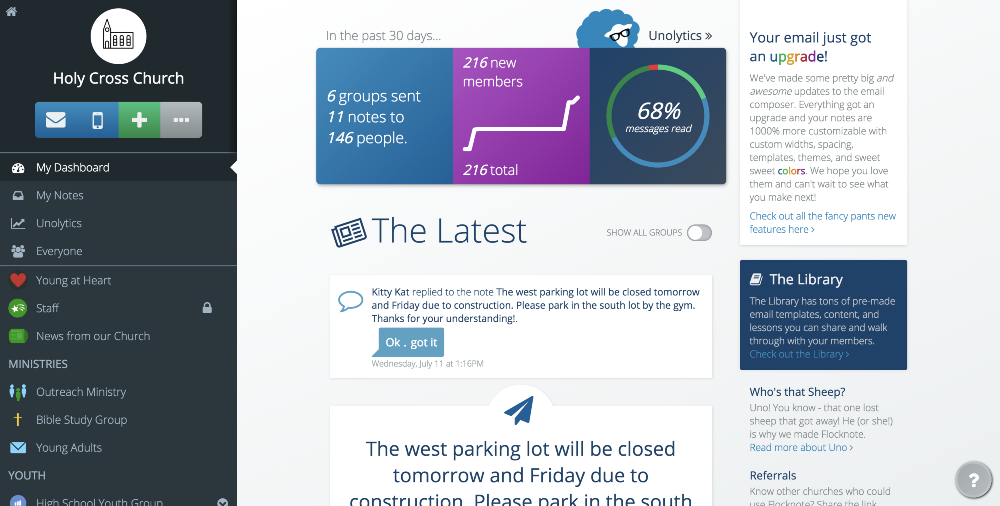 The main benefits of Flocknote are its ability to send unlimited emails and text messages, its user-friendly interface, and its Text To Join functionality.
Flocknote works as a communication tool because users have unlimited emails and text messages at their disposal. Flocknote efficiently reaches out to church groups and members through communication functions that take full advantage of email addresses and phone numbers.
Flocknote's interface is user-friendly, with buttons for note writing, notifications, and for adding members. Emails and text messages can be easily created with the write a note button and these messages can be sent simultaneously to all members of a group. These messages are also saved in the group's notes section. Polls can be added to emails, as well as images and videos. Files can be attached and text boxes added. Events can be included in emails, allowing recipients to RSVP immediately. Messages can be saved in drafts, and sending them out can be scheduled in advance.
Flocknote's analytics functionality gives its users insight into how many of their emails have been opened and read by its recipients. Unopened emails, as well as bounced ones, are also noted. Text messages are also covered by the analytics functionality.
If members are unable to attend a worship event or service, secretaries, pastors, and ministers can use Flocknote to reach out to those members. The system can even be used to instantly communicate with a member even if they are all gathered in the church.
The Text To Join functionality of Flocknote makes use of a keyword that automatically extends an invitation to a person who may be interested in getting involved with the church or church organizations. After sending a keyword to a specific number, members can then become part of a specific group within the church. They will then get regular updates on the events and activities organized or sponsored by their church group.
Content that is beautiful, customizable, and free can also be easily generated using Flocknote. Videos, header images, quotes, and photos are just some of the things Flocknote can add to newsletters. Newsletters created with Flocknote can even include branding. Customizable and editable text messages and campaigns are also provided to Flocknote users.