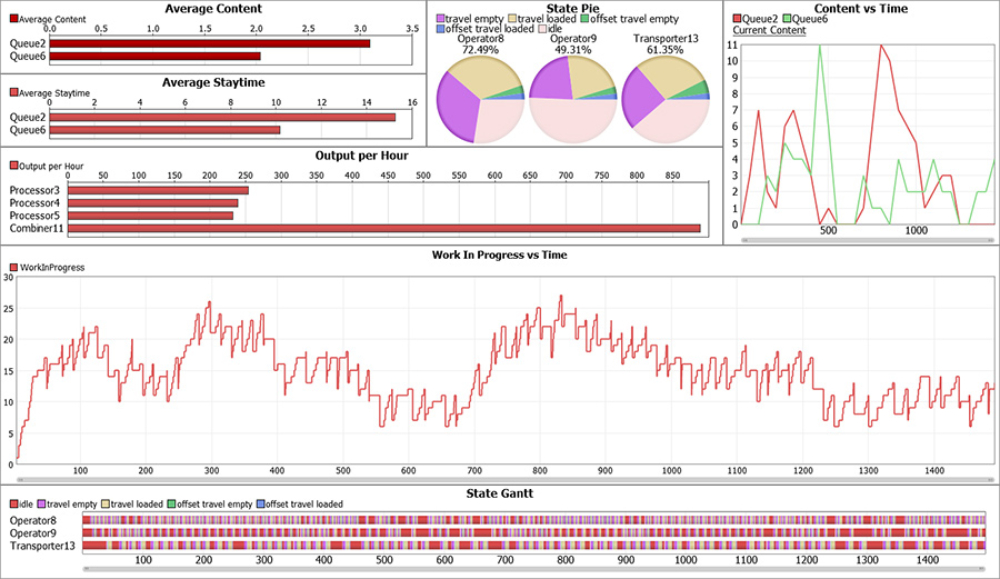 The main benefits of FlexSim are its realistic 3D visualization, its library of simulation objects, and its experimenter tool.
Environmental effects, dynamic lighting, and spatial relationships that are realistic are made possible by the software's use of the most advanced and most current 3D visualizations. OpenGL, the software's graphics library, is actually used for 3D games today. With it, their simulation can reflect what is actually going on and mimic the actual look of their systems.
A wide range of modeling capabilities are available to FlexSim users, thanks to its library of simulation objects. They can immediately build system models from the library objects they've selected. These objects can be mixed and matched, or users can start from scratch and come up with their own simulation objects.
Users of FlexSim will definitely like how they can come up with GUIs that can be part of the models they build. Every custom simulation object users come up with can be built with a custom interface. Model manipulation is also easy as custom controls can also be created. The sharing and using of these system models and layout is made easier by these capabilities.
Statistics are dynamically shown by FlexSim's built-in in-model graphs and charts, making system analysis easy. Data points like utilization, throughput, machine, and content can be tracked automatically. With dashboards, default reports can be generated and custom reports created, both of which can be exported to already existing analysis and graphing programs. FlexSim also lets users of other databases and spreadsheets applications import their data.
With FlexSim, users have a chance to have their systems tested by multiple scenarios. These scenarios can be created, viewed, and tested in the software's built-in experimenter tool. With this tool, users can immediately see the outcome when a number of variables are changed. Copies of multiple scenarios can be set up and run, and the software will handle the generation of results for these experiments.
OptQuest, an optional FlexSim add-on, can also be used to conduct more experiments on a system. OptQuest, based on parameters set by the user, can suggest scenarios that are ideal and the best. This add-on can take a number of what-if scenarios and perform tests on them to see which one can come up with the most ideal results, giving users insight into how their system can be optimized.