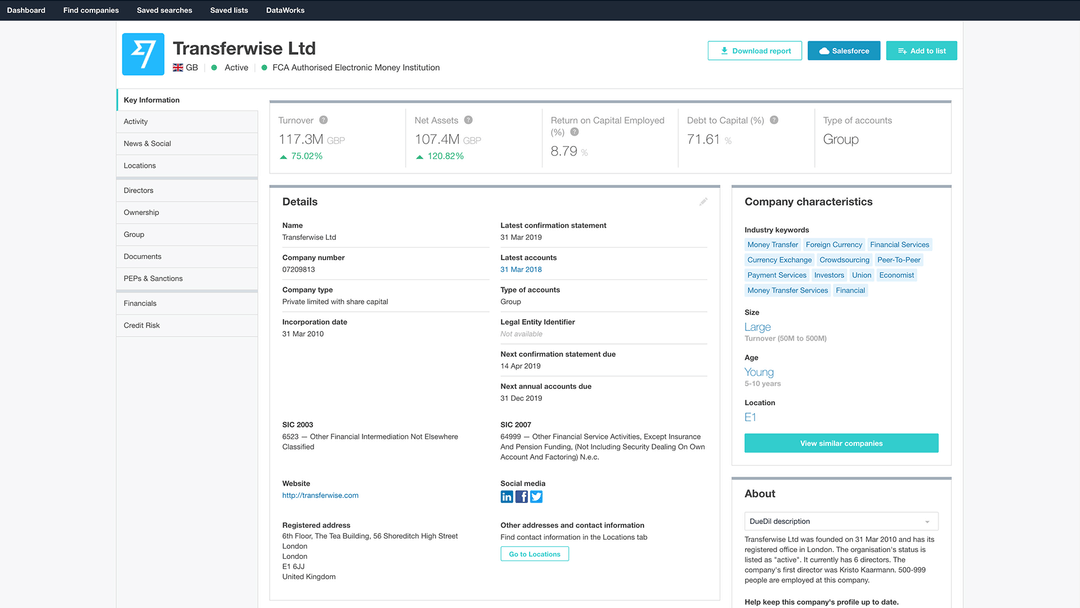 The main benefits of DueDil are speed, wider connection, accelerated growth, easy onboarding, and reliability.
Speed
DueDil is extremely AI-driven. Immense data and information regarding companies, directors, and networks can be accessed in just a click. Decisions can be made quickly. You can even set special alerts on monitored activities, profiles, and companies.
Wider Connection
DueDil mechanism courses through more than the usual fields and channels of connections. It even maps Facebook personal connections and professional connections on LinkedIn. This is highly essential in its multi-layer analysis of connections and networks between companies and the people behind them. You can read our business intelligence software guide for more information about such tools.
Accelerated Growth
DueDil can significantly increase your assets by providing timely data that can be accessed in real-time. As all information is beefed up, you can fully take on risks in an intelligent and data-supported manner.
Easy Onboarding
DueDil is equipped with all legal guidelines and points of compliance when it comes to onboarding. It allows for onboarding to be done in just under 30 minutes. It even allows for automated onboarding.
Reliability
DueDil has been in the business of helping businesses grow their assets since 2009. Its experience of more than a decade can assure you that all tools and features are foolproof and science-based. User support is available 24/7.