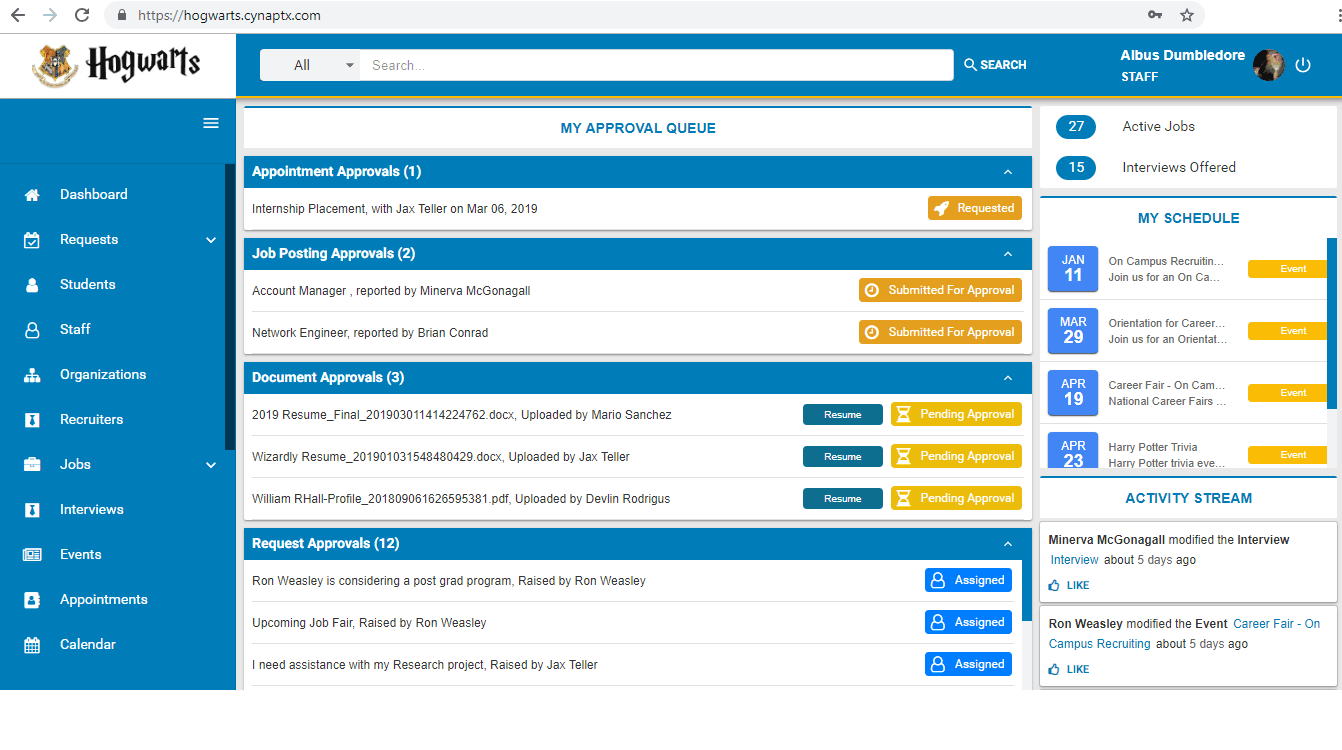 The main benefits of Cynaptx are it simplifies job management, enables website integrations, improves internal messaging, and optimizes event setup. Learn more about what you'll gain from Cynaptx:
Easy Job Management
Adding and modifying job posts is a seamless process with Cynaptx. The platform lets you close jobs that have been filled, suspend postings that are under review or have an issue, and edit openings that require modification in any aspect. The latter is especially beneficial as you do not have to remove a post and re-upload the job with new or edited information.
Website Integration
Cynaptx has a job spidering technology which reads job posts on your websites. It then integrates them into Cynaptx to spread the word to more students. This not only saves you time, but this also makes your recruitment efficient and effective.
Interview Scheduling
Once you find a student who has the qualities and capabilities you are looking for, you can start engaging with them via Cynaptx. You can send them an interview invitation to show them that you are interested in making them a part of your organization.
Furthermore, you can easily manage your interview schedule. Cynaptx has a built-in calendar where you can view available interview slots and keep track of appointments with students.
Internal Messaging
Collaboration is enhanced with Cynaptx through its in-built internal messaging tool. This lets your staff connect with each other regarding their tasks and potential candidates. This helps ensure that workflows are continuous and that every potential recruit is processed accordingly.
Event Setup
Outreaches to schools enable you to find highly capable individuals even before they fully enter the job market. Cynaptx helps you tap talent pools by aiding you in organizing events. It has a wide array of tools in this regard to make sure that everything goes fine before, during, and after the recruitment activity.