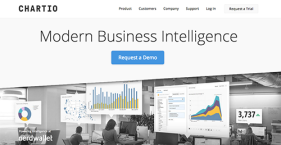 The main benefits of Chartio are empowering companies to make data-driven decisions, simplifying navigation with a drag-and-drop interface, and simple and quick setup. Learn more of its benefits below.
Chartio assists companies in tracking and processing their important business data. Driven to make a business data interface, this app assists businesses to make decisive business moves through intuitive business analytics supplied by the second. Users can integrate their databases to Chartio in visualizing their business data directly without worrying about data breach or insecurity.
The tool's drag-and-drop interface allows users to obtain data straight from Google Analytics and then cross-reference the data to their own sales data taken from an Oracle database. The app can be set to provide data in real time or according to a schedule. Chartio also provides its users with an interface that clean up your business data for presentations. Once installed, the data can be set in various formats such as line charts, bar charts, and area bar charts.
For the user's comfort, the platform can also integrate with multiple databases and systems like Google Analytics, Twilio, Amazon Redshift, Salesforce, PostgreSQL, and MySQL.
Simplicity of setup
Businesses attest that Chartio is the best when it comes to speed and business intelligence. Once connected, Chartio processes their data in minutes.
Ease of use
Chartio is also streamlined for users who are not experts with SQL and complex data processing tasks. Chartio handles these difficult tasks with ease and allows users to create reports, find strategies to quicken turnaround when answering queries and reduce training costs. The manual SQL mode is also available for users that prefer it.
Enables agile business intelligence
Chartio's processes can operate with or without data warehouse storages. The program's adaptable settings allow users to switch storages as often as they need to. Instead of manually planning out reports, Chartio enables you to automate the process. With the solution,  creating an elaborate business data system is possible even without custom programming, costly professional services, and integrated systems usually needed for known BI systems.