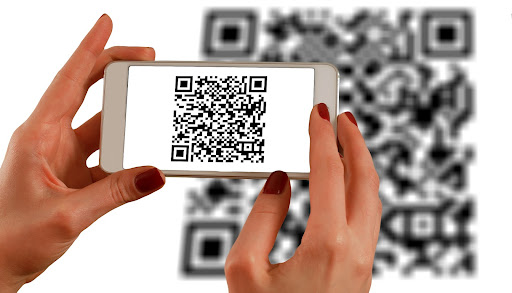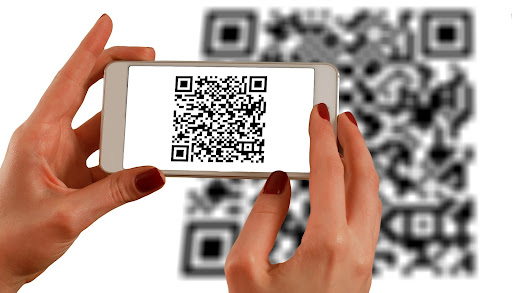 The traditional survey methods are tedious and cost a lot of time and money. What if we say that you can automate this process? Yes, you can, and it will cost way less than hiring an employee. 
Whether you are a restaurant owner or the founder of an internet company, you will need your customers' feedback to track the company's performance.
If you have searched for this blog, you must already be aware of QR codes. QR codes were not as prevalent as they are now after the pandemic; something that began as a safety measure has now turned into a popular marketing trick. Their ease to use and accessibility makes them a perfect tool for marketing. But did you know that there are two types of QR codes? That's right! Static and dynamic QR codes, each of them used for different purposes. 
In this article, we will talk about how to scale up your survey game using dynamic QR Codes and which is best suited for a survey QR code.
What Is a Survey QR Code?
A survey QR Code lets your customers share their feedback or experience about your product or services by simply scanning a QR code and answering a few questions or rating their overall experience. This is a digital and cutting-edge method of conducting surveys, and reinforces customers' trust in reliable customer support. 
The best part of using a dynamic QR code for your survey requirements is that you don't have to create a new QR code every time you want to update the form or link embedded in the QR code. You can simply edit the QR code and track how many customers scanned it, from where and more such info.
Survey QR codes look similar to other QR codes, but the difference is that scanning will open a set of questions you want to ask your customers regarding your services.  
Benefits of Using Dynamic QR Codes for Surveys
The list of benefits of using QR codes is huge; read on to learn a few of them:
Provide real-time insights
A dynamic QR code can be integrated with multiple tools to provide real-time insights. Some popular devices, such as Google Analytics, Zapier, Canva, and Hubspot, can be integrated with a dynamic QR code, and you'll be able to track all the scans in real-time and analyze customer behavior.
Add aesthetics
Marketing is about drawing attention, and dynamic QR codes are perfect. A dynamic QR code is visually appealing and holds customers' attention with its functions and appearance, as it looks better than static QR codes on pamphlets.
Cost efficient 
Using paper and hiring employees for surveys costs much more than generating a dynamic QR code. Imagine printing thousands of survey forms only to have them thrown outside or used as tissues by customers. QR-code surveys give customers the space or freedom to fill out survey forms without being asked to do so.
Editable
We have already mentioned that they are editable, but how can you use them for your benefit? Imagine you are selling tea bags with a dynamic QR code on their packaging. Initially, you used it for surveys, but now you want to add tea recipes or notify your customers about your new product. Well, you can add whatever you want and edit anytime. 
How Can You Scale Up Your Survey Game Using QR Codes in 2023?
In all the following use cases, you'll require a dynamic QR code generator, as a simple static QR code cannot perform all these functions. 
1. Surveys for events
You just gave a presentation for your product, and you're wondering what people thought of it at the conference. Leave a QR code on the last slide and explore the magic of technology. 
Events are one of those large gatherings where you can collect numerous feedback from the public about the overall event preparation and execution. If you are an event organizer, you should start using a dynamic QR code generator to know what your customers and users think about the service you provide. The power of a QR code is unimaginable; you can use it any way you want.
2. Surveys for restaurants
As you know, the growth of restaurants primarily depends on the impression it creates on the customers. How do you know the impact it made? Through feedback!
And, because soliciting feedback from every single customer who walks into your restaurant would be impossible and a bit overwhelming, you can print a dynamic QR code on the tables, bills, menus or at the point of sale to nudge customers to provide honest feedback on their overall experience at the restaurant.
After scanning, the QR code will open a set of questions, and the customers can share their experiences honestly. Let's face it: handing out a piece of paper and a pen is never a good idea because nobody ever looks at them. So, be creative and let a dynamic QR code generator do your job!
3. Surveys for your services
You may have observed that you usually receive a message after shopping, eating, or an online transaction to rate their services. This is a part of digital marketing; you can do the same via QR code surveys by targeting your customers to learn more about their experiences and understand what else you can do to make their next visit more pleasant.
4. Use social media to personalize the experience for your customers
If you have kept a substantial amount for marketing, we suggest you take advantage of paid advertising and grow faster than organic marketing. Have you ever seen a QR code on your Instagram feed and wondered why they are showing this? It's probably a paid ad, and they must be trying to look out for your reviews about their product or service.
Since it is automatic, you can relax as the QR codes will continue to collect feedback.
What Are the Best Dynamic QR Code Generators for Surveys?
Now that you know the effectiveness and efficiency of a dynamic QR code, it's time to learn about the best dynamic QR code generators available on the internet, so you can use them for your next survey.
1. Beaconstac's QR Code Generator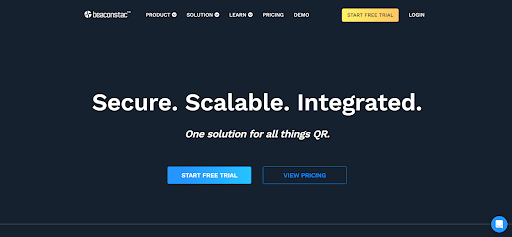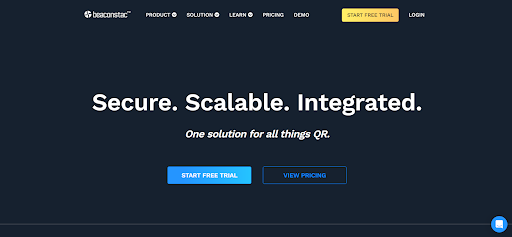 What would a business owner want from a QR code generator? A secure, reliable, fast, and scalable QR code. They want their goals to coordinate with their QR code generator. If this sounds like something you are looking for, then Beaconstac could be your first choice. 
It won't make a hole in your pocket, and it has the best features and is perfect for successful entrepreneurs and enterprise-sized businesses trying to scale up their marketing efforts. Beaconstac offers different types of QR codes, including digital business cards that you can use for networking. 
Some of its best features: 
Create unlimited static QR codes for free.

Safety is not your concern when using Beaconstac, as it is the world's first

SOC 2

® Type 2 certified QR Code solution. 

Add 4000+ integrations with Zapier, Google Analytics, Integromat, etc.

Suitable for bulk generation of QR codes.
Pricing: They have subscription plans suiting different sizes of businesses, including solopreneurs. You can check out their free trial plan for 14 days before purchasing a plan that works the best. The paid plan starts at $5/month, billed annually.
2. ZebraQR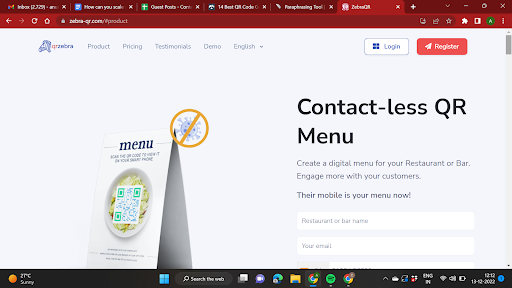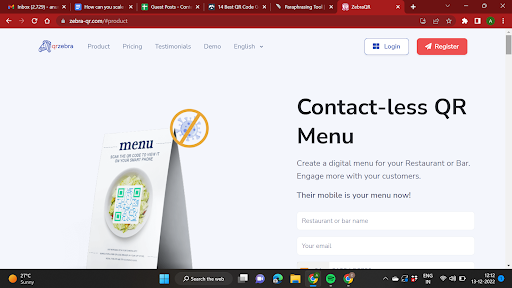 ZebraQR is a distinctive QR code developer. It is an ideal QR generator for cafes, diners, and bars wanting to produce contactless menus is indisputably ZebraQR. This product is perfect for these kinds of businesses because it has many options created just for them.
Some of its best features: 
On mobile devices, menus appear once you scan the code.

8 distinct and eye-catching design patterns. You can decide between different QR and Flyer styles.

The customers can use the smartphone camera to view the menu or answer a survey. 
Pricing: The menu-making tool and more are included in their $9/month Starter package. The Pro plan is $49 per month with unlimited views and more.
3. QRCode Monkey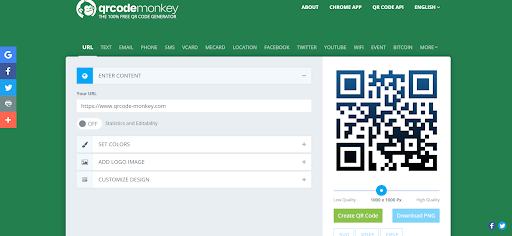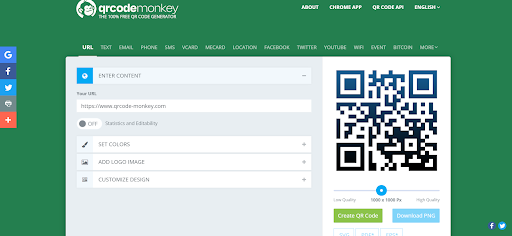 Are you looking for a dynamic QR code generator with basic features? Then this one could be perfect for you. QRCode Monkey is for small businesses that need static QR codes for business. QRCode Studio is its paid version for creating a dynamic QR code, but it has limited features.
This platform is not suitable for large-scale businesses, but it is perfect for those who are trying QR codes for the first time and don't have a lot of needs from this platform.
Some of its features: 
The QR codes are available in vector format (SVG and EPS).

Offers 100% free static QR codes.
Pricing: The Starter plan offers three dynamic codes at $5/month.
4. QRStuff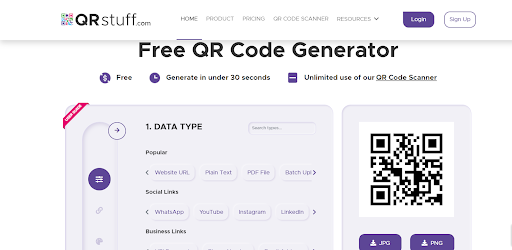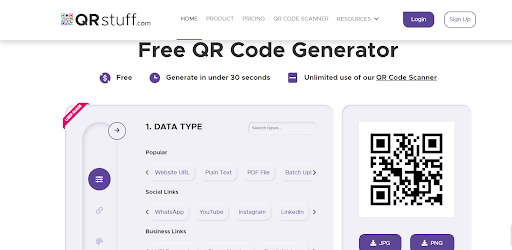 Want to create a QR code within 30 seconds? Then visit QRStuff. It offers a QR code scanner. QRStuff is perfect for startups and small-scale businesses. The paid version lets businesses test customized codes, track dynamic code, and create codes in bulk.
Best features: 
QR code creation in bulk is available.

There is no limit to generating static and dynamic QR codes; generating a static code is 100% free.

It offers many features for personalization.
Pricing: Paid plan starts at $12.50/month.
5. Scanova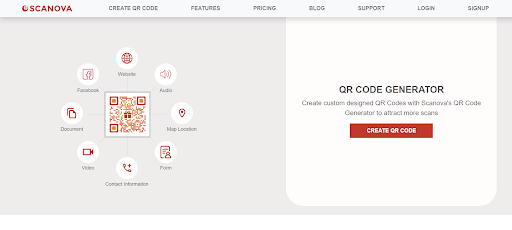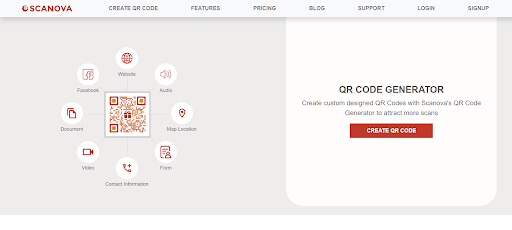 Scanova is another good dynamic QR code generator with a few shortcomings, such as limited QR code design. However, all in all, it provides a good experience for beginners who are looking to experiment with dynamic QR codes. 
Highlights of the features: 
It offers a plethora of templates and customizable mobile landing pages from which to choose.

It also offers an option to create password-secured QR codes.

GDPR

compliance and SSO login for data security at Scanova.
Pricing: The Lite Plan costs $15/month with five QR codes.
Conclusion
The best thing about dynamic QR codes is that they can be used in many different ways, even as a survey QR code. In one way or another, all businesses use QR codes; some use them for payment purposes, while others leverage QR codes for surveys and to amplify sales and marketing efforts. You'll have to weigh all the options if you want a tool to help you achieve your business goals in no time. Look out for features such as integrations, custom domains, live chat, email support, a real-time scannability score, etc., to find the best dynamic QR code generator for your survey needs.