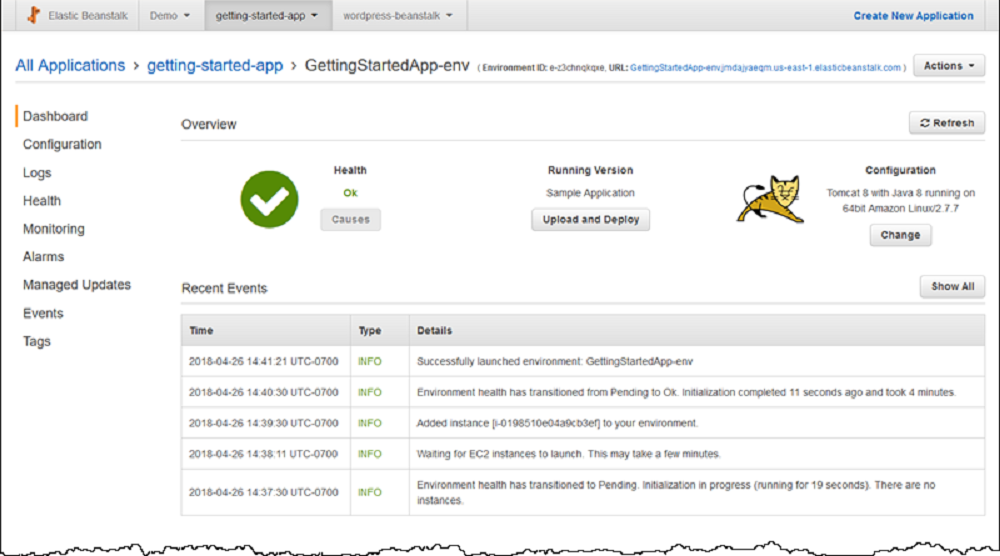 The main benefits of AWS Elastic Beanstalk are the fast and easy application uploading process, the ease of operating the infrastructure, auto Scaling Settings, complete control over AWS resources, and simplified pricing. Here are more details:
Offers a fast and easy way to upload applications
Elastic Beanstalk allows users to deploy their apps on AWS in a fast and straightforward manner. You can upload your application through the use of AWS Management Console or of the integrated development environment (IDE) like Visual Studio. After uploading the app, Elastic Beanstalk handles the rest. Uploaded applications can be fully functional and ready to use in minutes even without an infrastructure or doing resource configuration.
Free up your time
With Elastic Beanstalk, developers do not have to hone their expertise or spend more time operating the infrastructure or managing the app stack itself. So you can concentrate your efforts and time on much more important tasks such as writing code instead of configuring servers load balancers, firewall, networks, and databases.
Auto-scaling settings
This setting allows users to easily adjust or scale their app up and down depending on the requirement of their application. For instance, Auto Scaling actions can be triggered by using CPU utilization metrics. With this platform, your app can handle peaks in traffic or workload and help you save money.
Control over resources
Platform users have the freedom to choose AWS resources that are optimal to their app. The platform also allows users to "open the hood" and maintain complete control over the AWS resources that power up their application.
Simplified pricing
With Elastic Beanstalk, users only need to pay for the capabilities they utilize. There is no need to pay for features you do not use, hence, minimizing your costs. Users also do not have to deal with contracts and long term commitments.