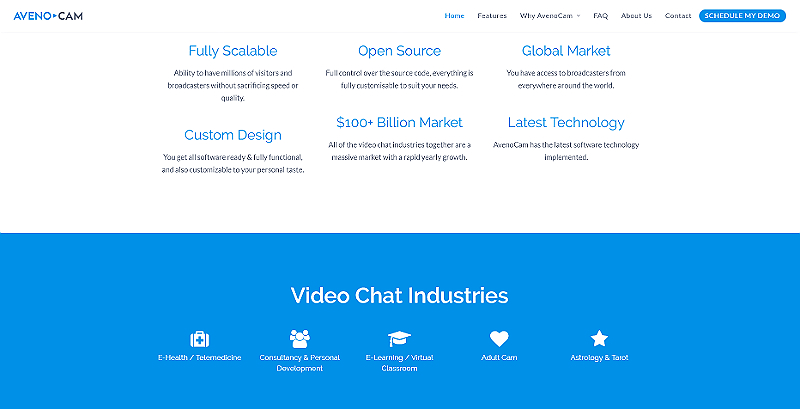 Fully Scalable
AvenoCam is wholly scalable and can accommodate unlimited number of concurrent customers without compromising quality or speed. It performs accurate load balancing calculations and enables you to expand your operations by letting you focus on making profits and not on correcting bugs.
Uses WebRTC and Advanced Technology
AvenoCam reviews reveal that the service is designed using latest technologies such as WebRTC. Flash has become old-fashioned, that is why AvenoCam has opted for WebRTC to stream. Besides, the front-end is designed on Google's AngularJS, which allows you to operate for long periods on a robust, compatible, and easy-to-maintain framework.
You Get Full HD Streaming Quality
Video chat needs crystal clear quality. To provide this at a worldwide level, AvenoCam utilizes the latest re-streaming, load balancing, and encoding technologies. Both broadcasters and users are provided the media server with the least load and the stream is re-streamed via the internal network to the recipient's media server, comparable to a content delivery network.
Fully Responsive and Universally Compatible
AvenoCam is wholly responsive and utilizes the same interface for both mobile and desktop devices. This is facilitated by using advanced web technologies that make the service universally compatible on all operating systems and devices. The advantages are you get long-term continuity without needing to adopt new technologies, and reduced maintenance expenses and issue tracking.
Keep Your Entire Earnings
You get complete control over the source code and your earnings. The lifetime license edition is fully open source. You can keep your full earnings whichever licensing type you use because the vendor does not take a cut of your revenue. In addition, AvenoCam does not impose limits on your software and allows you to create unlimited domains and have any number of users and broadcasters. In addition, there is no limit on the number of changes you can make.
Enjoy Complete Protection
Brute force, anti-flood (DDOS), and anti-spam protections are utilized while operating in a live environment to protect broadcasters and customers.