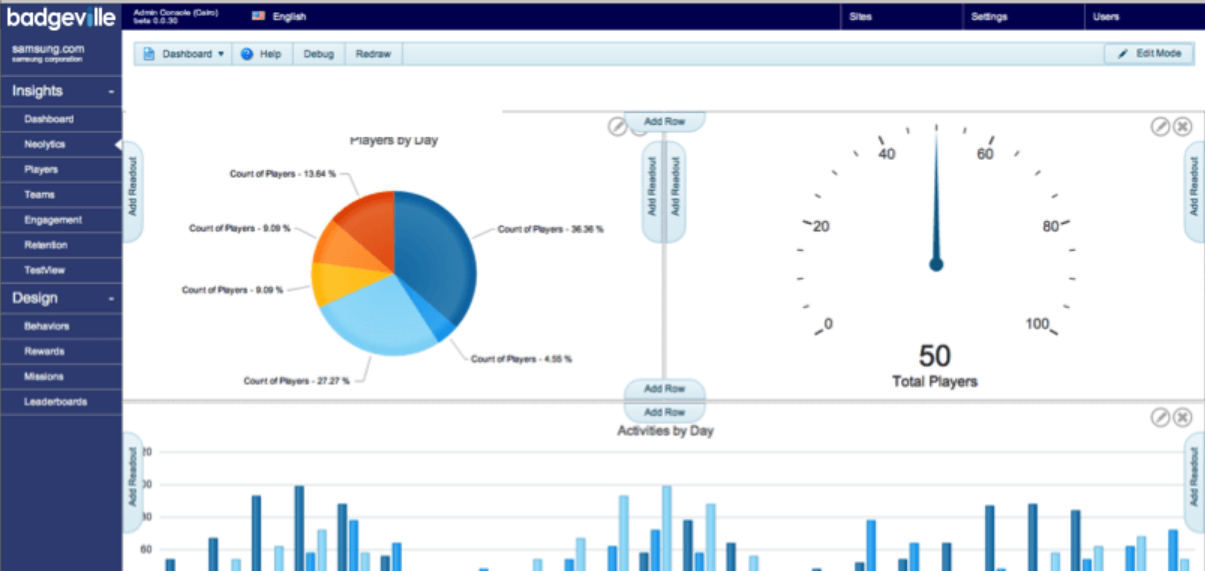 The main benefits of Badgeville are its powerful engagement engine, easy to monitor user behavior, and enables customers to share their experience. Here are more details:
Powerful Engagement Engine
Badgeville is an advanced solution built to deliver robust gamification tools. One of the most notable tools is the powerful engagement engine. The engine is unrivaled, and it packs a punch in terms of the benefits it delivers. It enables users to go beyond the usual rewards and badging to engage, motivate, and enable users to build lasting outcomes.
Easy to Monitor User Behavior
In addition, it's easy for businesses to monitor their users' behavior using Badgeville. The solution provides tools that make it easy to evaluate, monitor, and gauge user behavior in real-time. It also features tracking capabilities that make it easy for businesses to monitor tasks such as browsing pages, purchasing online, uploading reviews or content, posting a comment, and adding products to the shopping cart. Badgeville can be set up to reward customers with freebies, discounts, points, coupons, status, trophies or badges, based on their specific behaviors.
Enables Customer to Share their Experience
Moreover, Badgeville users take pride in the system's reliable social component. The component enables visitors/customer to share their experience and rewards through Facebook and Twitter.
As customers share their experience, they act as marketing ambassadors for the business, thereby increasing traffic. What's more: there is a contextual leaderboard that displays customers ranking relative to their friends on Facebook, Twitter, and business website.