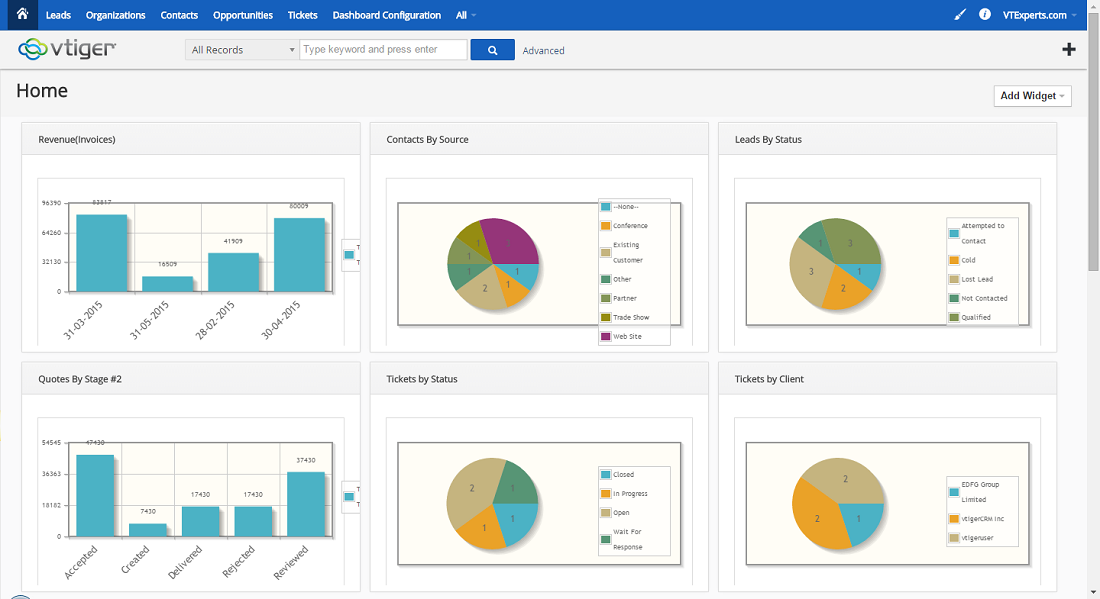 The main benefits of Vtiger are the CRM features, organization and collaboration tools located in a single platform, customer reports tool, tasks automation and campaign monitoring, and its portal support. Here are more details:
CRM solution
Vtiger provides various customer relationships opportunities for support, marketing, and sales team to build strong and lasting business connections. It helps them in maintaining contact by providing rich client-based management functionalities.
Centralized organization and collaboration tools
One of the main purposes of Vtiger is to place all organizational and collaboration tools in a single location, giving users the ability to deliver the ideal experience to their customers. The platform aids businesses in improving their future and current customer experience through the automation of sales, marketing tasks, and support and by providing them with business-enhancing insights.
Custom reports
The platform is capable of compiling extensive custom reports regarding support, marketing, and sales tasks being done in the organization. Reports can focus on specific lead characteristics using multiple filters and automated workflow.
Tasks automation and campaign tracking
Repetitive tasks in the company are also reduced by automating some of them, resulting in saved time. Vtiger can also monitor marketing campaigns over time and help the users in determining the aspects that should be kept, improved, and discarded.
Portal support
Vtiger provides a portal for support, which enables customers to customize the database for future operations and to look through past issues and how they were resolved. The back end of the portal allows support agents to make, track, and document issues with the aid of automated follow-ups. Customers are also able to track the status of the entire duration of their issues, from opening to closure.