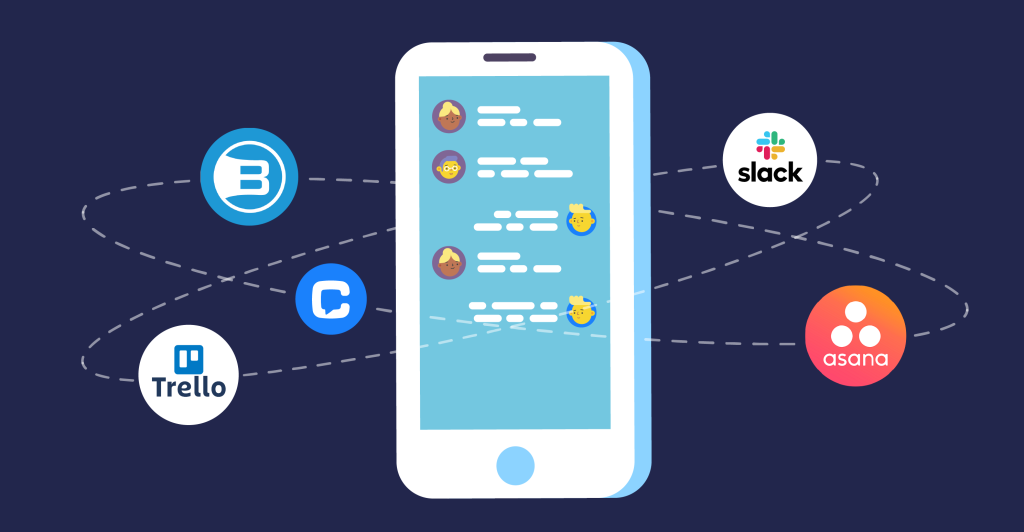 Everybody can name a minor but persistent problem at work that disrupts their flow.
This includes a variety of things, such as losing notes, waiting too long for emails to be answered, and forgetting which tasks are interdependent.
Even though none of these issues is particularly significant on its own, over time they can accumulate. And everyone notices the slowdown when you apply these accumulated problems to a team.
Using apps for team collaboration will help you eliminate obstacles that impede work at all levels. They accomplish this by promoting smooth communication and establishing precise roadmaps for a project's advancement. To organize the objectives of your team and facilitate effective communication, it's wise to find a one-off software solution.
But first, what is collaboration software?
Any platform or application that facilitates team communication, cooperation and goal-achieving contribution is referred to as collaboration tool or software. Utilizing collaboration tools and software, teams can:
Develop concepts

Assist each other with projects

Share information and data from a single source

Access reports from anywhere for better and quick decision-making process

Communicate with coworkers, managers, clients, and stakeholders across departments
The importance of team collaboration tools and software for companies
Teams rely heavily on the top team collaboration software to carry out daily tasks. According to an Alfresco survey, nearly 83% of teams rely on technological tools to collaborate with each other.
For instance, if a team needs to share an important file with another department, they may do this through a collaboration tool. 
Now, let's suppose the same team is spread out geographically—they would rely on virtual meetings to discuss the status of their projects or other important things. 
Such teams need collaboration tools and software to provide updates, communicate progress, record the computer screen to effortlessly share instructions and information, making collaboration even easier.
Other important reasons also include the following:
1. A boost in productivity
Many productivity tools are designed to boost your team's productivity. Besides, numerous studies prove that teams are more productive when they are able to collaborate better. 
This is because they are able to complete much larger projects and accomplish more than any one person could do by themselves. 
With the right team collaboration tools and software, they can communicate and share information with each other quickly and effectively. 
Without these tools and software, employee productivity will suffer and project obstacles may arise.
2. Greater and better results
The creation, sharing, editing, and criticism of documents in a variety of formats, including word documents, spreadsheets, and presentations, is made easier by collaboration tools. Employing such solutions spares employees from having to continually switch between various software programs.
3. Better project scheduling and monitoring
Choose a collaboration tool that offers a variety of project planning and tracking features if you want to make the most of them. To quickly create your ideal project workflow, look for features like built-in templates. 
Additionally, it's critical that you approach your project from a perspective that makes sense to you. Consequently, if Excel sheets give you the chills, perhaps a Kanban board or calendar view will make more sense.
4. Improved problem-solving
New problems need new solutions (aka collaboration tools). With the help of a team collaboration tool, everyone can pool their ideas and come up with solutions to issues, rather than just one person having to struggle to solve them on their own. 
Employees can draw inspiration from previous solutions to current problems by using collaboration tools that keep track of past solutions. Common pitfalls will be easier to avoid, and there will be less chance that they will have a domino effect and cause additional issues.
5. Skill sharing
In organizations, there is a propensity for people to hoard knowledge. There are usually one or a few people who have the solutions and need to be approached regularly by their coworkers.
A good team collaboration tool and software enable knowledge sharing throughout the entire organization and increase the amount of explicit and readily available knowledge. For increasing productivity at work, this offers incalculable advantages.
How do I pick the most effective collaboration tools for my company?
Software should be selected by businesses based on their specific requirements. You can use the following criteria to find the best service for your group communication:
1. Choosing multiple features
It's important that you look at all the different features offered by all the collaboration tools on your list. Choose the one that offers the features that you and your team can maximize most.
Consider how effectively the features are being used by other companies. Include your team in the decision-making process and ask them what they think would benefit them the most. 
It is preferable to look for a tool that is feature-rich and has a variety of uses. 
2. Consider usability
Undoubtedly, this is among the most crucial requirements. 
Teams (especially those that are rapidly expanding) won't benefit from a service if it is effective but difficult to learn. 
To ensure an easy-to-use interface and straightforward navigation, request a demo and get your team to go through it.
If it looks too complicated, it would be wise to look for other options.
3. Be mindful of privacy options
Working with teams does not require that all communications and documents be made publicly available. 
Team members may need to work on delicate projects or have private conversations at times. 
Consider your privacy options carefully before selecting a service.
4. Go for a cloud-based software
Technology that uses the cloud has many benefits. 
By giving you access to the most recent edits and activities, it can ease your version control problems. 
Since everything is kept online, everyone can access it from anywhere and stay informed at all times.
5. Check for compatibility and integrations
We have already discussed that using a tool with a variety of features is important. But is it always important to go for a tool with so many features? Let's look at the other side.
There are times when you come across a tool that is perfect for one task. This is where integrations come in handy.
When choosing a tool, look for ones that easily integrate with other programs or apps. 
With that being said, compatibility is also crucial. Your tools, for instance, ought to be able to handle every type of file that your team typically works with.
Top picks for the best collaboration tools and software
Chanty

is a team collaboration and communication tool that can meet all your requirements. With an aim to boost your productivity, the tools help teams of all sizes collaborate on different projects seamlessly. This is possible due to its kanban board, teambook, screen sharing, file sharing and real time conversation features.

Asana

is a famous project management tool that combines team collaboration and project management. It helps teams to enhance collaboration on both small, large projects and repeating tasks. Asana's key features include interactive templates that can be used to add workflows, real-time team progress tracking, the ability to customize views to check on the status of prioritized projects, and the capacity to attach documents to any conversation.

Slack

has become quite popular in recent times. Slack unifies all workplace communication onto a single platform and offers a range of features, including direct messages, group messages, channels, voice calls, and video calls. These various methods of communication can assist your team in structuring discussions and concentrating on the tasks that are most important to them.  

Trello

is another viable option for you. This sticky note based tool enables you to make task notes, drag them across columns, just like you would when playing cards. The intriguing interface is simple to use and effective for task assignment and monitoring projects. Agile, Scrum, and other project management frameworks are simple to use with Trello.

Brosix

is а secure instant messaging app for business. It was designed with a range of chat options, screen-sharing and unlimited file transfers. It's also one of the best communication apps for teams. Other than its impressive features, it was also built with the modern work environment in mind. It's a lot of features for a lot less money. Мake your team communication and collaboration more effective with Brosix!
Signing off
Other team collaboration tools are also available. A company should take into account the size of its teams, the kinds of projects they are working on, and the various team and project requirements in order to choose the best tools for its workplace.
If you want to boost productivity and effectiveness at your company, team collaboration tools are the way to go. 
You require a cohesive team effort from your employees. Consider using knowledge-base software to help your team break down knowledge silos and collaborate with one another.