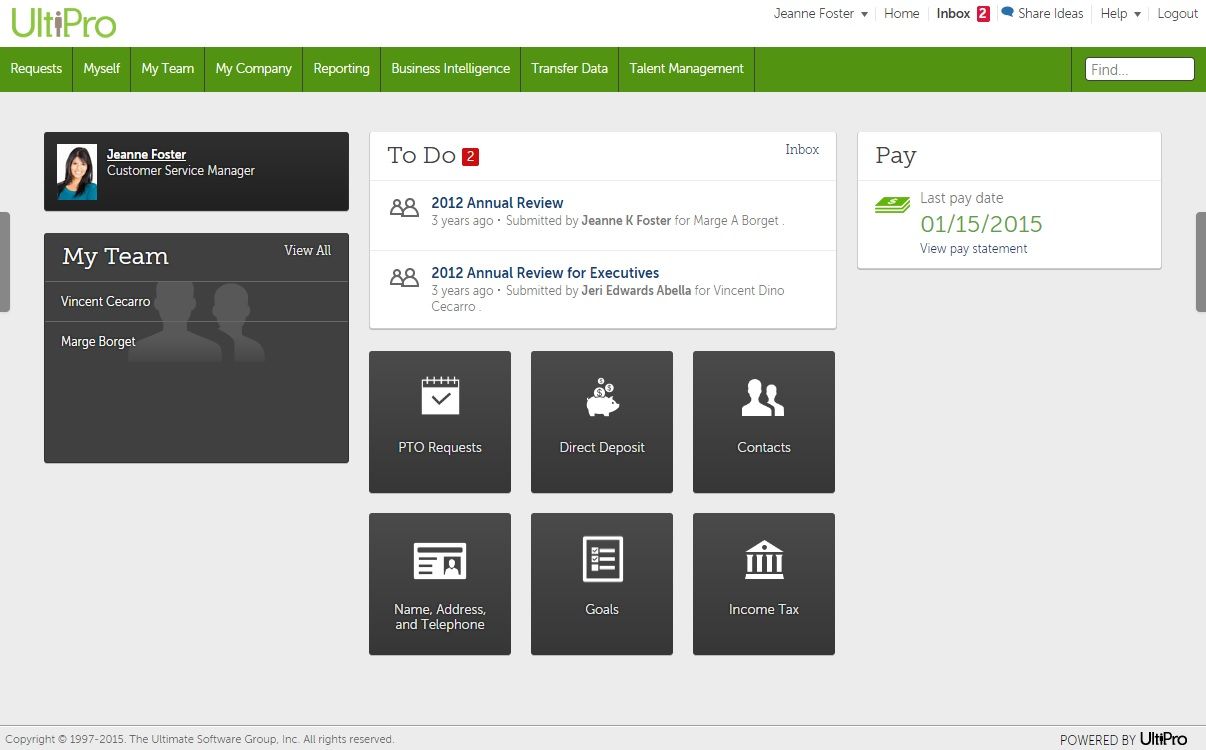 The benefits of UltiPro are its state-of-the-art human resource management functionalities. Whether it's contact information, employee details, or productivity rating, the tool offers users just about everything they need in one platform. Here are the main benefits of the system:
Candidate and Talent Management
The software has a solution that makes it easier to attract a pool of talent while having the ability to organize candidates throughout the process of recruitment.
Feedback and Performance Rating
UltiPro Reviews is capable of executing talent management processes to help enhance the morale of employees. Business owners can empower their employees by consistently collating feedback and conducting performance via extensive performance management.
Robust Onboarding
Incoming employees can easily link and adapt to companies since the software provides a powerful onboarding solution consisting of dynamic content, customized welcome texts, goal establishments, and many more.
Automated Time Tracker and Scheduling
The UltiPro Time and Attendance functionality aids in tracking time and scheduling automatically. Whether this involves looking into absences and leaves to monitoring productivity and peeking into overtime requests, the tool can accomplish them.
Reduced Manual Work
The software's TouchBase feature minimizes the time of manual data entry by allowing the HR staff to input their own data. It streamlines the enrollment process for benefits.
Employee Connectivity
The UltiPro portal is considered to be primarily a gateway for business processes. This keeps employees connected and inspires them to work in the most efficient way possible. Reporting and Intelligence Tools
The platform is armed with reporting and business intelligence tools that can help employees gain visibility and full insight into their current workforce.
Payroll Management
Meanwhile, the tool's Payment Services module has the ability to handle payroll calculations and other work requirements for employees working in the United States and Canada in a couple steps.