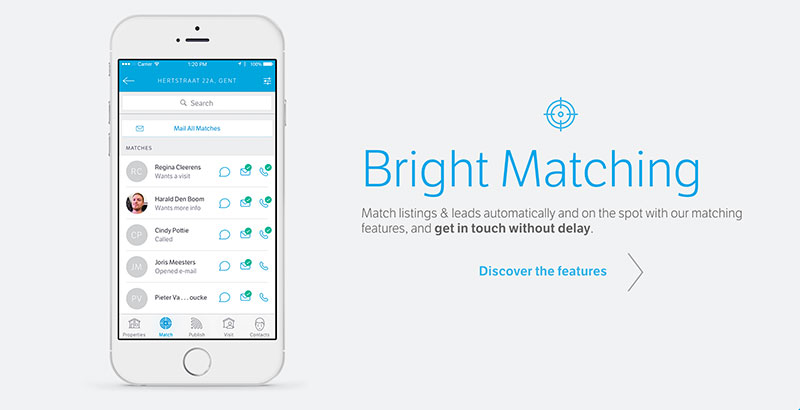 With SweepBright, you can quickly create and publish listings on location. Publish your listings in one tap on multiple channels and on your own branded website. Your listings can hit the market in minutes instead of days.
Improve your lead and vendor matching with the app's intelligent algorithm. Increase your click-through rate and provide quality matching to close more deals.
In short, SweepBright is a powerhouse in your pocket. It is a mobile productivity solution that enables you to work and stay on the move at all times.
SweepBright functions seamlessly with third party solutions to convert your sales journey into a digital one. From task management to document management, you can manage your own effective workflow with this tech backbone.
The app enables better follow-up for a better picture. It tracks your calls, chats, and emails to link them to your listings. If you have ordered professional photographs, they're also associated to that listing so you don't need to spend time searching in your mailbox, Dropbox, or other places.
In addition, SweepBright is flexible and scalable for the needs of all types and sizes of agencies. This app enables you to show more data and win more listings by convincing vendors to give you contracts. You can show them your relevant leads that match with their properties, on the spot. Then, you can easily generate a contract on the spot too. Make it simple and effortless for the vendor to sign the contract and close the deal there and then.