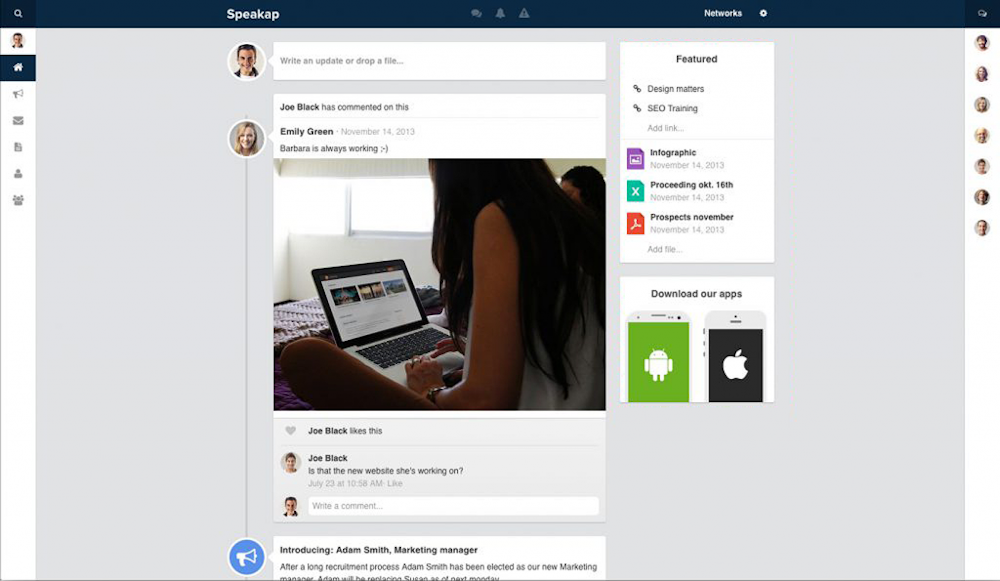 The main benefits of Speakap are central communication hub, a comprehensive timeline, privacy and security-compliant work tool, personalized profiles and branded application, and open integration possibilities. Details of the benefits are below:
Centralized Communication Hub
Speakap is a communication software that provides an all-in-one approach to social networking, integrating the concepts of timelines, newsfeeds, instant messaging, and chat in a single private network. The software adapts to your company structure and lets you create groups and subgroups that match your organizational arrangement.
Comprehensive Timeline
The timeline serves as the launchpad of the app, displaying the latest feeds, news, events, and announcements. This gives you a convenient window where you can get a quick view of all ongoings within the company and your selected groups.
Privacy and Security-Compliant work tool
Speakap performs the same job as your favorite social media apps, but with the benefit of recognizing your privacy and security boundaries. Speakap is compliant with stringent EU privacy and security protocols, especially with European General Data Protection Regulation (GDPR) guidelines, so employees can feel safe with their data. Security-wise, data transmitted between parties are encrypted in transit and rest with TLS 1.2 encryption.
Branded application and personalized profiles
Speakap is a communication software that features personalized individual profile pages that are provided with detailed information so you can quickly search the resource person you need. It also lets you customize the app to fit your company colors, theme, and overall look and feel, letting your brand be displayed prominently throughout the timeline and pages. In addition, you can upload your branded app to the iOS App Store and Android Play Store so employees can download the customized version.
Open Integration Possibilities 
You can add more functionality to Speakap by integrating with popular HR, learning, productivity, surveys, work schedules, and other category apps. In case your preferred app hasn't been integrated yet, you can use the Speakap API to do so.