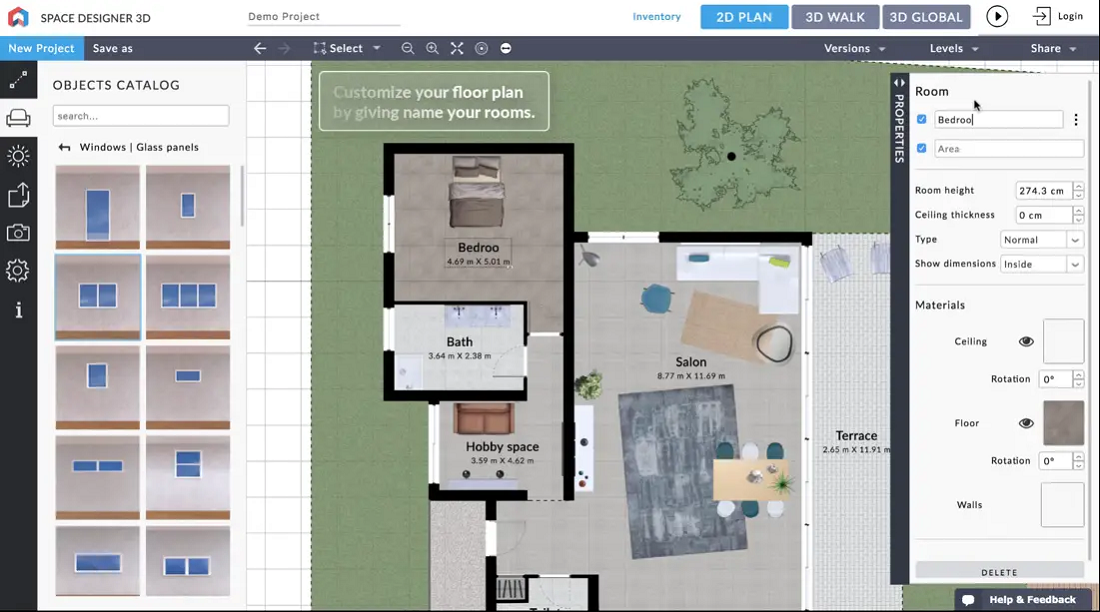 The main benefits of Space Designer 3D are its ease of use, features that empower efficient visualizations, tools for converting products into 3D objects, client collaboration functionalities, and its cloud-based nature. Here are more detail:
Easy to use
Even without specific designing skills, users would still be able to utilize the system effectively to make floor plans, visualize every detail, and then walk around them in 3D. There will be no download required of the users since Space Designer 3D is an online application. This also means that users are able to access the system to make interior designs, build floor plans, etc. anywhere.
Visualization features
Plans visualization through the system is easy, fast, and realistic. There are more than 1,500 furniture designs that the application is packaged with, which grants users with complete control over every detail of their design. This ensures that they will have a very accurate preview of their designs before bigger decisions are made.
3D objects creation
Business owners that sell furniture are able to incorporate their products into their designs since the system is capable of turning objects into high impact 3D versions of them. After that, they'll be able to display their products on their designs. Users can print them to make them part of their catalog, too.
Client collaboration
Space Designer 3D empowers professional renovators and interior designers to get their clients involved with their works. Clients are able to integrate their ideas and real-life visualizations with the users to assist them as they progress.
Cloud-hosted
Since the system employs a cloud-based architecture, it means that users are easily able to access the application regardless of where they are. There would be no need to install a plugin for them to visualize and design their plans, or make presentations with their tablet, smartphone, laptop, or computer.