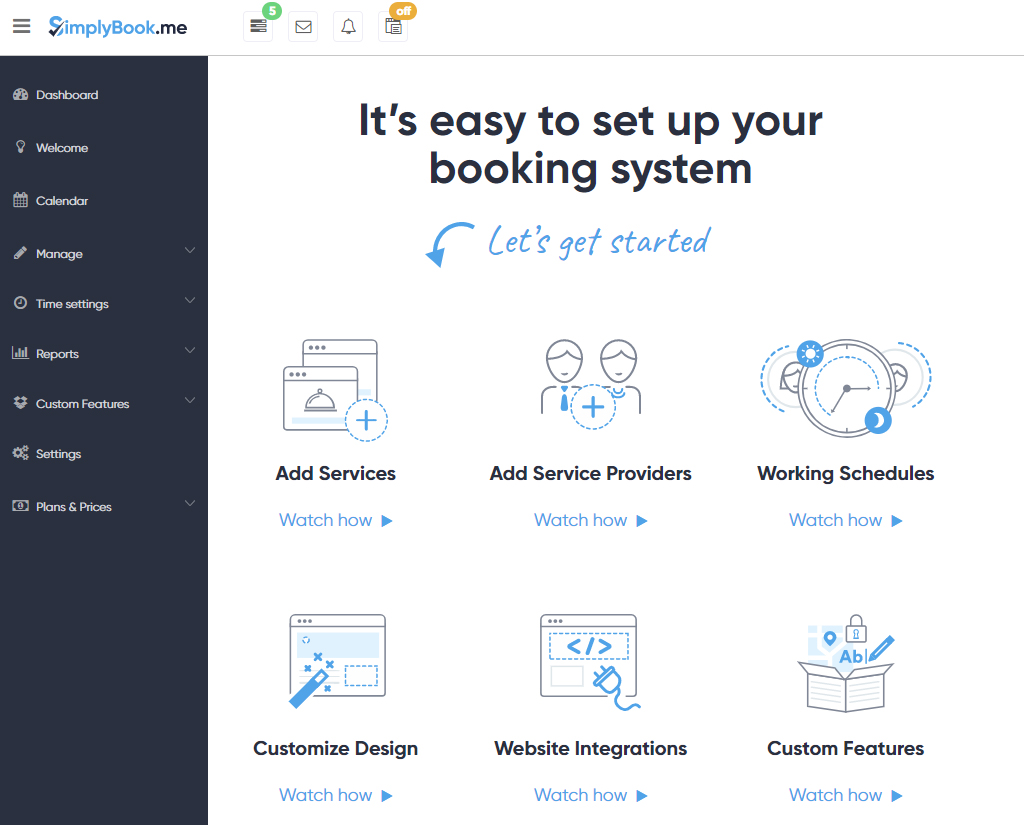 The main benefits of SimplyBook.me are its stable functionalities, mobile support, and flexibility. Here are the details:
SimplyBook.me can be integrated easily with other services offered online and allow users to collect clients' data using added field plugins. This tool provides a variety of plugins in which the advanced features are available. With its payment plugins, users can accept online payments through PayPal, Skrill, Dwolla, Bitcoin, Zooz, Mollie, CCAvenue, and PayFort before the booking process is confirmed. The discovery plugins offer profound insights into your booking company, particularly in your employees, including their performances, available time, and more.
The Google Calendar Sync plugin can help you efficiently sync the booking transactions and their available time. The Dashboard section offers you instant access to all your booking transactions and even show you their statuses in colors so you can read them better. You can also add news to your website using the tool's New Plugin and track your visitors using the Google Analytics plugin. And with its Any Employee Sector plugin, workloads are equally distributed to available service providers.
More than just a booking system, SimplyBook.me can even help you expand your client base and increase your profit without spending much on marketing costs through the tool's Promotion system. Rewards are also available for the existing clients who promote their brands in this system.
The recently introduced Class & Membership functionality helps facilitate the attendance and creation of events and courses. And with the re-imaged feature for scheduling, users can seamlessly set unlimited openings per day or per week. This means that they can choose a schedule from different classes and time slots that can happen in different dates and locations.
Meanwhile, the course beneficiaries can get a completely reformed functionality as a member, with direct payment through credit cards, flexible duration period, and automated notifications. And recently, SimplyBook.me had undergone a speed optimization and bug fixing process so users can empty the slots five times faster than before.