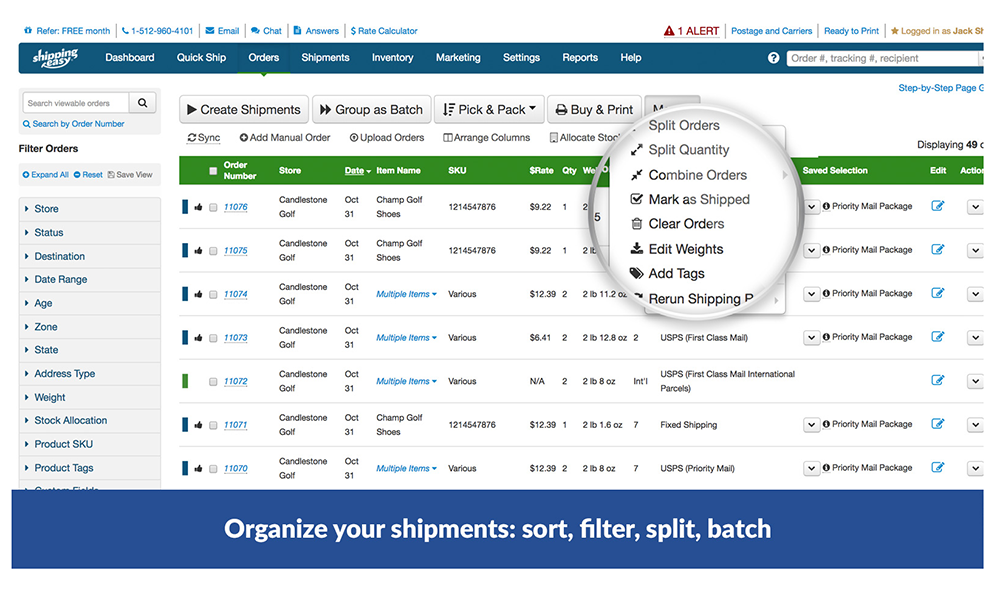 The main benefits of ShippingEasy are comprehensive shipping platform, better order processing, great savings. Here are more details:
Comprehensive shipping platform
One thing you will like about ShippingEasy is that it is a complete online shipping platform. The solution comes with all the features you would want in an online shipping application. From order management and order tracking, inventory management, to customer management, ShippingEasy has all the features you need to streamline online shipping. The solution also facilitates direct communication between the buyer and the seller to inspire improved customer service communication.
Better order processing
In addition, ShippingEasy provides powerful features that enable you to process orders faster and more accurately. Orders can be split, combined, or recombined as many times as needed. Also, features such as AutoShip helps you automate postage selection for all orders via machine learning to reduce postage errors. You can also save the most frequently used selections to eliminate repetitive tasks in shipping. The order sync feature allows you to simplify order management by centralizing all orders in one location.
Great savings
Moreover, ShippingEasy delivers great time and money savings. For instance, ShippingEasy provides sophisticated features that enable businesses to optimize operations. This saves time allowing e-commerce entrepreneurs to concentrate on what matters most; growing and promoting their business.
On the other hand, there are a plethora of ways to save money. For instance, ShippingEasy allows you to reduce the amount of time taken to ship orders, thereby reducing operational costs. You can also print labels in batch instead of printing one at a time.