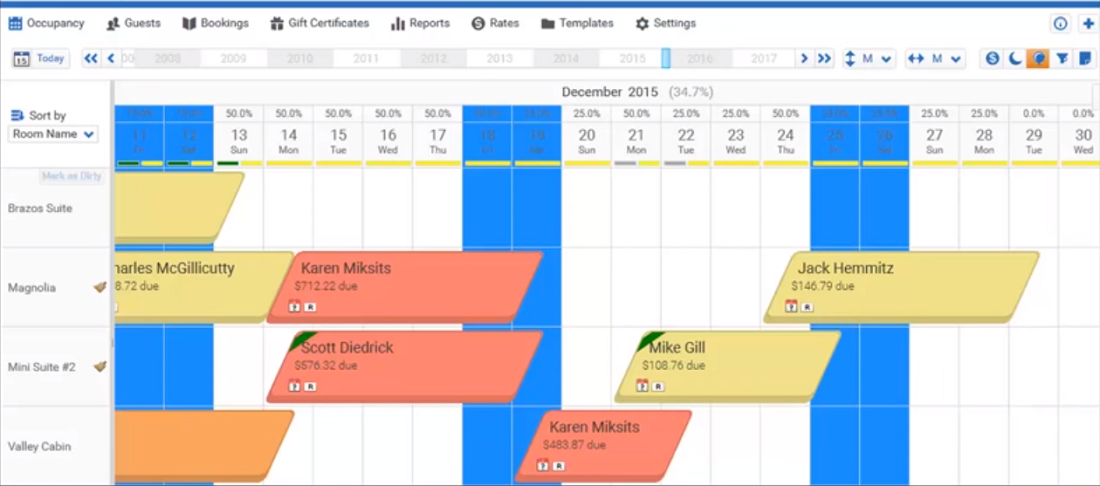 The main benefits of RezOvation are its powerful booking engine, integrated credit card feature, and its connection with various booking channels. Here are more details:
Robust booking engine
RezOvation is equipped with a unique booking engine that is mainly designed to put users' businesses ahead of the competition by increasing occupancy. The system is available 24/7, which is equivalent to an always-available reservation desk that can be accessed anytime and anywhere. The engine smoothly integrates with the website as well which provides customers with a special window that displays all the great aspects of the inn. The booking engine is mobile friendly as well, even if the website is not. This means that regardless of whether the website is responsive or not, customers will have a reservation screen that scales with their devices.
Credit card processing
RezOvation is equipped with an integrated credit card processing functionality. It also works well with various PCI-compliant partners that employ competitive rates. Thanks to this, clients are ensured of convenience and security when they make an online reservation with the users' site. It streamlines payment collection for them as well.
Booking channels connection
The system is designed to remove manual data entry processes in the operation by bringing automation to the table, allowing users to save time that they could use to focus on growing their business. Aside from that, RezOvation does not only connect with the users' websites, but it is also capable of linking with different booking channels like Facebook, Global Distribution System, TripAdvisor, TripConnect, and BedandBreakfast.com. More opportunities for occupancies open up because of this and the synchronized availability rates, property information, and calendar.