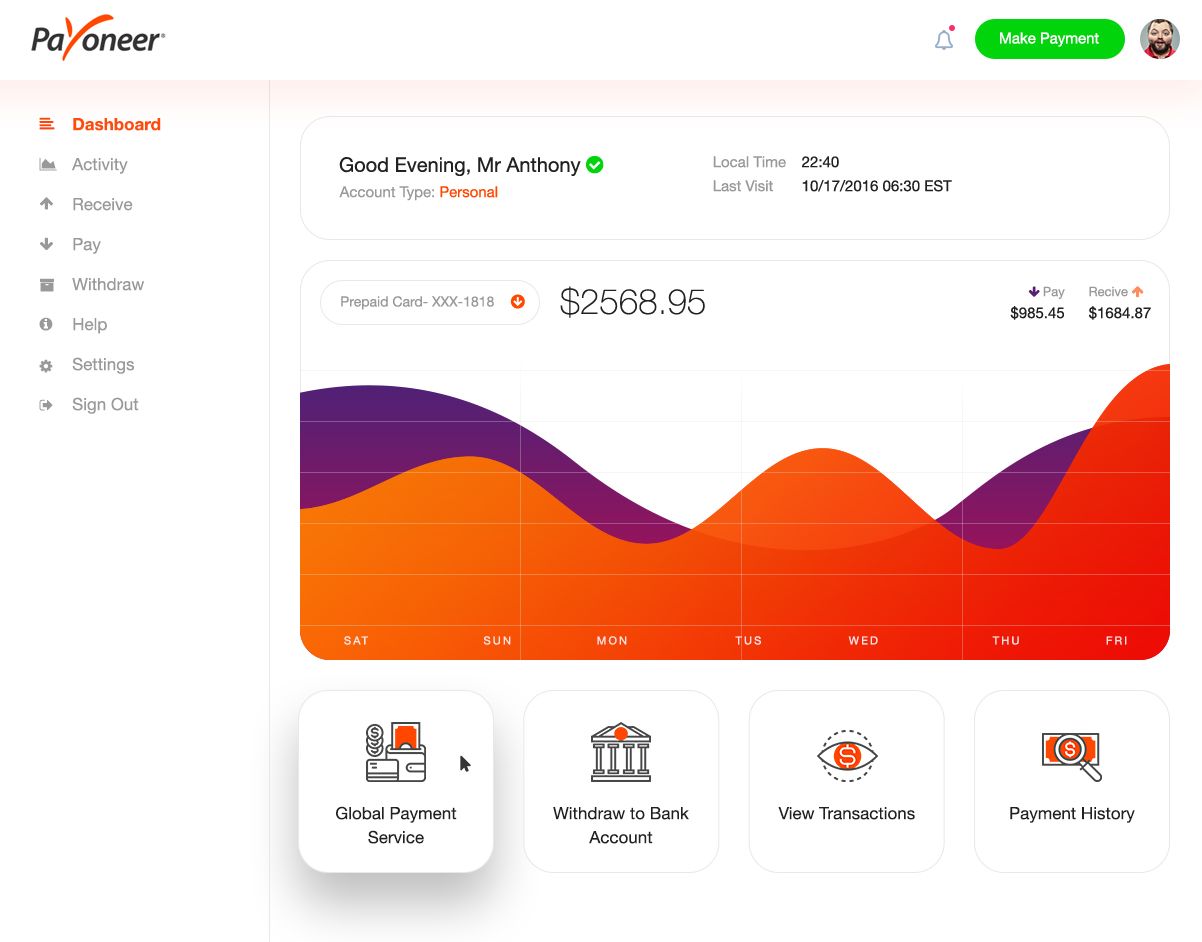 The main benefits of Payoneer are its cross-border payment service, seamless billing, fully-integrated solution, connected platforms, and multilingual round-the-clock support. These are Payoneer's benefits:
Cross-Border Payment Service
Just like managing your bank account, Payoneer allows easy and smooth payment transactions whether you send or accept payment. This capability promotes better earning with less operational costs and transactional fees. Besides that, the software lets you receive payments in different currencies such as the Australian Dollar, Chinese Yuan, and Japanese Yen. With this, you don't need to pay for extra fees just to accept payments using your chosen currencies.
Fast and Seamless Billing
Commercial businesses have the advantage when they capably offer their customers a quick and easy way to get their billing statements. And when it comes to this, Payoneer has your back. The software lets you send compensation requests and allows your customers to pay you using any method they are comfortable with.
Fully Integrated Solution
Payoneer is integrated with expansive networks and corporations across the globe. This ensures easy sending of funds to partners and employees. The payments done with these associates are credited automatically to an account registered to Payoneer. In that regard, they are free to select whether they want to send the money to their bank accounts or withdraw their cash through ATMs.
Connected Platforms
Leading your users or customers to another website to receive payment is eliminated with Payoneer. The software lets them do it using their platforms. All they have to do is integrate Payoneer with it. This connection can be done through API integration.
Multilingual Round-the-Clock Support
To make sure that you receive the assistance you deserve whenever you encounter issues or if you have questions, Payoneer offers a 24/7 customer support in multiple languages. This means you can expect answers to all your concerns any time of the day regardless of what language you use.