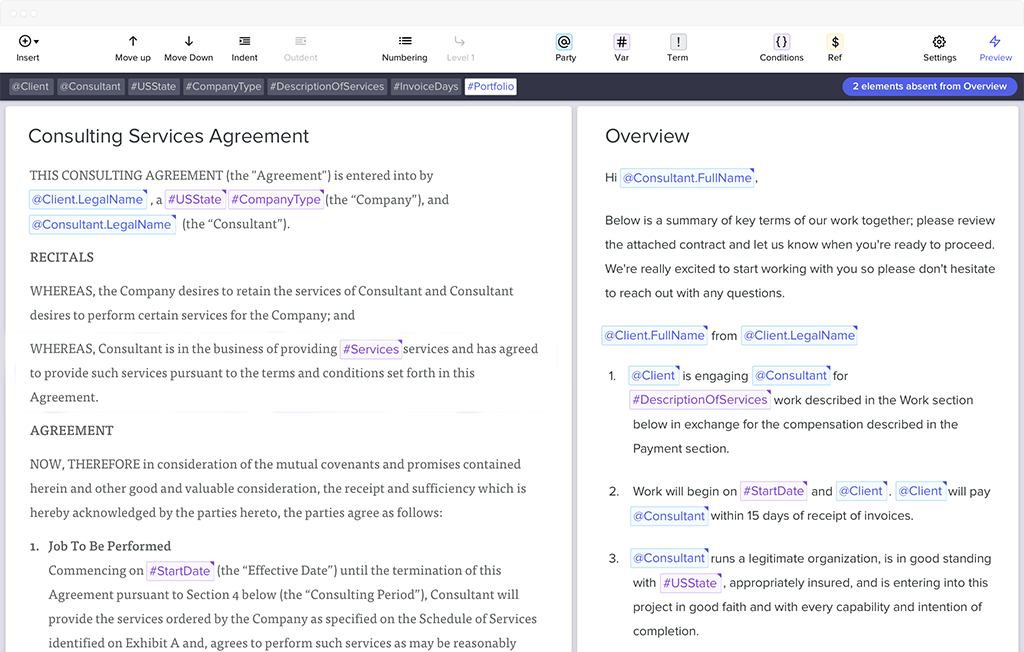 Outlaw's digital infrastructure is designed specifically to help organizations manage legal documents. With over a hundred powerful features, here are the benefits you'll gain from this web-based tool:
Lightning fast contract generation 
Users can generate error-free contracts easily from dynamic, pre-approved templates simply by filling in the blanks, saving them time in repetitive tasks. Outlaw's efficient deal flow structure allows users to seamless move from contract creation to multi-party sharing and negotiation. Execution via e-signing then seamlessly completes the process, at which point the contract is securely stored and available for export to PDF.
Minimized confusion with plain English contract overview 
A simple overview in introducing your contract minimizes confusion. What sets Outlaw apart from other platforms is how it allows users to attach a customizable plain English overview layer on each contract sent out from the platform. Eliminating legal jargon ensures all parties can fully understand the contents of the contract without having to go through endless legalese. This, in turn, moves deals and agreements faster.
Effective and secure negotiation 
Outlaw speeds up the negotiation process for users by eliminating tedious email or phone call back-and-forths with powerful redlining, threaded commenting and in-document editing functions. This ensures complete transparency and bulletproof resolution.
Increased contract cycle visibility 
Outlaw helps users improve visibility into their contract cycles with contract audit trails, bulletproof version control, and unique approval flows. This helps users enjoy peace of mind knowing all deal interactions are being tracked, thereby reducing risk and ensuring compliance.
Contracts stored in the cloud 
Outlaw eliminates share drives and disorganized storage systems. The platform provides a cloud-based centralized contract repository where users can store and manage their contracts. Since the contracts are stored in the cloud, they can easily be accessed anytime and anywhere according to Outlaw reviews. With this, users can also get a complete overview of their contract pipeline, where they can see at-a-glance, which stage their contracts are in.