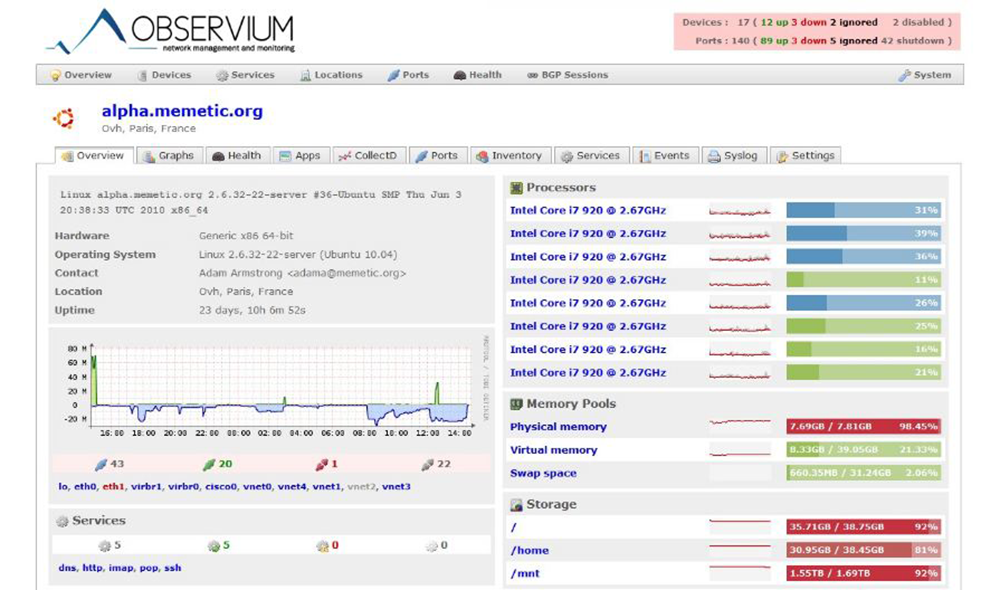 The main benefits of Observium are it supports a wide range of OS, platform, and devices, its auto-discovery process, and its traffic accounting. Here are more details:
Support for numerous Devices, OS, and Platforms
For any network monitoring tool to discover the devices on your network, it must support a wide range of platforms, devices, and Operating Systems. Observium ticks all the boxes, and it is built to auto-discover devices. The software supports a wide range of devices, platforms, and OS such as NetApp, Brocade, FreeBSD, Linux, Windows, Cisco, HP, Dell, and Juniper.
This means, Observium is versatile and can collect network and system metrics from the traditional network devices like switches and routers. Besides, the solution can gather platform-specific statistics from appliances such as proxy servers, load balancers, antivirus appliances, firewalls, IDS devices, and VPN concentrators.
Traffic accounting
In addition, Observium features a robust traffic accounting tool. This tool streamlines the monitoring and billing of bandwidth usage. Its traffic accounting module allows you to collect measurements for ports and store the data in database tables. Moreover, Observium provides graphs and charts that help you visualize the traffic patterns of network users. Overall, the traffic accounting module provides helpful insights that make it easy to upsell services to network users.
Auto-discovery process
As mentioned earlier, Observium auto-discovers devices on your network. It automatically gathers information about all devices as well as other monitored elements on the network. The platform deploys the SNMP protocol to collect data about the devices. The information gathered is utilized to examine the internal interfaces and sensors of those devices. Once the internal sensors are discovered, Observium uses protocols such as EDP, LLDP, CDP, and FDP, to detect the neighboring devices. The using routing protocols, it collects information about all the neighboring devices.