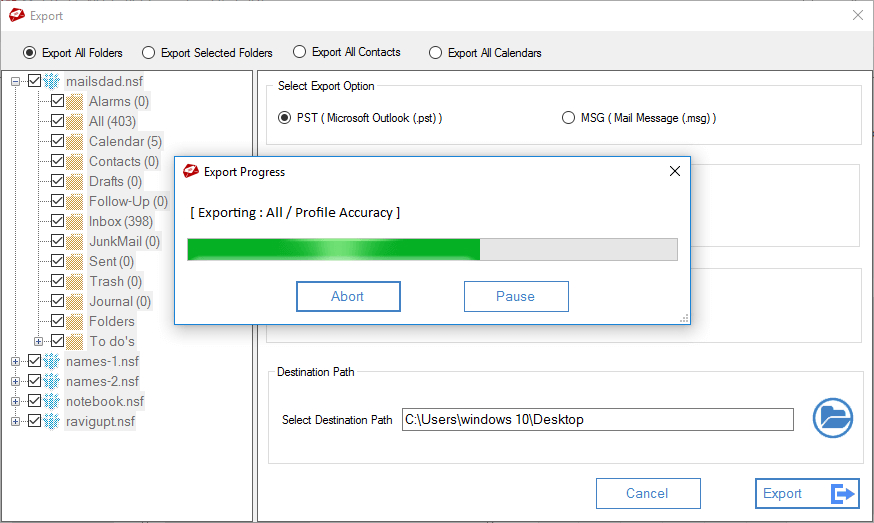 Mailsdaddy NSF to PST Converter allows you to convert multiple Notes files to Outlook PST format. Plus, you have the option of combining NSF files into a single PST file. The software is compatible with all current Windows versions and supports Lotus Notes from version 9.0 down to edition 6.0.
The highlight is the tool's simple and user-friendly interface. You get detailed advice on all steps of operation and can easily convert NSF files to PST file format. You can open the converted files in any usable Outlook version. In addition, the converted PST file maintains the original format of the Notes items.
Mailsdaddy NSF to PST Converter Reviews indicate that the solution allows you to convert multiple NSF files simultaneously. You can export multiple NSF files (notebook.nsf, names.nsf, and database.nsf) to a solitary PST or create an individual PST file for each NSF file.
The software maintains original folder structure while converting NSF to PST. It ensures all Notes folders are available sequentially in your Outlook. Another advantage is the tool effortlessly converts all emails and their attachments to PST. You can save any attachment by right clicking on the attachment icon.
Similarly, you can save a specific calendar, contact, or message by right clicking that item and selecting the 'save' option. The product saves calendar to ICS format, contact to VCF, and email message to MSG. Finally, you can export only selected Notes mailbox folders which allows you to exclude folders such as Trash, All, etc.