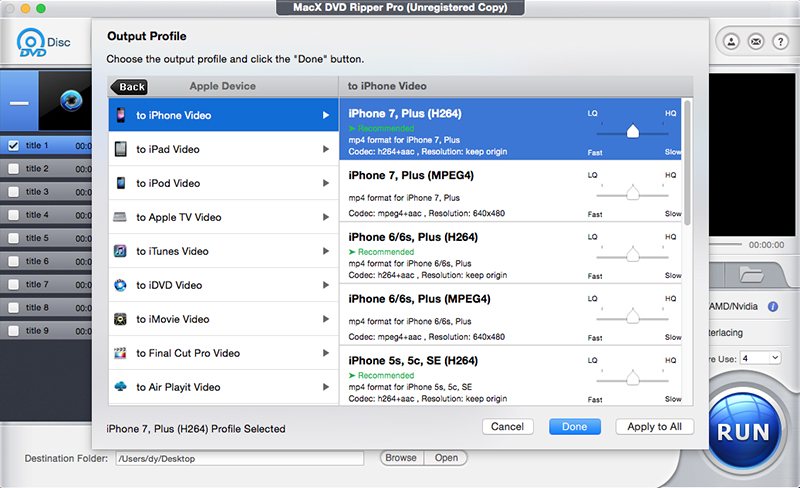 Convert DVD Movies to be Played on Popular Devices
MacX DVD Ripper Pro is a DVD copy tool that you can use to convert your DVD movies into formats that can be played on popularly used devices such as gaming consoles, tablets, smartphones, iPods and others. However, the drawback is the software does not have the capability to burn new DVD discs.
Make Use of the Wide Range of Conversion Options
A standout aspect is the range of conversion options that are displayed when you launch the software disc. You can rip DVD movies for playing on widely used Apple devices such as Mac computer, Apple TV, iPad, iPhone, and iPod. In addition, the application can also convert DVD movies into compatible formats for widely used video gaming systems, Microsoft Surface, Amazon Kindle, and Android devices.
Provides an Optimized Experience
MacX DVD Ripper Pro reviews indicate that all rips are customized for particular device specifications. As a result, the ripped content is of excellent quality and you get an optimized viewing experience on your chosen device. The application makes the playback experience seamless and it is hard to find any drawbacks.
Ideal for Lay Users
MacX DVD Ripper Pro is a great application for casual and average users as it is easy to master. The user interface is simple and you can familiarize yourself with it quickly. After that, it is a breeze to rip DVDs and convert the movies to be played on your Mac and mobile devices.