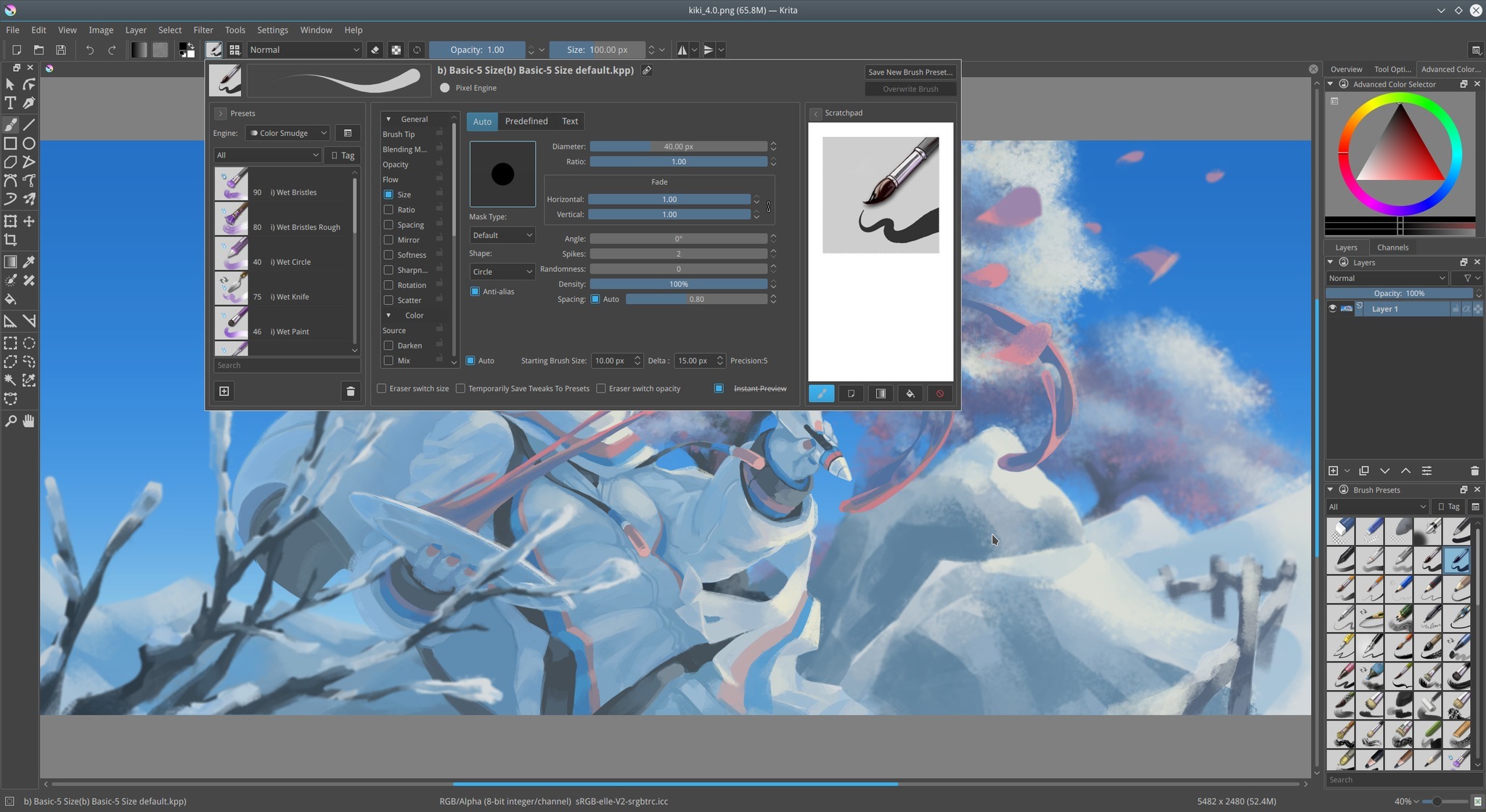 The main benefits of Krita are its flexible brushes,  layer management features, and it's free. Krita's nine brush engines leave artists spoiled for choice when it comes to brushes, enabling them to work with the ones they are most comfortable with. Aside from these nine brushes that cater to specific needs, users can also come up with their own brushes and tag them with Krita's unique tagging system.
Some of Krita's basic brushes include the Ink Ballpen, Fill Brush Circle, Fill Brush Block, Bristles Wet, Bristles Texture, Basic Mix Soft Brush, and Airbrush Pressure.
For artists who like sketching and scribbling, the Ink Ballpen is the best one to use. As evidenced by its name, it is a type of brush that is similar to a ballpoint pen.
Meanwhile, those who prefer to work with silhouettes can use the Fill Brush Circle and Fill Brush Block. Both brushes are always at a hundred percent opacity and have pressure size characteristics. Users who want to change the size only need to change the pressure they apply to the graphics tablet that they are using.
Smudging and blending can be accomplished with the Bristles Wet Brush, while a smoother texture can be achieved with the Bristles Wet Brush.
The Basic Mix Soft Brush is perfect for blurring out edges, as it can pick just a tiny amount of color. The Airbrush Pressure Brush, meanwhile, is great for adding contrast to an illustration.
Layer management tools are also available, making it easy for users to organize their drawings. With these tools, they can combine or merge two different drawings located in different layers. Layer visibility options also allow them to remove some portions of a drawing.
Amateur artists will also enjoy Krita's easily accessible educational and instructional materials. Users can easily learn the basic and advanced features of the program using training materials prepared by Krita Foundation itself.