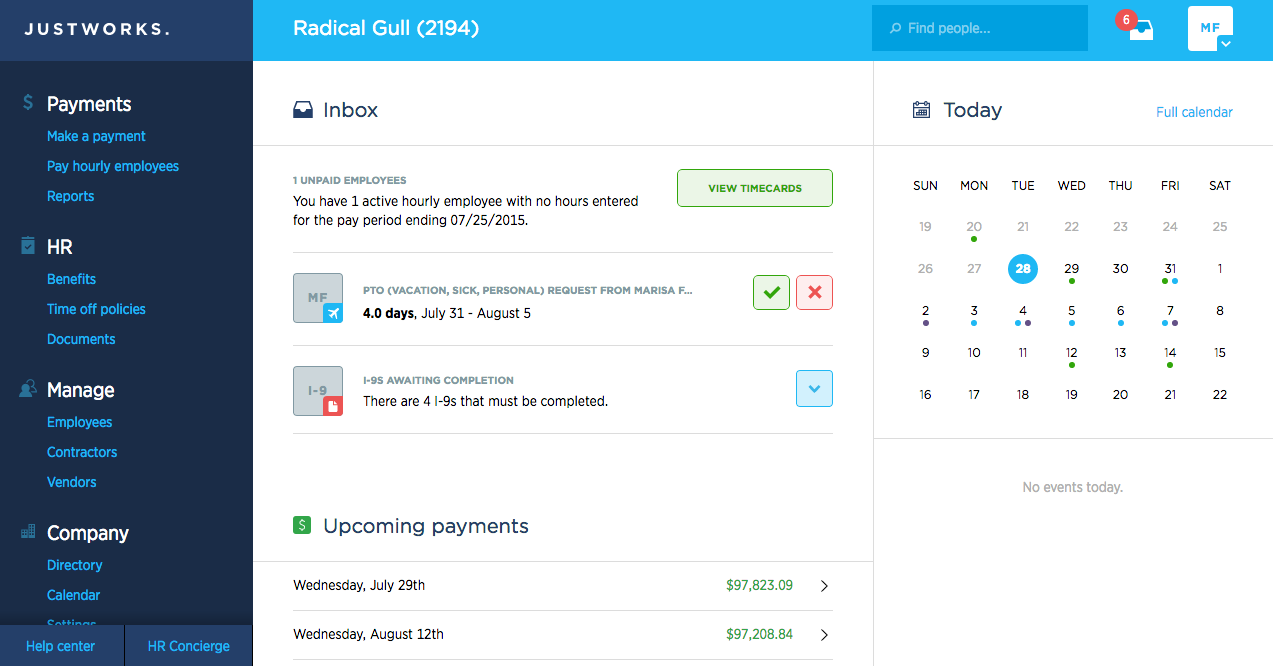 The main benefits of Justworks are simplifying payroll, producing accurate reports, and engaging employees better. Check out its advantages below:
Prompt and Easy Payroll
Justworks allows HR teams to systematically centralize payment for all types of employees across different departments. It can distinguish different employment types such as full-time and part-time contracts. One can easily manage payments using Justwork's intuitive dashboard. Other features include payroll options such as direct deposits and even bonus and reimbursement management capabilities. Furthermore, Justworks also has the ability to let the organization pay its clients, vendors, suppliers, consultants, and other contractors.
Accurate Reporting
The software also provides HR teams with analytics and reporting. Data is stored, analyzed, and presented in a sleek visual manner that is easy to the eyes. Reports can now automatically be made thus reducing the workload for your HR staff.
Benefits Manager
Justworks is fitted with an employee benefits manager that HR teams can use to optimize employee service provision including benefits like medical and dental packages. Thanks to Justworks' partnership with leading benefits providers, HR teams are now able to connect, track, and provide employee benefits readily and easily.
Set Policies
Users can set employee policies, company rules, and regulatory compliance within Justworks' system. This means that information regarding time off, vacations, holidays, and leaves, among many, will be handy under a singular system. This makes it easier to handle this process than just relying on spreadsheets that are more prone to human errors.
Employee Interaction
Justworks' interactive interface allows employees to request time off, leaves, and see compensation details like salary and benefits packages. Furthermore, management can also post company programs on Justworks that employees can enroll in. All of these can be done in real-time thus saving organizations time, effort, and monetary resources.