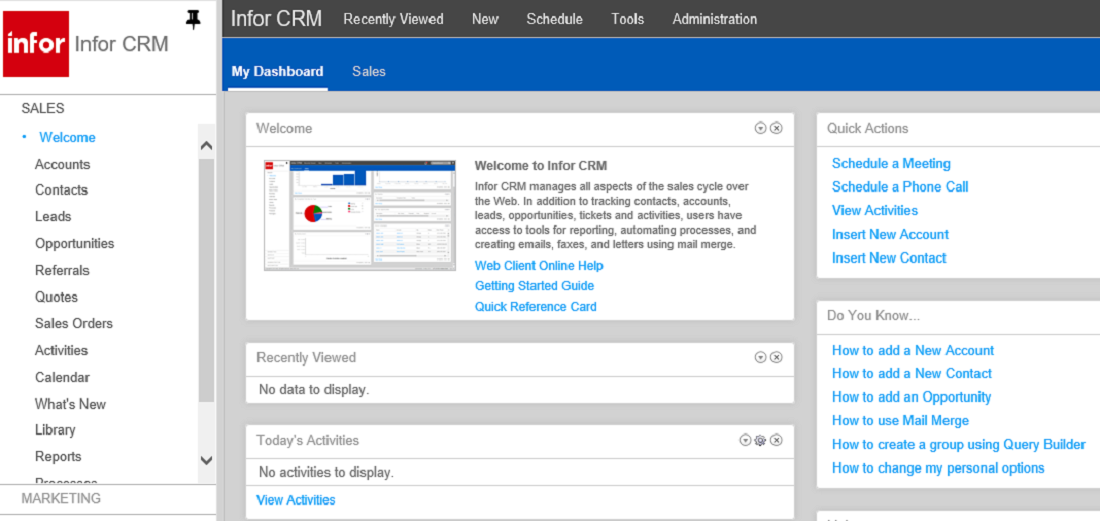 The main benefits of Infor CRM are its numerous features and capabilities as a CRM solution, a unified platform that gives high visibility into every process, empowered mobile workforce, and tools for reporting and analytics. Here are more details:
Comprehensive CRM
Infor CRM is a lot more than just a tool for enhancing relationships between your business and your clients. It is packed with all the essential features you will need to be successful in the very competitive landscape today. It accomplishes that by giving you full visibility into your entire business, retaining current customers, and identifying and determining solid prospects. It is also capable of creating rich customer profiles that are based on accurate and reliable information that was gathered from both outside and inside of your organization. There are also vast integration support and collaborative features that empower your team to be more productive and cohesive.
Centralized platform
The system offers a unification of social, mobile, and cloud capabilities into a single platform to give you unhampered visibility into your entire enterprise. It also works well with various ERP platforms making it more robust and scalable.
Mobile support
Your mobile workforce is provided full support by the system because it extends its CRM capabilities to tablets and smartphones. This means that field personnel, as well as mobile employees, will have a powerful edge in their tasks, making them significantly more productive, resulting in your revenue's rise.
Reporting and analytics tools
There are vast arrays of analytics and reporting tools that Infor CRM is equipped with. Thanks to those, users are able to address company and user requirements at any level of sophistication. It is complete with a basic search, grouping, and reporting capabilities all the way up to customer reports, visualizations, timelines, and interactive dashboards. This ascertains the boost of individual effectiveness of each employee as well as maximum gain from customer and organization intelligence.