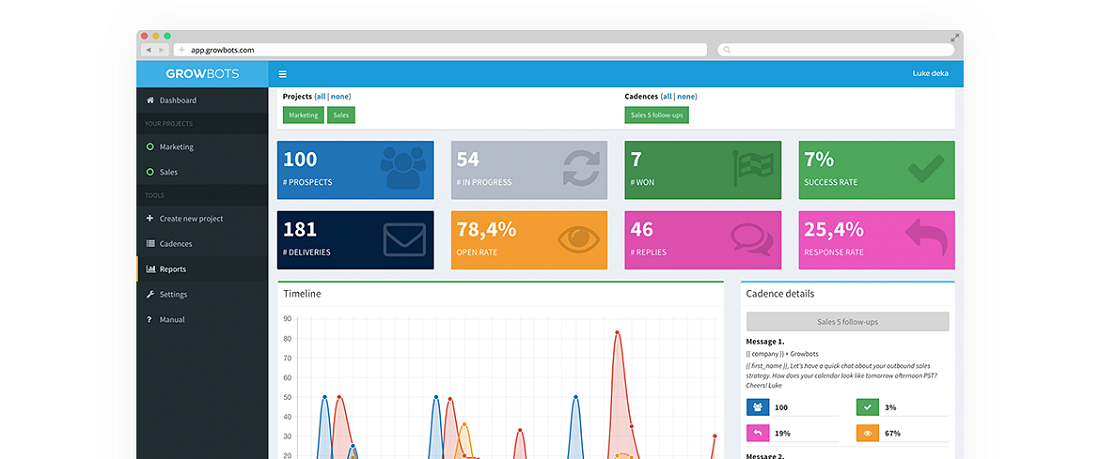 The main benefits of Growbots are its massive database, a system that helps you accumulate leads within seconds, incredible outreach features that enable efficient and seamless communication with the prospects, and A/B testing that helps you know whether your campaign method is effective or not. Here are more details:
Massive Database
Growbots comes with a huge database which contains 200 million profile of influences and decision makers. It also contains valuable integrated information that comes from more than twenty genuine data sources.
Save time
Growbots generally streamlines all the prospecting workflows and provides you with high quality, targeted leads that are most likely to convert. With a huge database of information, the platform can easily provide you with a prospect list that fits your specifications and requirements within seconds. Hence, you do not have to spend too much time manually finding and discovering prospects, send emails and follow up. You are also less likely to spend too much time and effort on dealing with leads that are less likely to be converted into sales.
Excellent outreach features
Maintaining open and effective communication with the leads is one of the keys to converting them into customers who pay. Growbots provides its users with an automated and simplified way to initiate and maintain contacts with the prospects. The system comes with reply detection, time zone detection, and unlimited follow-ups to make sure that your communication with your leads is fully optimized. The platform also allows you to create and send customized emails with just a few clicks.
A/B testing
With A/B testing, you will know whether your marketing approach is effective or not. Growbots will also allow you to segment your target prospects based on your specifications to attract more positive, better responses.