Buzz Aldrin, an American astronaut and engineer once said, "As someone who flew two space capsules and twice landed in the ocean, I can attest from personal experience how much logistics work is needed to get you home." The same goes for consumer goods logistics: you have to do many preliminary activities such as order processing, packaging, packaging printers, shipping, and manage many additional aspects to be able to deliver the product to end-users.
In other words, we may say that logistics, especially in the time of the pandemic and technological leapfrogging, has evolved into more than just a movement of goods. Today it is a multi-functional complicated process of goods delivery, which can by no means be carried out without an automation system implementation. 
Also, this may be one of the reasons why logistics automation software is becoming more popular and widespread each year. According to Statista, already by 2026 the overall logistics automation market will be valued almost 100 billion dollars.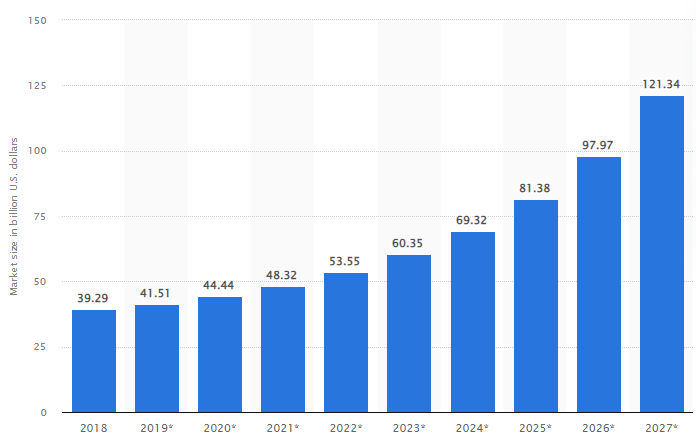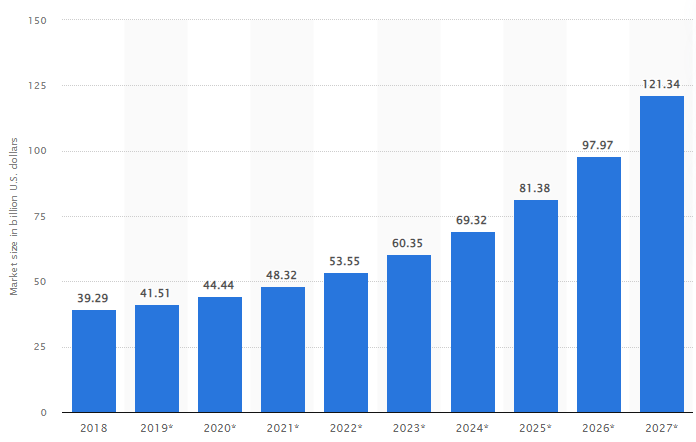 So when it's time to acquire or upgrade your logistics software (LS) and make it meet ever-changing standards, how do you choose the best one? We suggest you explore this guide by Itransition and find out about essential features LS should include.
What Features to Look for in Logistics Software?
Of course, before you start to explore the LS market and choose your approach to software implementation, whether it is purchasing a turnkey solution or developing custom logistics software from scratch, you should consider making the first crucial step – determining your business needs and objectives. Only then, you will be able to choose the most appropriate type of logistics management solution.
Anyway, we start speaking about the implementation of logistics management software, we should begin with discussing its three main types: enterprise resource planning, integrated supply chain management (SCM) suites, and warehouse management systems. 
Enterprise resource planning system integration enables you to monitor multiple back-office procedures providing inventory control and accurate financial reporting. 

SCM suites give you the opportunity to manage a product flow applying real-time analytics and insights throughout the supply chain cycle. RFQ management, invoice reconciliation, and cargo tracking are among the options SCM suites software can automate. 

Warehouse management solutions allow you to run your warehouse, ensure that stocks are organized, and supply chain operations comply with your policy.
So, you are free to pick one of these systems or resort to a hybrid one. Either way, when considering LS, we would recommend you to pay attention to the following features and make sure your logistics solution provides at least some of them:
1. Freight management
There may be nothing more crucial to a logistics company than complete control over the goods transportation, which is the backbone of customer satisfaction. That is why your logistics software development strategy should make sure the platform provides robust fleet management functionality by default.
Typically, freight control systems include features related to delivery tracking, notifications, document management, and many more – it is all about seamless freight organization with the option of detecting and preventing damage during the shipment. As a result, freight management solutions are able to support most delivery processes without any losses.
2. Warehouse management
Effective warehouse management is another critical aspect of building a robust supply chain – after all, your employees simply cannot meet customer needs without understanding what goods are stored in your warehouses, where exactly they are located, and if they should be replenished or not. Moreover, this is not the only reason why implementing warehouse management functionality is a must for any growing business.
The fact is that in 2022 most companies continue to manage their warehouses manually – according to the study "Warehouse Automation – Robots, Technologies, and Solutions Market, 2021 – 2030" provided by Research and Markets, 80% of warehouses do not have any automation at all. Based on this data, we may conclude that having an automated warehouse management system by itself can be your business advantage – after all, using such software, you will be able to work faster and more efficiently than most of your competitors.
3. Invoicing
Automatic invoice generation raises the workflow efficiency and invoice processing quality. Therefore, applying such a system in SCM allows you to carry out invoice generation and reconciliation automatically and exclude manual errors, enhancing the overall quality of billing and accounting, and, as a result, increasing customer satisfaction.
4. Customer portals
A McKinsey research has shown that B2B companies in 2020 found digital interactions to be two to three times more important to their customers than offline channels. The effectiveness of this approach in interacting with partners and customers in 2021 is also observed: that is why more and more companies are rolling out customer portals. 
The reason for this lies in better customer satisfaction and operational cost reduction. For instance, using web portals, your customers are able to access delivery status data regarding their orders in real time without the need for your agents to perform traditional and manual customer support activities.
5. Multi-tenant architecture
You are likely to deal with multiple customers and partners at every phase of the supply chain process. Logistics software based on a multi-tenant architecture allows you to interact smoothly with each client concurrently. Thus, rolling out such software ensures a better experience for your customers and partners and their respective loyalty.
6. Seamless integration
You may probably already have some automation systems that facilitate your logistics workflows, for example, an ERP, a BPM tool, contact management software, or a data analytics system. So, before acquiring a specific logistics solution, you should make sure it can be smoothly integrated with your existing software. 
7. Forecasting
Today, establishing proactive supply chain management is a must for any global business that wants to adapt to any changes in customer demand. Only being able to predict future supply, demand, and price fluctuations, you can ensure that your business provides outstanding customer service and grows steadily.
So, how exactly the forecasting functionality may be useful for your logistics professionals? With this feature integrated into LS, you are likely to eliminate a potential gap between supply and demand, manage inventory, and prevent out-of-stocks or overstocks. 
8. Scalability
Of course, scalability is not a feature, rather a technological characteristic, but it has become so important for the success of any global business that we simply could not help mentioning it in our article. While looking for LS, pay attention to how scalable it is, i.e., whether the system will meet your long-term expectations as your company grows.
It is advisable to consider software that can be adapted to more users, traffic, accounts, etc. This way, you can ensure that your logistics management system will be able to evolve along with your company's needs. 
Final thoughts
Of course, there is no one-size-fits-all solution for any business, so when deciding on logistics software, keep in mind the needs, type, and size of your business, as well as the solutions you've already successfully implemented. However, with our list of eight most important logistics software features, you will be able to purchase or develop a solution that can cover most of your business needs, scale according to your company growth, and help you meet most of your customers' requirements.