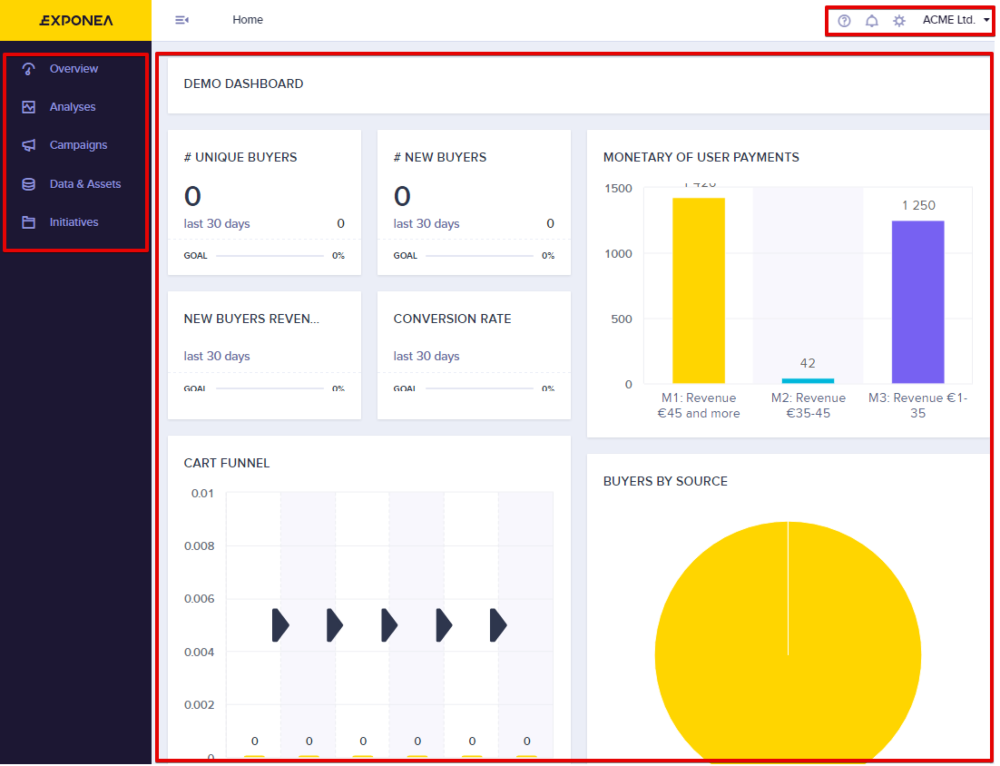 The main benefits of Exponea are its detailed customer analyses, its Scenario Designer, and its maintenance team.
Exponea has a user-friendly Dashboard that serves as the central location where users can look at critical metrics and indicators. It is also where Customer Profiles can be added and edited. Marketers can use this to improve the delivery time of results by taking advantage of analytics and behavior history.
A number of features are present in Exponea that will help businesses get better than expected results, such as SQL Reporters, Attribution Models, Custom Metrics, as well as Running and Personalized Aggregates. Customer analyses that are full of detail can be leveraged using this marketing cloud that is fully integrated.
Marketers can predict customer actions through the intricate behavior profiles that Exponea allows them to craft for each customer. Aside from that, Exponea's full mobile optimization means that marketers and customers can use any device or operating system they want.
Creative marketers can also push effective campaigns even with tech support or IT department. Marketers can also exert full control over marketing efforts with the robust Scenario Designer. The Scenario Designer also includes features like Jinja template engine support, drag-and-drop campaign editors, A/B testing, premade templates, and WYSIWYG email editors.
New scenario action nodes, asset, and tag management features, personalized and advanced email campaigns, as well as Geo analysis, have all been enabled by the maintenance team of Exponea. The Android and the iOS mobile version is fully-responsive, and both the project and account levels have an intricate suite of permissions and roles that make sure that the data is secured and uncompromised.
Custom webhooks and integration features allow for connectivity with a third party or the backend. Varying storage options, ranging from on-premise, cloud, or private, are all made possible by the real-time IMF DB and MapR Converged Data Platform that makes up the foundation of the software. Google Ads, Google BigQuery, and Facebook also integrate with Exponea.
Exponea's comprehensive toolkit also makes its user's web experience more personalized, which in turn enables companies to enhance customer satisfaction, increase their sales funnels, improve conversion rates, identify new market segments, and increase retention.
Cloud modules in Exponea have full operational and data integration, and a combination of engagement automation and real-time analytics make it possible for Exponea users to provide their clients with actionable results in a speedy manner. Execution, analytics, and data collection are also seamlessly integrated with each other.
Compared to systems that are built with SQL commands, Exponea produces business reports quicker and more accurately. This also results in a quicker rollout of each data collection and campaign iteration. Exponea also lets IT departments to go back to their role as operational support.