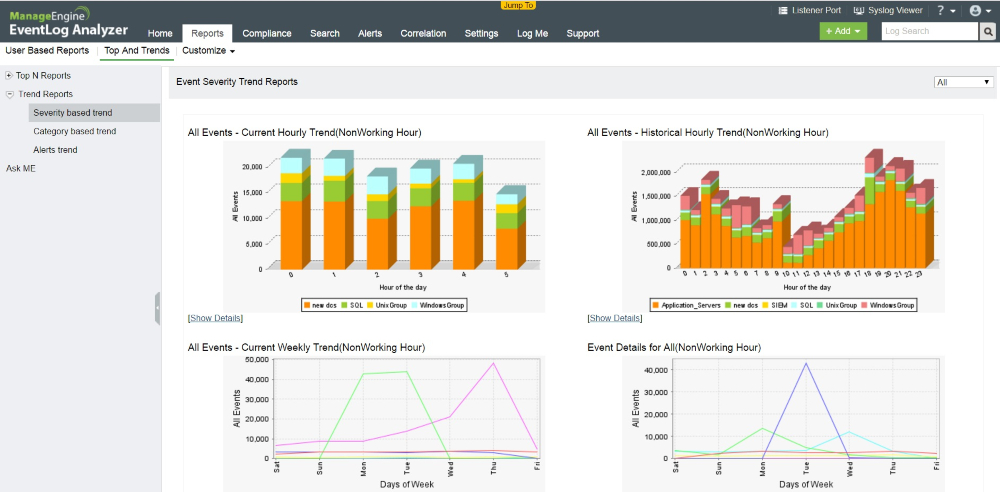 The main benefits of EventLog Analyzer are its ability to easily integrate, its quick setup, and its quick and hassle-free log collection.
The functionalities and tools that come with EventLog Analyzer are the same ones expected of a security information and event management (SIEM) system. There is also no need to change an existing setup or build a new system around the software as EventLog Analyzer can work with hundreds of devices from dozens of vendors.
Setting up the software takes 30 minutes or less and any trouble encountered during the process can be resolved by browsing through the resources made available on the official website of the company. Even teams that are inexperienced with the software can easily get the hang of it, thanks to an interface that is intuitive.
The software is easy to navigate because of its straightforward interface, with most functionalities and features easily accessible thanks to the software's use of a graphical dashboard that is icon-based. Compliance requirements can easily be met as EvenLog Analyzer comes with a set of predefined reports, whether it is for HIPAA, PCI-DSS, ISO 27001, SOX, and FISMA. It can also come up with user activity reports, object access, failed logins, privileged user monitoring and auditing (PUMA), and more. Reports based on criteria specified by the user can also be created.
Threats to a network can be managed and instantly addressed thanks to EventLog Analyzer and its dozens of event correlation rules. The software helps users and their IT infrastructure achieve real-time event correlation, making it easy to spot areas where breach attempts have been made. Threats from insiders can also be identified. Best of all, these processes are automated.
Collecting logs is quick and hassle-free as the software can gather log data from different sources and quickly decipher it, whatever the log format may be or whatever the source is. Updates can easily be monitored and alerts received in real time each time folders and files are created, renamed, accessed, modified, deleted, or viewed, as all of them are in a centralized hub.