The drone industry has come a long way since 1907 when the world's first quadcopter, built by Jacque and Louis Bréguet together with Charles Richet, took flight. It was used heavily in armed conflicts in the 20th century and even now. However, non-military, consumer, and civil drones are now taking off.
From bulky quadcopters to drones half the size of a bluejay, the use of this technology has permeated different industries. The construction industry, especially, is miles ahead of other sectors in terms of adoption. We will also see in the drones statistics below the current state of the market. Plus, we will gain insights into its various applications.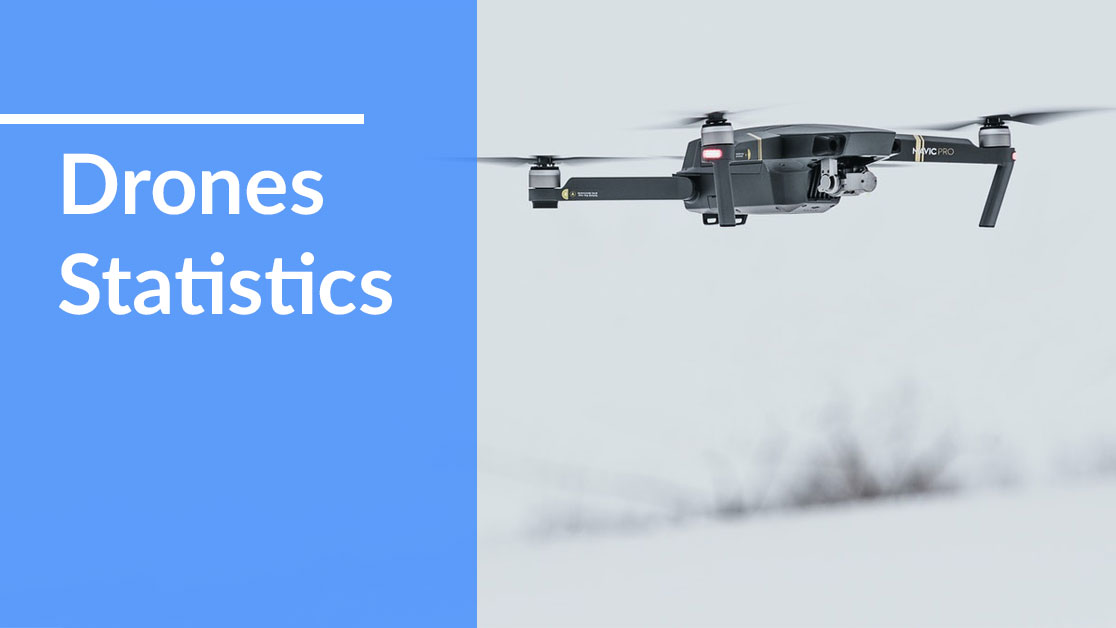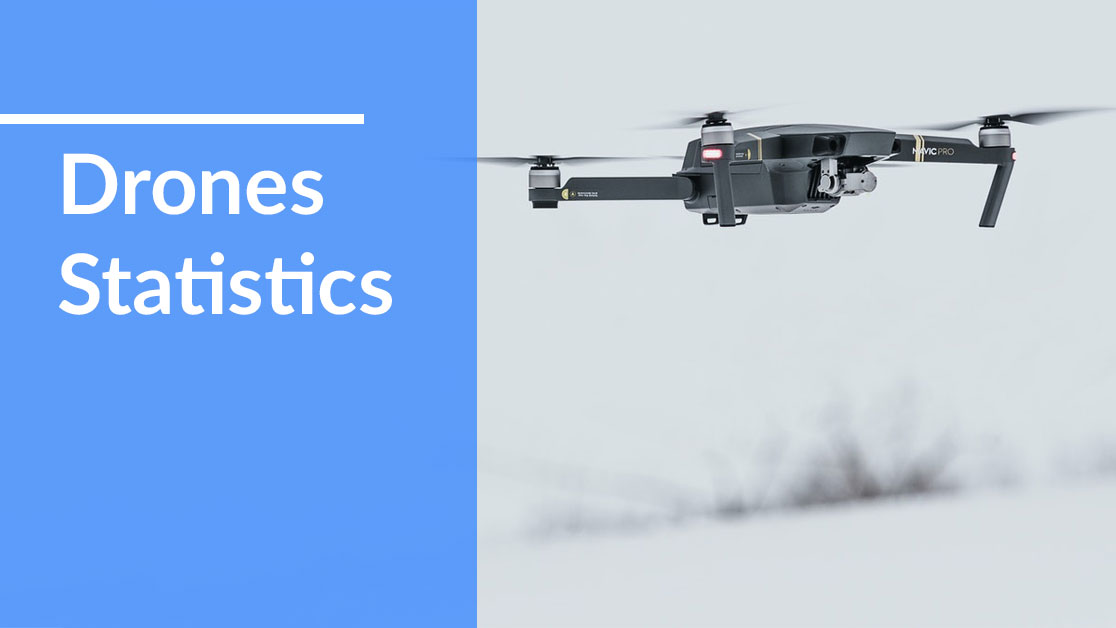 Drones Statistics Table of Contents
Droning On About Who's Who in the Drone Business
The drone industry is considered as disruptive because it has changed so many things. For one, it has evolved logistics. Another thing is that it has provided photographers and videographers a new way to take beautiful photos and videos. What's more, in archaeology, it has proven to be one of the most beneficial tools. But who are the companies behind the production of these machines? Let's find it in the first section of our drones statistics below.
Over 40 drone companies are operating in the US.
Analysts say China's DJI holds 70% of the global drone market.
Though DJI is based in Shenzhen, China, 80% of their drones and other goods are sold abroad.
DJI holds a 77% share of the US market.
Intel comes second in the US with just a 3.7% share.
Popular brand GoPro is in fifth place with 1.8%, and at the bottom is Kespry with 0.3%.
Source: Drone Industry Insights
Essential Drones Statistics: Industry Status and Forecasts
Now that we know some of the players in the drone industry let us get to know the sector as a whole.
Small hobbyist drones in the US now number 1.1 million in 2019.
Meanwhile, there are 441,709 registered commercial drones.
The Federal Aviation Administration (FAA) has certified 171,744 remote pilots.
Goldman Sachs forecasts a $100 billion market opportunity for drones from 2016 to 2020.
In 2015, retail drones only accounted for two million consumer electronics. That is bound to change this 2020, with the number rising to 7.8 million drone shipments.
By 2021, that number could rise by as much as 29 million.
The consumer drone market will reach $3.3 billion in 2020.
For the overall drone market, it is predicted to reach $63.6 billion by 2025.
Spending on drones is predicted to have a 33.3% compound annual growth.
Most of the expenditure is focused on hardware (90%) in 2020.
However, by 2025, software and services will rise with 38.2% CAGR and 37.6% CAGR, respectively.
From 2012, investments in drone production, research, and development have totaled nearly $1.5 billion.
In June 2017 alone, there were 52 deals amounting to $216 million.
China remains the largest market for drones. Experts expect the region to shell out $46.9 billion by the end of 2020.
Asia-Pacific, with the exception of China and Japan, is the second-largest market with $25.1 billion.
Experts believe that the US will spend $17.5 billion once the year closes.
Western Europe is forecast to spend $14.4 billion on drones.
Pundits predict Asia-Pacific and Japan to have the fastest growth rate in spending on drones with a five-year CAGR of 78.5% and 63%, respectively.
Applications of Drones
As we mentioned above, drones have numerous use cases. But what are the numbers associated with these? Let's take a look at which sectors use drones the most and how the tool has changed the way they operate.
Military and Defense
The 2020 US defense budget includes $3.7 billion for unmanned or autonomous systems technology.
Globally, spending on military UAV production is predicted to surpass $90 billion by the end of 2027.
$40.4 billion of that is expected to come from the Pentagon.
The US has surveillance drones over the border with Mexico, which cost between $2,500 to $3,500 per flight hour. Each one needs one hour of maintenance for every hour in flight.
180 people need to work together to operate a single Predator or Reaper drone.
The military spends anywhere between $100,000 to $100 million for a drone.
The US fleet has around 5,500 unreported drones.
The Department of Defense has 1,462 drones divided between the Military (637), Air Force (737), Navy (36), Marine Corps (52).
One of the smallest drones in the military is only 6.5 inches.
Current drone sensor technology can map 2.7 million square miles in one go.
Source: Congressional Progressive Caucasus
Civil and Agricultural
Commercial/civil spending on drones is expected to reach $13 billion by 2020.
An oil and gas company now relies on drones for their monthly pipeline inspection rather than on a helicopter crew, which sets them back $2,500 per hour.
A drone can go 150 miles for pipeline inspection, the same length that a helicopter crew is capable of but at less cost.
Farmers can inspect 1,000 acres of farmland per day using drones. That could increase if regulations enable drones to increase their flight height by 40%.
A drone can also spray fertilizer 40 to 60 times faster than when a person does it manually.
Science
In 2018, archaeologists discovered around 50 Nazca lines with the help of drones.
Octocopters flying 2,7000 meters above sea level sampled methane at high elevations on Ascension Island.
Scientists photographed 86 whales in Peninsula Valdes, Argentina, using drones. Doing so allowed them to determine their body length, width, and height.
The National Oceanic & Atmospheric Administration (NOAA) can now count fur seals with just two researchers using drones, rather than the 20 required by traditional methods.
NOAA recorded 15 missions into Hurricane Dorian over 11 days.
Retail Delivery
More than 100 products are available to customers of Walgreens for drone delivery in partnership with Alphabet, Google's mother company.
Domino's made the first drone delivery in November 2016 in New Zealand.
The first-ever drone service that has an airline license is that of UPS Flight Forward.
Walmart has drones with a 15-mile range.
FAA limits drone deliveries to under 55 pounds.
Amazon continues to test drones for a 30-minute delivery service that is cheaper but faster.
Drone deliveries could drive down delivery costs overall, as it takes only $1 to transport a five-pound parcel within a 20-mile radius. In contrast, trucks cost $1.50 to $4 a mile.
UPS drones partnered with CVS Pharmacy to deliver medicines to a retirement community of 135,000 in central Florida amid the novel coronavirus pandemic.
Mining and Construction
70% of major mining companies have been testing drones since 2016, but only small and medium firms are actively adopting it at the moment (37%).
Mining firms can save up to 90% of cost-per-hour using drones rather than piloted planes. This way, they can also collect unlimited data.
The construction industry is the highest adopter of drones at a 239% adoption rate.
It is followed by mining at 198%.
Drones can make construction sites 55% safer.
Issues with the Use of Drones
Though drones have a wide range of applications, they also come with their own set of problems. One of the pressing issues regarding the drone industry is security. Early in 2020, the US government banned the use of Chinese-manufactured drones by its federal agencies. In particular, the US Department of Interior, which had used drones to oversee national parks. A total of 810 drones went out of work. This came in light of fears that China was using the drones for espionage.
Civil Incidents
Drones account for more than half of the near mid-air collisions (NMAC) reported by aircraft pilots, which rose to 406 in 2017 from 163 in 2014.
US Park Rangers have documented 20 reports every year, but they suspect the illegal use of drones in national parks is higher.
A drone that malfunctioned caused a wildfire and burned 9 acres of land in Colorado Springs early in January 2020.
There were 373 sightings involving unauthorized drone operations from January 2020 to March 2020.
There have been three verified aircraft collisions: two incidents in 2017 and one incident in 2018.
Source: Bureau of Transportation Statistics
Military Incidents
Obama ordered 542 drone strikes that took the lives of an estimated 3,797 individuals, 324 of whom were civilians.
There has been a minimum of 14,040 confirmed drone strikes in Pakistan, Yemen, Afghanistan, and Somalia.
The total number of casualties is 8,858 to 16,901, of whom 910 to 2,200 were civilians, with 283-454 children caught in the crossfire.
In 2018 alone, drones cut down 88 people in Yemen, both militants and civilians.
During the first two years of the Trump administration, authorities ordered 176 strikes. In contrast, during the Obama administration, 186 drone strikes were ordered between 2009 and 2010.
A drone strike in September 2019 in Nangarhar province, Afghanistan, killed somewhere between nine to 35 individuals, many of whom were farmers.
What's in the Future for Drones?
The drones statistics discussed above show that drone use is going to pick up in the future. Some of the applications of drones that sound like science fiction is going to be possible in the next few years. Take, for example, drone delivery. It is not a perfect service yet. But as we have seen, companies like UPS and Amazon are working to revolutionize it and make it a reality. Not only will consumers get their products faster, but this can also lessen the traffic on the roads.
Despite the benefits that drones bring, though, they also raise various concerns. For one, the most popular brand, DJI, is based in Shenzhen, China. The Interior Department grounded its entire fleet of 810 drones because of espionage concerns. There is also word that the Chinese government is using drones to do surveillance on US soil. Moreover, the military uses drones for strikes, taking hundreds to thousands of civilian lives.
Apart from those issues, there have been numerous civil incidents. People have caused fires and accidents because of poor drone control or lack of regard for regulations. This is an area that the FAA and other regulatory bodies elsewhere have to work on to ensure safe skies.
Despite those things, drones will keep flying. There are several industries adopting it that are making leaps and bounds in their work with the help of these quadrocopters. Tighter regulations may be needed, but as long as users stick to the rules, drones can continue flying and helping.
---
References:
DJI Won the Drone Wars, and Now It's Paying the Price

Drone Manufacturer Market Shares: DJI Leads the Way in the US

UAS by the Numbers

Drones: Reporting for Work

Worldwide Spending on Robotics Systems and Drones Forecast to Reach $128.7 Billion in 2020, According to New IDC Spending Guide

Drone market outlook: industry growth trends, market stats, and forecast

Still Soaring: Deals To Drone Startups On Track For 6th Annual High

Spending on Drones Projected to Soar

The US Drone: A Fact Sheet

Archaeologists Used Drones to Find New Ancient Drawings in Peru

Drones in Geoscience Research: The Sky Is the Only Limit

Drones help scientists weigh whales at sea

From hurricanes to seal pups: 4 ways drones are helping NOAA scientists conduct research

Drones Are Finally Coming to Retail Delivery

Why Amazon, UPS and even Domino's is investing in drone delivery services

Amazon Needs Drones to Fix This $6 Billion Problem

CVS and UPS team up for drone deliveries to retirees amid coronavirus outbreak

Drones in mining: Key industry trends revealed

The Rise of Drones in Construction

Interior Dept. Grounds Its Drones Over Chinese Spying Fears

Number of Pilot-Reported Near Midair Collisions (NMAC) by Degree of Hazard

Drones fly illegally and crash at the Golden Gate Bridge in hunt for photos

Drone sparks wildfire on Colorado's Front Range

UAS Sightings Report

Drone Hits Army Helicopter Flying Over Staten Island

Drone collides with commercial aeroplane in Canada

First-ever recorded drone-hot air balloon collision prompts safety conversation

Did President Obama Order More Than 500 Drone Strikes?

Drone Warfare

Hidden toll of US drone strikes in Yemen: Nearly a third of deaths are civilians, not al-Qaida

Killer drones: how many are there and who do they target?