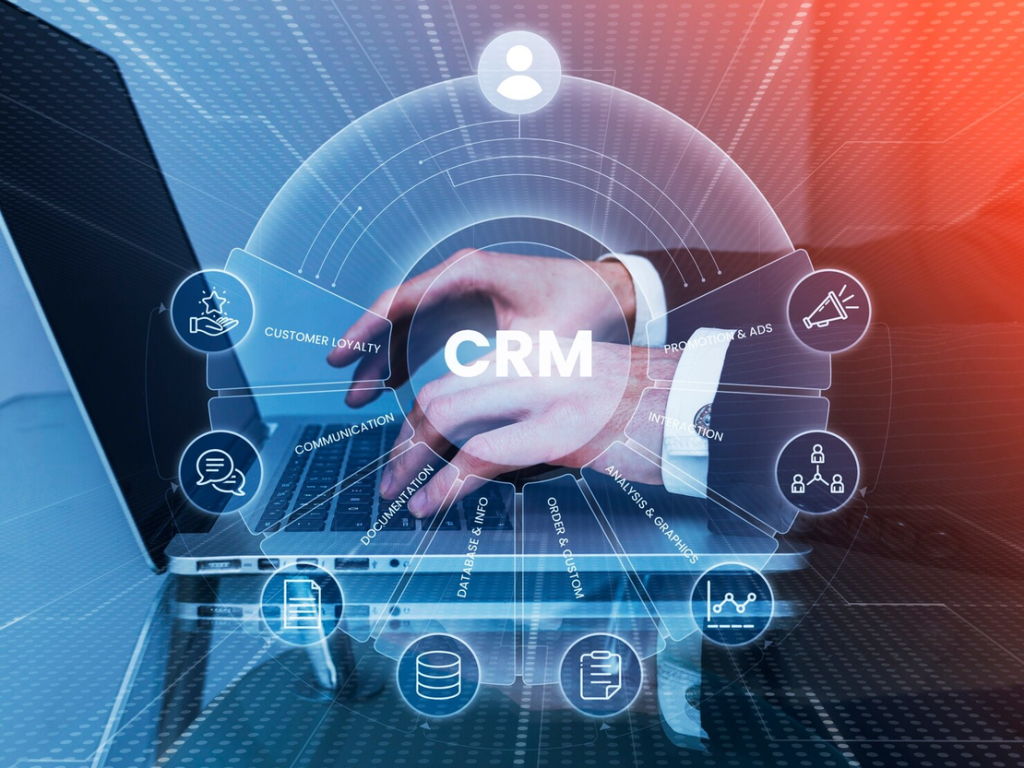 In the modern digital landscape, the competition for consumers' attention is tough. In order to stay competitive and win in this never-ending battle, businesses need to get more and more creative in how they interact with their customers. And that's why customer relationship management is now more important than ever.
If handled right, it can build trust and loyalty for your brand and help you achieve all your business goals without a hassle. Also, it can help you pop up higher in search engine results pages (SERPs) and grow your business. And the use of the right CRM solutions plays a big role here.
What Is CRM Software?
CRM is short for customer relationship management, which is a blend of strategies, approaches, and technologies designed to help businesses analyze, assess, and manage their interactions with customers. CRM software is a set of technologies that make it possible. Such software offers businesses a combination of integrated, data-driven tech solutions that help collect, track, store, and manage different customer-related information.
These systems can perform a variety of tasks. For example, they can record customers' and prospects' contact information. Also, it can record and store every client's personal interests and preferences in communication. All in all, such tools can collect and organize complete sets of data about every individual or company that interacts with your business and, thus, help you understand your relationships with them better.
Why Does Every Business Need a CRM?
If you are wondering whether your business needs CRM software, the short answer is yes. These systems let you automate data collection and improve its organization and management.
Additionally, such solutions can help you achieve several important goals:
Gain a better understanding of the buyer's journey;
Streamline and personalize communication;
Boost customer experience and, as a result, enhance sales and loyalty.
And even that's not all.
Although it might not be self-evident, using such systems can also help you level up your search engine optimization (SEO).
How Can CRM Software Be Used to Improve SEO?
There is no secret that SEO is now one of the most powerful tools for gettingthe in front of your audience. The higher you appear in SERPs,  the more people will likely click on your site and, hopefully, convert into your clients.
To make this real, your team needs to leverage a broad range of SEO strategies and tools that can take your rankings higher. If you hop on Top 10, you can find there the best rank tracking software and other SEO tools that can take you higher in SERPs. You can discover the best tools on the market and attain your optimization goals. Yet, there is one more thing that can complement your strategy.
Apart from helping you better interact with your clients, CRM can also help you strengthen your SEO. Below are the top 5 ways to use CRM software for SEO.
1. Keyword Research
Keywords play a decisive role in digital marketing. They help users discover the content they are looking for on the web with ease. So the better you tap into the keywords your prospects use most commonly, the higher your chances of getting noticed by them.
That's where customer relationship management solutions can really help. These systems are valuable sources of crucial client-related data. Every interaction with a client or a prospect, whether via a chat, email, or another channel, contains different words and phrases that can serve as keywords.
By capturing and analyzing the information from these interactions, you can learn what keywords your clients are using to discover products and services similar to yours. You can use this knowledge to power up your SEO strategy and get noticed by more prospects by integrating the right keywords into your content.
2. Content Marketing
Content marketing is one of the core SEO tactics. With the help of top-notch content, you can attract potential buyers, and interest and convert them. The key to producing content that converts is to ensure that it perfectly aligns with your clients' and prospects' needs and that's another area where good CRM software can help.
By providing you with a comprehensive profile of every client, a customer relationship management system can help you segment your audience more precisely. You will be able to group your prospects and clients by their behavior, demographics, psychographics, and other similarities. As a result, you will be able to produce highly targeted content that resonates with the needs and intents of every client, at every stage of their journey.
This can help you drive more visitors to your site, boost your positions in SERPs, and even accelerate sales.
3. Social Media Marketing
Taking a more and more prominent role in our lives, social media is already changing consumers' buying behaviors. According to studies, 98% of consumers planned to make at least one purchase directly from social media in 2022. As you can tell, social media marketing is an important part of business and you can hone your strategy with effective customer relationship management solutions.
By helping you segment your audience, produce targeted content, and personalize client interactions, CRM tools can help you make the most out of your social media. It will help you ensure that you reach the right people with the right content. As a result, it can boost your awareness and help generate more traffic, enhancing your ranking.
4. Link Building
Quality links are a cornerstone of effective SEO. Backlinks from reputable sources increase Google's trust in your site and make you more likely to rank high in SERPs. That's where CRM software for SEO also has a huge value.
Your system has a large network of contacts of clients, partners, and other businesses, and some of these contacts might be valuable for your link-building efforts. You can use the system to find potential link partners and build relationships with them. If you manage to develop lasting and positive relationships, this can bring you lots of quality links from trusted sites and boost your authority and rankings.
5. Reputation Management
Lastly, CRM software can really come in handy for measuring and managing your brand reputation. With these tools, you can track and assess different performance metrics, such as client satisfaction, advocacy, retention, and others.
Also, such systems can let you track any negative reviews on the web and analyze the most common issues faced by your clients.
With all this information, you can address the existing issues, bridge the gaps, and improve the overall quality of your customer service. As a result, you can gain higher loyalty, retention, and, accordingly, rankings.
Conclusion
CRM software holds many benefits for businesses. It helps you understand the needs and journeys of your clients better, ensure greater personalization, and interact with your customers on deeper levels. It also helps build up customer experience, produce highly targeted content, and strengthen your SEO.
After reading this article, you know about the key ways to leverage CRM software for SEO. Use this knowledge to incorporate this solution into your search engine optimization strategy as well and achieve better rankings with ease!