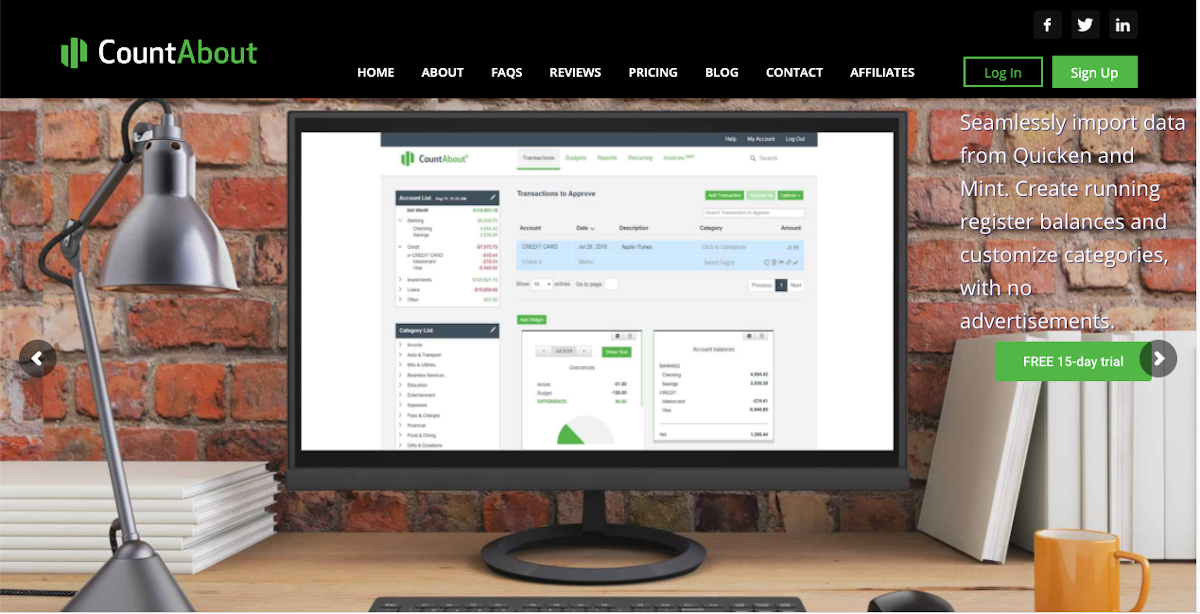 The main benefits of CountAbout are on-demand, mobile access, automated transaction sync and scheduling, import from Quicken or Mint, full customization options, and comprehensive reporting. Refer to below for further information on each benefit:
On-demand mobile access
You can view and manage your budget anytime, anywhere with CountAbout, as you can access your account from the web, or log in using your mobile devices. Anywhere you log on, data syncs automatically so you get the most up-to-date records, offering you the utmost convenience as you can continually manage your budget even when outside.
Automated transaction sync and scheduling
CountAbout is a budgeting software that lets you automatically sync data from your bank, credit, and investment accounts so they keep your financial health updated at all times. With the recurring tab, you can schedule your repeating tasks and transactions automatically.
Import from Quicken or Mint
CountAbout lets you seamlessly import data files from Quicken or Mint, so you can quickly set up running register balances, standard, and custom categorization so you can proceed without a hitch. For those with the mentioned software, this eliminates the need to re-enter all your data from scratch.
Full customization options
You can choose to customize the interface based on your preferred layout. You can change fields, functions, and report options as you deem necessary.  Income and spending tags or categories can also be customized to your liking, so you have complete control on data you want to be seen and reported. In addition, a Widgets option creates additional tools for even more financial functionality.
Comprehensive reporting
CountAbout lets you create accurate and detailed reports of all account activities. You can choose to report based on options such as account balances, categories, compounds, tag activities, and others. You can generate reports based on specific time periods to show tracking and export the results for analysis and sharing.